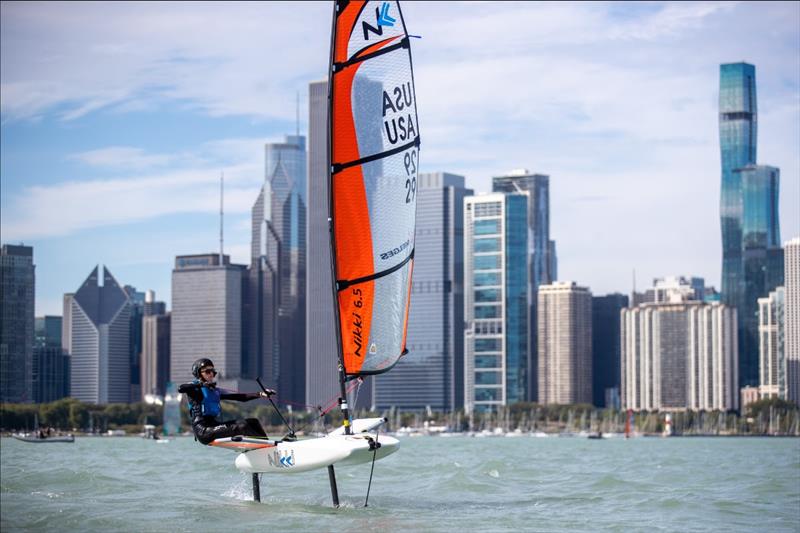 U.S. SailGP Team's Foiling First Camp unites Chicago's junior sailors
by Laura Muma 30 Sep 00:13 PDT
September 25-26, 2021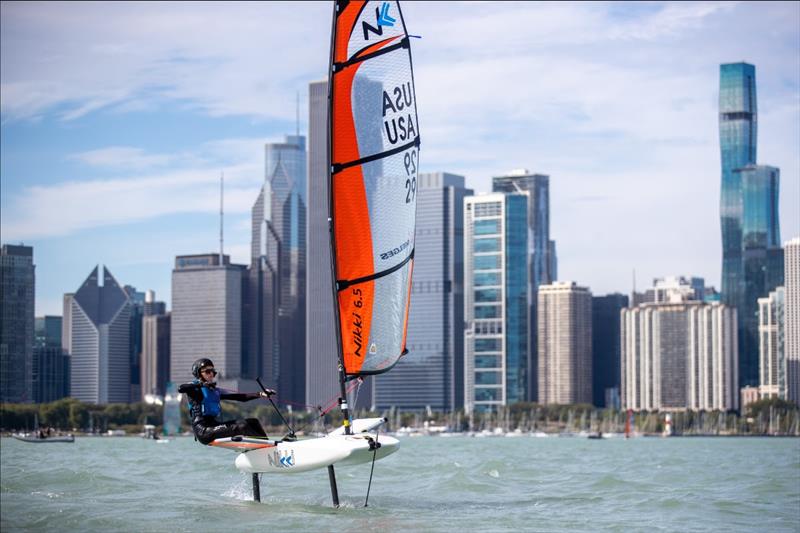 U.S. SailGP Team's Foiling First Camp unites Chicago's junior sailors © SailGP

"I've never been on a rocket ship, but if I was, I think that's what it would feel like. That is my speed!" said 12-year-old Charlotte Harris, one of 24 new foiling fans who took part in the United States SailGP Team and Chicago Yacht Club's Foiling First: Learn to Foil Camp this past weekend along with other junior sailors from Jackson Park Yacht Club and Chicago Park District.

Foiling First is part of the U.S. SailGP Team's athlete development program designed to create a pathway to professional foiling for the next generation of sailors that helps advance diversity and inclusion in the sport from a gender, racial, and socioeconomic perspective. Using the new Skeeta & Nikki foiling platforms supplied by American boat manufacturer Melges Performance Sailboats, the team spent two days coaching Chicago youth sailors into their first experience foiling.

https://www.youtube.com/watch?v=IcPzI3bE-Y0?rel=0

The team hopes Foiling First can use foiling as a catalyst to help the sport change and has partnered with the World Sailing Trust and RISE – a nationwide non-profit that seeks to educate and empower the sports community to eliminate racial discrimination, champion social justice, and improve race relations.

Four U.S. SailGP Team athletes coached the youth sailors in Chicago's Monroe Harbor this weekend: CEO and Driver Jimmy Spithill, Andrew Campbell, Alex Sinclair, and CJ Perez – one of two female athletes to join the elite professional team this season.

The clinic carried additional meaning for Perez, who is Venezuelan and Chinese. As a competitive sailor growing up in Hawaii – where she has excelled in the foiling WASZP class – she was acutely aware of lack of diversity in the sport as the only non-white kid in her youth sailing practices. Today, she is immensely passionate about being a role model to others and expanding inclusion in sailing to kids of all backgrounds.

Karen Harris, president of the Jackson Park Yacht Club Foundation, had three of her junior sailors on the water learning to foil, and additional kids attended the weekend to observe the exciting training. "Of the 400 sailors in our program we have more minority kids than non-minority kids, so diversity is a really big conversation for us," she said.

"The kids really appreciated the RISE workshop this weekend, as it provided another opportunity to continue that important conversation about diversity," she said. "What we are all striving for across the [Chicago] lakefront is for youth to engage with each other because they love the sport of sailing. This weekend accomplished that. It brought kids across Chicago together with the shared experiences of foiling, hopefully creating new friendships as well."

This Foiling First: Learn to Foil Camp is just the beginning of a long-term commitment from the Chicago Yacht Club to partner with Foiling First with the goal of uniting the Chicago lakefront according to Skip Dieball, CYC's on-the-water director. "One thing about foiling is it is so new and exciting that it will help to bring all the clubs and sailors together," he said.

"Access to the lake is pretty easy here in Chicago but getting onto the lake is the hard part and that's what Chicago Yacht Club hopes to do with Foiling First and the help of the Chicago Park District, JPYC Foundation and any other club that wants to join in on the fun."

The United States SailGP Team continues to accept applications from sailing organizations interested in joining Foiling First. To learn more and apply to be part of the initiative, please visit FoilingFirst.com.

For more information on the U.S. SailGP Team and SailGP's #RacefortheFuture, visit SailGP.com or follow the team on Facebook, Instagram, and Twitter.