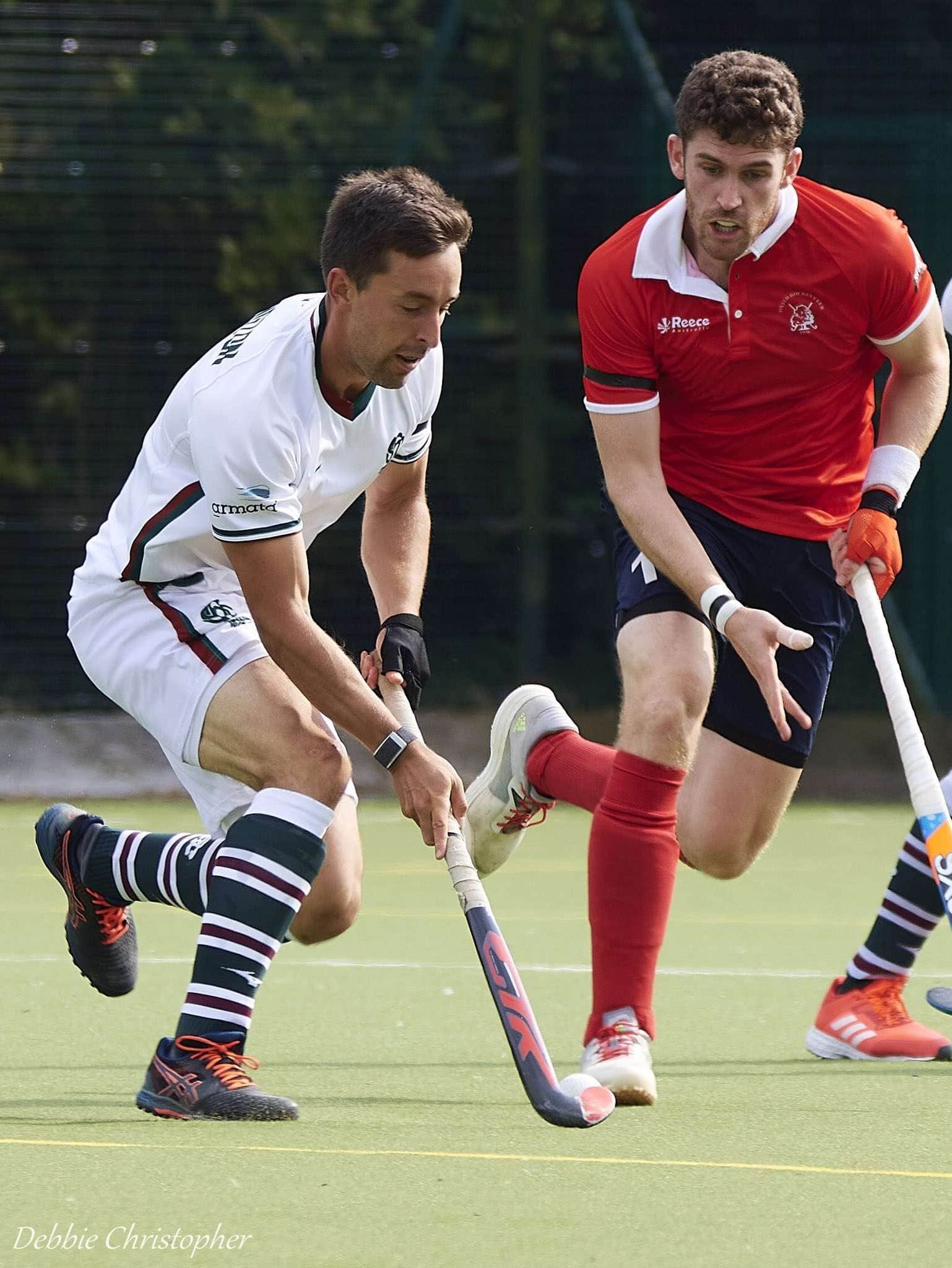 26 September 2021
Oxted 2 Surbiton 5
Surbiton avenged their 1-0 defeat in last season's final league match of the season, but needed to come from behind before cruising to victory at Oxted School.
Oxted had won at East Grinstead the week before, their first-ever away win in the Premier Division and competed with Surbiton in the first quarter and for most of the second.
Surbiton had also had to come from behind when they hosted Holcombe in their previous match, overturning a 4-3 deficit at the end of the third quarter to win 6-4.
Oxted tried to thwart Surbiton with a press tactic, forcing the visitors to pass the ball around to try and penetrate the home defence.
Oxted also succeeded in defending two Surbiton penalty corners in the first nine minutes with their supporters giving them great encouragement and cheering when the corners were over.
Owen Williamson, Oxted's hero with a penalty corner brace at East Grinstead, couldn't quite find his rhythm, with Surbiton successfully blocking his first two efforts, but shortly afterwards, Oxted took the lead, Max Gilbert scoring from open play delighting the home supporters.
The whole match was played with the floodlights switched on and during the second quarter the reason became apparent as the skies became overcast, but fortunately with no rain to spoil the excellent atmosphere.
Surbiton stayed patient with Oxted goalkeeper Fred Whitfield making an excellent save from Rob Farrington, Tim Nurse making good runs and James Gall also threatening.
Oxted had their moments, Chris Porter going on a run before unfortunately turning the ball over, but Surbiton eventually equalised after a run of three penalty corners, Gareth Furlong rifling the ball into the roof of the net in the 27th minute.
By half time, Surbiton were ahead, James Gall scoring from open play two minutes before the break.
The weather started to brighten up during the third quarter and so did Surbiton's prospects, Luke Taylor finding the net from their seventh penalty corner in the 50th minute to extend the lead to 3-1.
During the fourth quarter, the skies once more became overcast, but Taylor was on target again from Surbiton's eighth penalty corner on the hour to leave Oxted trailing 4-1.
To their credit, Oxted battled and pulled a goal back from their seventh penalty corner in the 63rd minute through Jordan Turnbull.
Surbiton's Nick Park had the final say with Surbiton's fifth goal, three minutes from time, falling to the ground in the act of scoring.
Surbiton head to Brasschaat in Belgium to take part in the Euro Hockey League Ranking Cup next weekend, whilst Oxted head to the North East to play the team they were promoted with in 2019-20, the University of Durham.
Oxted:
Scorers: Max Gilbert 14-F, Jordan Turnbull 63-PC
Starters: Owen Williamson, Lewis Fraser, Lucas Ward, Robert Mugridge, Matthew Crookshanks, Nick Giles, Chris Porter, Peter Friend, Rafa Calderon, Fred Whitfield (GK), Jordan Turnbull.
Subs: Josh Birtles (7 mins), Mark Galloway (Capt.) (8), Max Gilbert (8), Cam Heald (10), Ryan Kavanagh (16).
Cards: Green: Josh Birtles (18 mins), Robert Mugridge (24 mins), Chris Porter (57 mins).
Surbiton:
Scorers: Gareth Furlong 27-PC, James Gall 33-F, Luke Taylor 50-PC, 60-PC; Nick Park 67-F
Starters: Luke Taylor, Rob Farrington, Tom Sorsby, Ben Boon, Jonny Gall (Capt.), Tim Nurse, Jonty Griffiths, David Goodfield, Nick Park, Gareth Furlong, Ore Ogunlana (GK).
Subs: Sam Spencer (5 mins), Jamie Golden (8), Ben Park (8), James Gall (8), Ben Stevenson (11).
Cards: Green: Tom Sorsby (30 mins).
Match Official: Howard Pollard
Umpires: Ady Green and Sean Edwards
Report: Colin Pike