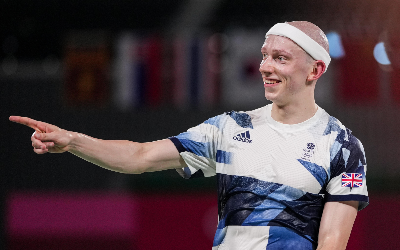 After a memorable career including appearances at the Olympics, World and European Championships, as well as a home Commonwealth Games, Toby Penty has today announced his retirement from badminton.
Badminton England are very proud of Toby's journey and asked him to look back on his career…
The last few years have changed me as a person.
With the pandemic, my alopecia diagnosis and injuries, my goals on and off the court have changed.
All of that has led me to this moment – sharing with you my decision to retire from badminton.
Honestly, I had been thinking about it for a while. I started thinking about it even before the Olympics but I didn't feel like acting until late last year.
I took some time off after Tokyo and realised I'd left a lot bottled up personally about how difficult these years have been.
When I voiced my thoughts to my parents and coaches, it took a weight off my shoulders and I instantly knew it was the right decision.
Now I want a different lifestyle, to work with other people rather than alone, and to enjoy other aspects of life and their challenges.
I always wanted to end my career in the right way because I've dedicated my life to this sport. I didn't want to look back and wonder 'what if' I'd played a little longer.
For me, it's a happy ending to a long journey. It's been up and down with a lot of things that have happened, but it's nice to have a happy ending.
I played the World Championships in Tokyo but the Commonwealth Games felt like the end.
I could have carried on for a long time and never topped those two weeks in Birmingham, playing on that centre court in front of thousands of people.
Coming back after Covid, I had real problems performing in front of crowds. I shied away from it and was at a crossroads of wondering whether I'd ever enjoy the spotlight again.
But I enjoyed Birmingham to the fullest. Even though I lost, I think nearly beating the world champion in the team event will go down as the best match I was ever involved in.
I had the whole team by the court cheering me, Raj (Ouseph) right behind me, Lango (Chris Langridge) commentating, there was some proper, raw emotion.
I'm grateful for the opportunities the sport gave me and the way I got to end it.
I went to my club in Wimbledon at the age of 12 – that's where I started my badminton journey and that's where I've ended it. I've been there one way or another for 17 years.
They've seen me go from a boy to a man and everything I've been through.
Even when I moved away, I kept my links tight because I wanted to remember where I came from and the work people put into me.
Stuart Wardell has been a coach, mentor and a friend in equal measure for all of those 17 years. Those relationships are special, the medals are one thing but the strongest memories are the laughs you have and the people you meet on the way.
The time I spent at the National Badminton Centre between 2012 and 2017, and the players, support staff and coaches I got to work with during this period, gave me the tools and knowledge I needed after the Rio funding cut in 2016. It allowed me to take more ownership for my career and believe, with limited resources, I could still go on to achieve more.
I lost my first seven international finals. I've always struggled with confidence in my ability but I met it with perseverance, always chipping away, and after I won my first I flew for the next 18 months.
That kind of came to end when I was diagnosed with alopecia. I'm a pretty chirpy person in general but the initial diagnosis sucked the life out of me.
When you have to accept it's not a short-term thing, it's with you for the rest of your life, it's a daunting thing. You have to be okay with it until you're an old man.
I tried not to let it affect my badminton but I was pretty much starting again mentally. I hit a fair few bumps on the way but again, I kept chipping away. Eventually I was going to find my way.
I've found a confidence in myself I didn't have before the alopecia and I have been really proud to use my profile to raise awareness. That's the closest thing to the buzz you get when you're playing, hearing that you have helped others in a similar situation is very special.
My parents have always been super supportive without pushing me. They were always my choices but they made it possible and they were the voice of reason at times.
The last two years my support system has been my strength and conditioning coach Ed Parker, physio Julia Sawkings and psychologist Sarah Cecil.
Working with Sarah was a game-changer for me in terms of outlook, Julia got me help when I needed it, and Ed has been a constant and given me so much of his own time.
Badminton England have given me a lot of help over the years. They set up an interview with Joanna Rowsell the week before lockdown and that was the start of me getting back to where I needed to be on a personal level. I thought I was doing okay but actually I wasn't.
I met some great people from that period – special people who have a special place in my heart for that. That piece means a lot as it was the start of the turnaround for me.
I'm sure you're all curious about what's next for me. It's been an intense 11 year so first up is a bit of downtime!
I want to slow down gradually, enjoy life and build up some coaching work I've been doing. I've started coaching recently and started to enjoy it more than playing.
I'd like to work with some of the elite guys down the line and would love to take a few players further than I was ever able to go.
It would be nice to be remembered for leaving a mark. What that mark is isn't really up to me, time will tell how people remember me.
I tried to give my best and do it with a smile on my face. Whether there's a right way or a wrong way, I tried to do it in a good way and give a little bit back while I did.
I'd like to end by wishing all the English players moving forward the very best of luck. I am rooting for them and I hope they get to live out some of their dreams, just like I did.