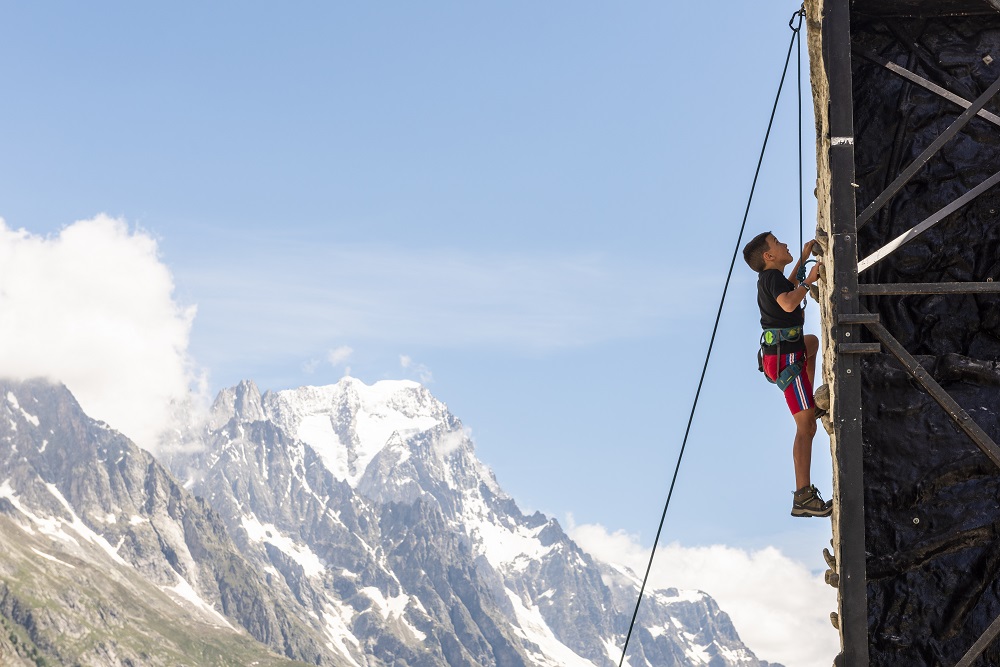 During the winter, the mountains surrounding Courmayeur Mont Blanc are a wonderland for skiers and snowboarders, but its attractions are not confined to the winter months.
During the summer, rolling green slopes, a warm climate, and a wealth of outdoor activities make the Italian resort an ideal  destination for travellers looking to get active, or who just simply want to relax, while embracing nature.
This summer, Courmayeur Mont Blanc is hosting a busy programme of exciting events and activities throughout the season, and this was kicked off with a special 'Green Weekend'  featuring nature-based gastronomical experiences, including a 'Gourmet Walk' in collaboration with local restaurants against the backdrop of the stunning Mont Blanc scenery.
There was also a concert in the beautiful Aosta Valley, workshops, wellness and sports experiences for families, and a specially composed soundtrack of mountain sounds to accompany the fun. The Green Weekend climaxed with a spectacular outdoor concert by Roman singer-songwriter Fulminacci.
Visitors can now look forward to the other summer attractions on offer which include:
New E-Bike sharing service
Acknowledging the importance of sustainability in tourism, Courmayeur Mont Blanc is introducing a new e-bike sharing programme, with 30 e-bikes for public use.
There are many sign-posted cycling routes and to help visitors get further afield, cyclists can also use inter-connected railways, shuttle busses and cable cars, to explore every nook and cranny of this the region sustainably.
Exhibitions on 'The Roof of Europe'
Skyway Monte Bianco, the cable car of Courmayeur Mont Blanc that leads to the roof of Europe, reopens to guests this summer with a variety of new features. The Saussurrea Alpine Garden reopened on 19 June where visitors can see more than 900 specimens of life which coexist at altitude.
There is a new exhibition at the intermediate station of Pavillon: Gabriel Loppé titled 'A life on Mont Blanc', featuring paintings that depict mountaineering, alpine landscapes, glaciers and snow, which show the change in nature throughout the seasons.
Also on show are art works by Donato Savin, which feature pieces found during his ski mountaineering days in the valleys of Valle d'Aosta.
Wellness in the mountains
Yoga was a feature during the 'Green Weekend' summer launch and for those wishing to explore the meditative and reinvigorating energy of Courmayeur Mont Blanc there will be 'Yoga Mountain Days' throughout the summer season. These days will be dedicated to exploring wellness through seminars, yoga, massage, and other sensory experiences, culminating with a DJ set at the end of each day. Weekly yoga sessions with spectacular views of Mont Blanc will also be available to book over the summer months.
Soundtrack to the Summer
Max Casacci, producer, guitarist, and founder of the Italian band Subsonica, has composed a mini-soundtrack This is Courmayeur. The Sound of your Summer. The tracks feature the mountain's nostalgic sounds such as the wind whistling among branches, streams gurgling, bells of cows grazing in high pastures, all of which are combined with percussion sounds of the mountain peaks and goat bells. Listeners can access the tracks through a QR code.
About Courmayeur Mont Blanc
Courmayeur Mont Blanc is a traditional resort full of history and charm and surrounded by spectacular scenery.
The centre of the village is car-free and visitors have a range of stores, and bars to choose from, plus a wide choice of accommodation for all budgets.
The resort has earned a reputation as a gourmet hotspot known for its local alpine dishes and for playing host to a variety of celebrity chefs.
For more information on summer in Courmayeur Mont Blanc CLICK HERE
All photos, Courtesy of Courmayeur Mont Blanc / Giacomo Buzio
---
‹ British Alpine Squad for 2022/23 season named
Eddie the Eagle flies in to sample Devon's first ever endless ski slope ›
---
Categories: Italy