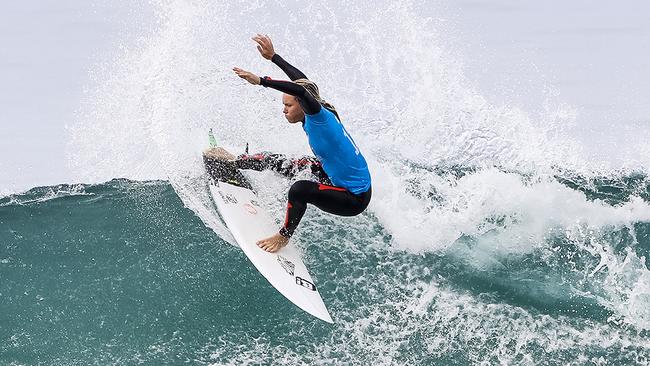 SALLY Fitzgibbons is back on top of the world thanks to a young Australian who caused a big upset at the Swatch Pro at Trestles.
Keely Andrew shocked Fitzgibbons' American rival for the world title, Courtney Conlogue, in the semi-finals.
In her best ever World Tour performance, Andrew then finished runner-up to Brazilian Silvana Lima.
SURF STAR: Sally Fitz on top of the world
NUMBERS GAME: Matildas v Brazil
Conlogue's loss means Fitzgibbons, who finished fifth in the Swatch Pro, assumes the lead in the race for the 2017 world title.
The Swatch Pro has shaken up the rankings.
World champion Tyler Wright went into the event in No. 1 spot but an early exit meant she crashed down to third as they head to the next event in Portugal.
Six-time world champion Steph Gilmore sits behind rankings leaders Fitzgibbons, Conlogue and Wright. Australian Gilmore was beaten by Lima in their quarters clash.
GAME CHANGER: Lisa De Vanna and THAT moment
WORLD MEDAL: Ash Gentle saves the day for Australia
Andrew's second place in the event is the Sunshine Coast surfer's best finish from her two years on tour.
"I was just happy to get into the semis but to make it back out there for one more heat and surf Lowers with just one other person out was pretty special," Andrew said.
"Having it against Silvana [Lima] was great. She's one of my favourite surfers on tour.
"She's just so tenacious and I was just happy to assert myself on the tour finally."
THE DON: Women dominate the shortlist
Andrew has moved into 11th place on the rankings — just one spot off automatic requalification.
"I'm feeling good with some good boards under my feet and I just want to keep making heats and be in that top 10 by the end of the year," she said.
"My back-up plan is in place with my rating on the QS (qualification series) so it feels good heading into the back-end of the year with some opportunity to open up a bit earlier on this season."
Brazilian Filipe Toledo beat South African Jordy Smith for the Hurley Pro men's crown.
Smith earned his spot in the finals with his semi-final defeat over Australian Adrian Buchan.