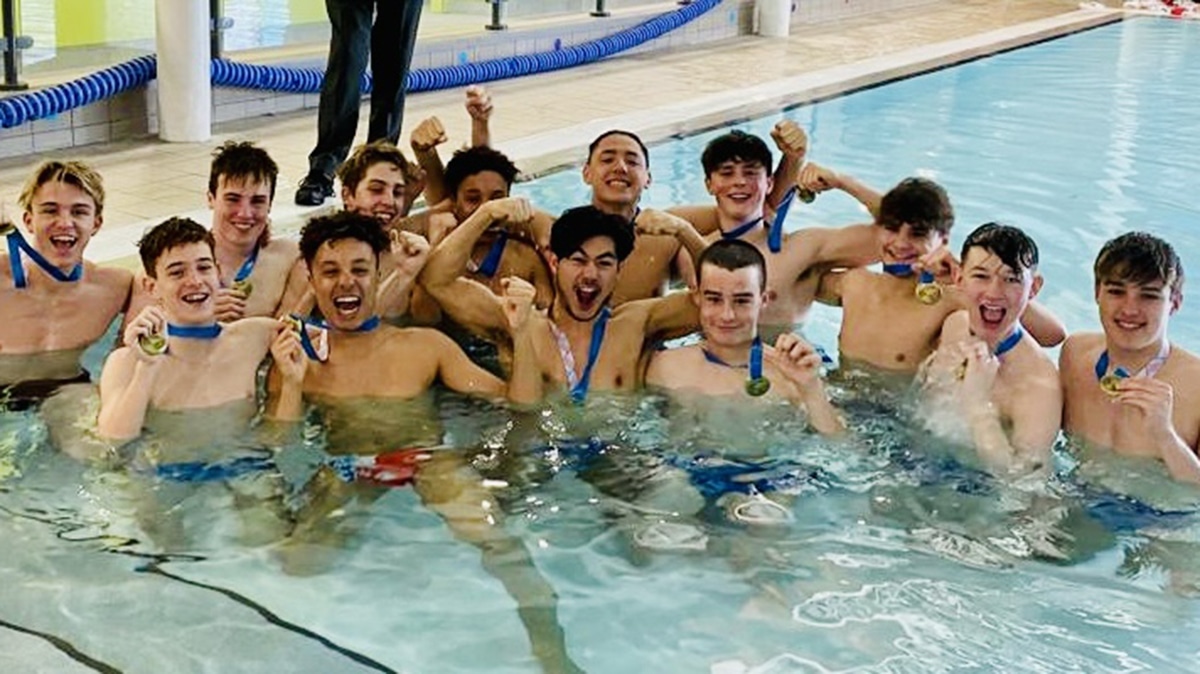 March 29, 2022
South West Sharks head coach John Spicer hailed his victorious U18s Boys' Inter-Regional Championships winning team and said their success was 'testament of what hard work can achieve'.
Three comprehensive wins saw them secure a 100 per cent record to top Division One with a goal difference of plus 35.
They opened up their campaign with a 15-8 victory over North West Sharks before their match against London Sharks was abandoned at 3-2 in the second quarter and the result recorded.
However, they were dominant in their final two matches as they defeated East 20-5 and North East Steelers 22-10 at the Palatine Leisure Centre, Blackpool.
Spicer said: "Delighted with how this squad of boys have developed to this point and risen to the top of a band of quality regions all competing in this year's event. 
"Particular thanks to Jim Walsh and Stu McKie for all the coaching work they've done with the SW 2005s in the last few years. 
"Extremely proud of our tournament MVP Arran Downer and top goalkeeper Zac Downer, a testament of what hard work can achieve."
South West Sharks captain Reuben Powell added: "So proud of this great tournament win. 
"I'm thankful for a dedicated team of coaches, parents and players who all support each other and great to know five boys in this squad will go on to represent SW again with our 2006s. 
"I've loved my time with South West Water Polo and am grateful for the opportunity given to play water polo at this level."
East Midlands put on perfect display
East Midlands sealed top spot in Division Two with a perfect record.
They defeated the West Midlands 10-6 and South East 6-4 on the opening day of the competition at the Watford Leisure Centre.
And they followed that up with impressive 14-5 and 23-5 victories over Scotland Saltires and Wales respectively to complete a clean sweep.
It left them two points clear of the West Midlands who won their other three games to take second place in the table.
Victorious East Midlands captain Lewis Glennon said: "It was great to get back playing in the Inter-Regionals again after Covid. 
"We had some tough games and it was fantastic for the team to get the division win. Thank you to everyone involved."
Head coach Joe Leveridge added: "A fantastic weekend of polo, with some really close, tense matches. 
"I'm really proud of the East Midlands boys for holding their composure and shape throughout the tournament and finishing as well deserved Division Two winners"
Joanne Mountfield, event lead for the championships, thanked those who gave up their spare time to help support the competition.
She said: "We would like to thank all the volunteers involved in running the competitions, in particular, Dean Walker from the East Region for hosting the Division Two Boys' event at Watford and our North West table officials who supported eight newly-qualified table officials to complete their practical assessments."
If you are interested in getting qualified, please email Chris Stephens.
 

U18s Boys' Division One awards
Top goalkeeper: Zac Downer, South West Sharks
Top goalscorer: Henry Jackson, North East Steelers
Overall MVP: Arran Downer, South West Sharks
U18 Girls' Division Two awards
Top goalkeeper: Tobias Isaque, West Midlands
Top goalscorer: Tobias Chilcott, Wales
Overall MVP: Lewis Glennon, East Midlands
MVP Awards
South West Sharks: Arran Downer
North East Steelers: Henry Jackson
London Sharks: Tomas Watson
North West Thunder: Joshua Dixon
East: Josh Barratt
East Midlands: Lewis Glennon
Scotland Saltires: Murray Dickson
Wales: Tobias Chilcott
West Midlands: Daniela Reka
South East: Matthew Williams
| Fixtures & Results | | | |
| --- | --- | --- | --- |
| Saturday 26 March | | | |
| North East Steelers | 18 – 10 | East | FT |
| South West Sharks | 15 – 8 | North West Tigers | FT |
| North East Steelers | 13 – 8 | London Sharks | FT |
| East | 8 – 12 | North West Tigers | FT |
| South West Sharks | 3 – 2 | London Sharks | FT |
| Sunday 27 March | | | |
| East | 12 – 17 | London Sharks | FT |
| North East Steelers | 12 – 11 | North West Tigers | FT |
| East | 5 – 20 | South West Sharks | FT |
| London Sharks | 8 – 6 | North West Tigers | FT |
| North East Steelers | 10 – 22 | South West Sharks | FT |
| Fixtures & Results | | | |
| --- | --- | --- | --- |
| Saturday 26 March | | | |
| Wales | 8 – 16 | Scotland Saltires | FT |
| West Midlands | 6 – 10 | East Midlands | FT |
| South East | 8 – 6 | Scotland Saltires | FT |
| West Midlands | 13 – 9 | Wales | FT |
| South East | 4 – 6 | East Midlands | FT |
| West Midlands | 10 – 2 | Scotland Saltires | FT |
| South East | 18 – 1 | Wales | FT |
| Sunday 27 March | | | |
| East Midlands | 14 – 5 | Scotland Saltires | FT |
| South East | 5 – 15 | West Midlands | FT |
| East Midlands | 23 – 5 | Wales | FT |
| Division 1 | | | | | | |
| --- | --- | --- | --- | --- | --- | --- |
| Team | P | W | D | L | GD | Pts |
| South West Sharks | 4 | 4 | 0 | 0 | 35 | 8 |
| North East Steelers | 4 | 3 | 0 | 1 | 2 | 6 |
| London Sharks | 4 | 2 | 0 | 2 | 1 | 4 |
| North West Tigers | 4 | 1 | 0 | 3 | -6 | 2 |
| East | 4 | 0 | 0 | 4 | -32 | 0 |
| Division 2 | | | | | | |
| --- | --- | --- | --- | --- | --- | --- |
| Team | P | W | D | L | GD | Pts |
| East Midlands | 4 | 4 | 0 | 0 | 33 | 8 |
| West Midlands | 4 | 3 | 0 | 1 | 18 | 6 |
| South East | 4 | 2 | 0 | 2 | 7 | 4 |
| Scotland Saltires | 4 | 1 | 0 | 3 | -11 | 2 |
| Wales | 4 | 0 | 0 | 4 | -47 | 0 |