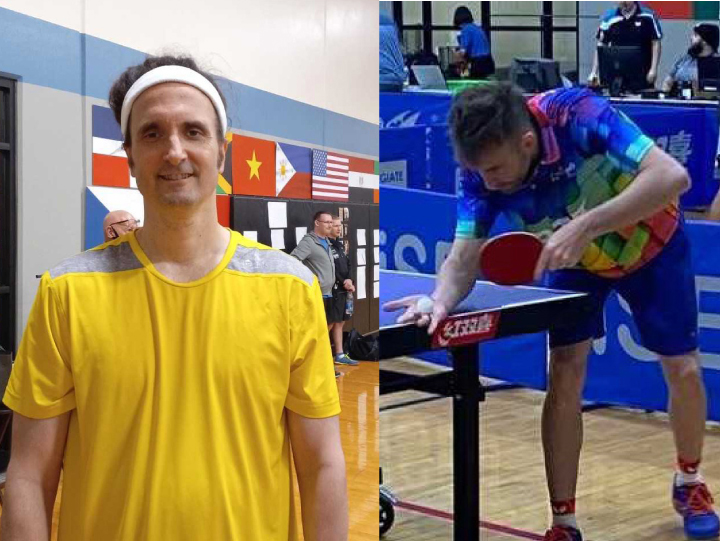 (By Larry Hodges)
On July 7, 2018, the two titans of US Hardbat finally met for the first time in a $10,000 challenge match, held at the US Nationals. It was a seesaw battle, played best of seven to 21, where often one player would dominate for a time, then the other. In the end, Jimmy prevails, 15,-16,7,11,-15,19.  
Three years later they met for the second time, in the final of the World Hardbat Championships in 2021, held in Sugar Land, TX (just outside Houston). That was the dramatic match of all dramatic matches. Playing best of five to 11, AJ led 7-2. In a dramatic style change, Jimmy switched to chopping, and tied it at 8-all. AJ won the next two points to go up 10-8 double match point. He seemed to win it when Jimmy went long – but the ball just nicked the edge, 10-9. In all, Jimmy fought off five match points before prevailing that game, 16-14, and winning the fifth, 11-6. Final scores were 1l-7,-6,14,6. 
Both are now here at the 2022 World Class Hardbat Championships, once again held just outside Houston, TX, this time in Missouri City. Though there are many who could win this title – Alexander "The Flash" Flemming of Germany and others – many are picking these two in still another finals battle. (Matches on tables 1 & 2 are livestreamed at www.facebook.com/ClassicHardbat.)  
Jimmy plays regularly at the Texas Table Tennis Training Center, where he often videos his matches and puts them on Facebook. Outside of hardbat, he's four-time US National Champion and a two-time Olympian with that newfound sponge stuff. He's also a muscular specialist who rehabilitates injuries. (The expression on his face a few years ago when he tested out the muscles on my way-too-tight and often-injured playing arm was priceless.)  
Lefty AJ manages and coaches at the Triangle Badminton and Table Tennis Center in Morrisville, NC. He's also the coach of hardbat junior star Bryce Milford, 15, rated 1808 with sponge but relatively much better with hardbat.  
So, how do these two match up? I blogged about them four years ago. Here is an update.   
JIM BUTLER 
Overall

: He has very good serves that allow him to take control of the point. He comes at you from both wings with relentless drives, rarely missing, with an occasional backhand smash. He normally stays at the table, but sometimes backs up to counter hit. Under pressure, he'll sometimes chop. Except when he tires, it's simply hard to find a way to score against his relentless consistency.

 
Strengths

: Very good serves, rarely misses except when tired, keeps coming at you from both wings with strong drives, the threat of the big backhand, experienced and cool under pressure.

 
Weaknesses

: Not a strong forehand finishing shot, and level sometimes drops when he gets tired. 

 
A.J. CARNEY 
Overall

: Equally comfortable attacking, counter-hitting, or chopping.

 
Strengths

: All-around play, very physical, great footwork, and sometimes able to run off strings of points in a row.

 
Weaknesses

: No real weaknesses, though sometimes focuses on consistency and so doesn't end the point as well as he could with smashes. Doesn't have a specific overwhelming strength (except perhaps his fast footwork), other than ability to do 

everything

 well.

 
___________
Stay "In The Loop" with Butterfly professional table tennis equipment, table tennis news, table tennis technology, tournament results, and We Are Butterfly players, coaches, clubs and more.
Share the post "The Hardbat Rivalry – Jimmy Butler and A.J. Carney"