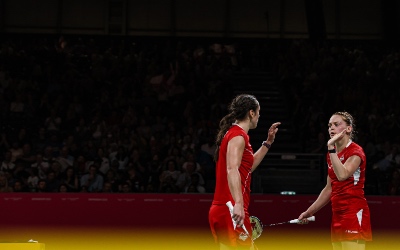 August 7th, 2022
Team England badminton will go for three gold medals in Birmingham tomorrow with semi-final victories in the mixed, women's and men's doubles at the Commonwealth Games on Sunday.
Lauren Smith is still on for a double success after the 30-year-old took to the Show Court twice in a day enjoying a comfortable victory over Scotland with partner Marcus Smith, before a hard fought second set against Australia with Chloe Birch.
Ben Lane and Sean Vendy then secured a 12-18, 17-21, 4-21 semi-final win over men's doubles top seeds Aaron Chia and Soh Wooi Yik to reach the final.
Smith and Birch capped off a successful day for English shuttlers by taking a dramatic second game against Chen Hsuan-yu and Gronya Somerville in the women's doubles to set up their gold medal match against Malaysia tomorrow.
The pair won 21-14, 24-22 with in a see-saw final game as Australia hit back with force.
What a marathon. What a result!! 🏸 @ChloeBirch95 and @LaurenE_Smith beat Chen/Somerville of Australia 21-14, 24-22 to reach the women's doubles final at @birminghamcg22 🔥#BringItHome #B2022 pic.twitter.com/gGDr34FORN

— Badminton England (@BadmintonEnglnd) August 7, 2022
Smith said: "It was a really tough match. But Chloe and I stuck at it really well. 
"First set, we got control of it with a lot of changes of speed. Second set, they neutralised and it became really tight. 
"I'm really proud of our character in those moments, we could quite easily have let that second set go but we stuck in there and came out on top.
"We'll do a bit of video analysis but we'll enjoy this win for a couple of hours first. 
"The crowd were incredible again, every game has been amazing. In that second set, they lifted us every single point. I'm savouring every moment out there."
Earlier in the day, Smith and her mixed doubles partner Ellis cruised to into the finals with a 21-14, 21-7 win over Scotland, leading from the offset in both games.
Ellis was thrilled with how the English pair navigated play over training mates Adam Hall and Julie MacPherson, and knows that a second Commonwealth Games gold is within his reach against Singapore tomorrow.
He said: "We practice with Adam and Julie quite frequently. All four of us didn't know what to expect going into it but we really stamped our authority. Their heads went down a little bit and we managed to capitalise on that.
"We are going to go out there and give it our all. If we play anywhere close to our best, we know we've got a shot at getting gold.
"It's about recovery, I have a few niggles I'm taking care of, so I'll get on top of that before we play again tomorrow. We have a good plan in place and I've been learning to manage them. Even if I had ten injuries, I'd go out there and play through them.
"It's a huge privilege. It's a tournament we'll remember long after we stop playing. I'm so happy we're progressing through the rounds and we keep getting to go back out there.
Comeback kings 👑@BenLane012 and @SeanVendy came from behind to topple Chia/Soh of Malaysia 18-21, 21-17, 21-4.

That means we have a shot at winning the men's, women's and mixed doubles 🥇 tomorrow ⏰#BringItHome #B2022 pic.twitter.com/YOT6OyrNAX

— Badminton England (@BadmintonEnglnd) August 7, 2022
Lane and Vendy came back from a game down in their semi-final against Malaysia to secure the win and will face India for the gold tomorrow.
Lane said: "We started really well and got on top of them. We knew they were under pressure. They're seeded higher than us and there's so much expectation on them.
"I said to Sean at the start of the tournament I had a thought of playing them and beating them in the semi, before the draw.
"To have three English pairs in the final, it's absolutely amazing. I think we can all go on and hopefully win three golds tomorrow
'Be a part of the action in Birmingham this summer! BUY COMMONWEALTH GAMES 2022 TICKETS HERE:  https://tickets.birmingham2022.com/
For full details and the badminton schedule, visit: Badminton (birmingham2022.com)