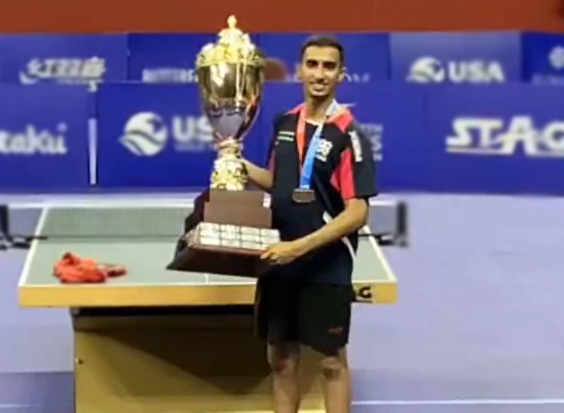 (by Steve Hopkins)
Lily Zhang won her sixth and Nikhil Kumar won his first – each taking their respective prized Singles National Title on Wednesday evening in Houston.
For Kumar, he had his sights on this title all week.  He played in the Team Trials early in the week and then played in this one event – the Hsing Family Men's Singles U.S. National Title event.  He cruised through the early rounds, winning 3-0, 3-1, 4-0, and 4-1 on his way to the Finals.  Having lost in these same Finals in past years, each step was carefully aiming towards making the next step.  When he reached the Final, he faced the hottest player in the country – Sharon Alguetti.  Alguetti had a different strategy.  He finished first in the Trials late last week, and he entered an extra singles event – finishing first in U21 Men's Singles, and an extra doubles event – making the Quarters of Men's Doubles.  Alguetti won every singles match he played in Houston and jumped out to an early 2-0 lead in the Final before faltering.  In fact, Alguetti was up 2-0 in games and up 4-1 in the third when Nikhil Kumar called a time-out and regrouped.  From that point forward, Kumar won 6 of the next 7 points and road that momentum to win the next two games.  Momentum turned wildly – with one player jumping out to a big lead and then the other.  Each lost a game 11-2, hardly competing – and obviously the reverse is true as well.  But at the end, it was Kumar that finished both of the Final two games strongly to win 4-3.  Perhaps Sharon's successes over the last week in Houston resulted in his expending too much of his energy earlier – or perhaps the multi-year focus of Nikhil put him in the exact position that he needed to finish as 2022 US National Champion.
Lily Zhang winning a National Championship is no longer a surprise in this country.  She is our highest ranked player and she was a bully from the top seed throughout the event, winning 3-0, 4-1, and 4-1 on her way to the Finals in relative ease.  The surprise of the tournament was the other Finalist, fifteen year old Sally Moyland had a comeback win over sixteen year old Sarah Jalli in the Quarterfinals, and then outlasted Amy Wang in the Semifinals.  *Amy Wang is only 20 – that half of the draw speaks volumes about the strength of TeamUSA in the near future.  Moyland wasn't just content to make the Final, she won two games (and lost one game 18-16), keeping the scores tight and pressing Zhang throughout.
The U21 Men's title went to Sharon Alguetti with Sid Naresh finishing second and William Bai and Gal Alguetti finishing in third.  The U21 Women's Singles event went to Amy Wang with Sarah Jalli in second and Sally Moyland and Rachel Sung in third.  The Men's Doubles title went to Daniel Tran and Michael Tran, Women's Doubles went to Amy Wang and Rachel Sung, and Mixed Doubles went to Dan Liu and Rachel Sung.
Visit ButterflyOnline.com for the latest table tennis news and results.
Share the post "Nikhil Kumar and Lily Zhang Take Top Honors at US Nationals"