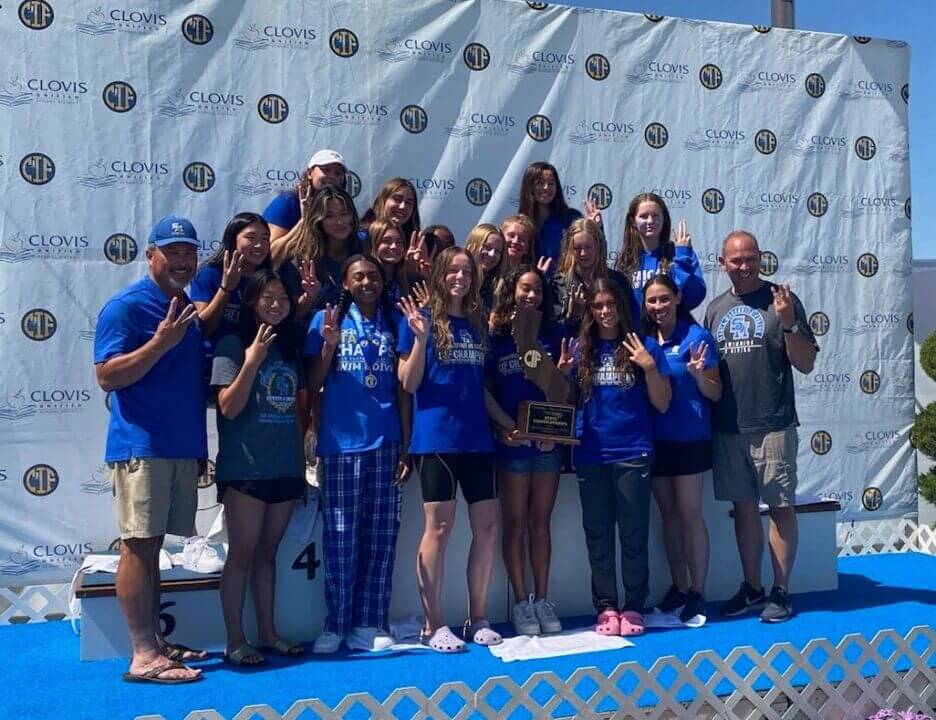 On Top: Santa Margarita Captures Swimming World Girls' National High School Team Crown
For the first time, the Santa Margarita Catholic High School girls' swim team is Swimming World's overall high school national champion. The Eagles' program was previously the top independent school in 2017 and 2021, but this year, Santa Margarita finished 10.5 points ahead of Carmel, the public school national champion, in the mythical rankings to earn the crown.
Santa Margarita Catholic High School (located in Rancho Santa Margarita in Southern California—about five miles northeast of Mission Viejo) is led by co-head coaches and brothers, Ron and Rich Blanc. Ron works in admissions at the school, while Rich teaches economics and business management, and the two have been at the helm of the swimming program since 1996.
During that time, Santa Margarita has won nine CIF (California) Southern Section titles, including eight straight since 2014 (not counting 2020, when most of the high school season was cancelled due to COVID-19). This year also saw the Eagles capture a fourth consecutive state championship.
You can now add the school's first national championship to that list.
The Blanc brothers have been eyeing the national title for years, and it meant a lot to them to secure this year's championship.
"Considering that we've been coaching for 35 years and this is the first time we've been able to win the Swimming World mythical national championship, it's pretty incredible," Ron said.
"It's something that we never imagined we would do when we started this," Rich added. "When we started out, we just wanted to be a good influence on kids and see how fast we could get our swimmers, but to be able to do this is a dream come true and something that we don't take for granted."
TALENT RUNS DEEP
The pieces fell into place perfectly for Santa Margarita this year. Several swimmers relocated to the area during the COVID pandemic, and the girls' varsity team ended up with 29 swimmers, much higher than the usual 16. That included 10 freshmen who made varsity and six seniors who are joining Division I swim teams this fall. So the Blancs ended up with one of the deepest teams they had ever coached.
"I think once you have that depth, once you have that quality team, other kids just want to be a part of it because they know that if they swim with talented kids that have similar goals and values, it's going to push them to be better, too," Rich said. "The team just kind of pushed each other and just made each other better."
California holds high school swimming in the spring, so Santa Margarita was getting their season underway in February when their closest competition, Carmel, was swimming at Indiana's state championship meet. The coaches brought up Carmel's performances with their swimmers to give them something to chase, and those end-of-season goals helped bring the team closer together.
Early in the season, the coaches started to sense the special nature of their team in a relay-only meet, which began with a 400 yard individual medley relay, an event where all four girls swam a 100 IM.
"Orange County high school swimming (in Southern California) is very strong, but only a few teams had ever broken 4:00 in this relay, where basically the four girls average under 1:00," Ron said. "And the girls went 3:47, and they utterly destroyed that time. This was the first week of the season. They weren't rested. They weren't tapered, and to know that they were this fast was a great (sign) for what was to happen."
CHAMPIONSHIP-LEVEL TIMES
And by the time May rolled around, Santa Margarita recorded championship-level times that vaulted the Eagles into the top spot.
Leading the way was freshman Teagan O'Dell, who was the top high school swimmer in the country in the 200 IM with a mark of 1:55.15, a mark already quick enough to score at the NCAA Championships. O'Dell was also fourth nationally in the 100 backstroke (52.27).
Senior Justina Kozan, an Olympic Trials finalist in 2021 and heading to the University of Southern California this fall, was third in the mythical rankings in the 200 freestyle (1:44.63) and seventh in the 100 butterfly (52.65), and sophomore Teia Salvino tied for 11th in the 50 free (22.58) and finished 14th in the 100 free (49.34). Junior Macky Hodges tied for ninth in the 100 free (49.04).
The Eagles were especially strong in the relay events, with the team securing national second-place finishes in both the 200 medley relay (Hodges, O'Dell, Kozan, senior Lindsay Ervin: 1:39.04, less than a half-second off the national independent school record) and 200 free relay (freshman Gracyn Aquino, Salvino, Ervin, Hodges: 1:32.12), while the 400 free relay team of Hodges, Salvino, O'Dell and Kozan set an overall national high school record with a mark of 3:14.80, breaking the previous record set in 2015 by a Carmel squad that included future NCAA standouts Veronica Burchill, Claire Adams and Amy Bilquist.
That foursome had already lowered their own independent school record in the relay at the CIF-SS Championships and in prelims at the state championships. "It was the girls who got together and said, 'We can totally do this. We just have to shave off just a little bit from each person.' They really attacked that race with gusto in the final," Ron said.
When the swimmers returned to their hotel that evening after prelims, Rich remembered being struck by their attitude and intensity as they prepared for the record attempt the next day.
"Usually, we like to have a team dinner and then get the kids back to their rooms for finals the next day," Rich said. "All those girls were so focused. They were like, 'Can we go to bed early? We want to get a good night's rest for the next day.' Usually, you're checking curfew to make sure everyone is safe."
The moment when they broke the record, becoming the first high school team to swim under 3:15 and swimming a time not far off what it takes to score at the NCAA Championships? Surreal.
"I remember going to talk to the girls right afterward, and I told them, 'In the 50 or 60 years high school swimming has been going on in the United States, the four of you just did that race faster than any four girls ever,'" Rich said. "I could see by the look on their faces that I don't think they really processed that, either. It was very surreal and very humbling, actually, to be able to do something like that."
TOTAL TEAM SUPPORT
That record-breaking performance was undoubtedly special, but one of the coaches' favorite parts of this championship season had nothing to do with performances or racing. It was seeing the entire team support each other and support the team's overall goals, even if some swimmers missed out on opportunities because of the team's size and depth.
"With high school swimming, it's much more of a team sport, and I think of the friendships that the girls make with each other is something that sets high school swimming apart," Rich said. "At the sectional meet, a lot of the kids that would have had a qualifying time but didn't get a chance to compete, they were there for us, and they were leading all the cheers. And in our local newspaper, the lead picture was not of any of the kids swimming in their races, but it was all the kids cheering from behind the blocks."
NATIONWIDE RIVALRY
Two months later, Ron went to watch some of his high school swimmers competing at junior nationals, which were held close by in Irvine, and he found that some of the Santa Margarita swimmers had already become friends with swimmers from Carmel.
When the Carmel swimmers introduced themselves, he already knew their names because he had scouted the Carmel team over the internet, but he enjoyed seeing swimmers from the cross-country rivals getting to know each other in person. Several Santa Margarita swimmers have expressed interest in traveling to Indiana for a dual meet against Carmel, but the non-overlapping high school seasons would make that difficult.
"It was just fun to hear that they have the same interest in how our kids are doing and how our team is doing," Ron said. "We have a nationwide rivalry—a good, friendly, respectful rivalry with another high school that is 2,000 miles away."
The latest issue of Swimming World Magazine
is now available for download in the Swimming World Vault!
Get Swimming World Magazine and SW Biweekly FREE When You
Become A Member of the International Swimming Hall of Fame
New! 30 Day Membership to ISHOF AND Digital Swimming World Subscription for just $10 a month!
Want more? Get a 1 Year ISHOF Family Membership With Swimming World Print AND Digital Subscription Order Now!
Non-Subscribers can click here to download this issue for only $5.94
setTimeout( function () {
!function(f,b,e,v,n,t,s){if(f.fbq)return;n=f.fbq=function(){n.callMethod? n.callMethod.apply(n,arguments):n.queue.push(arguments)};if(!f._fbq)f._fbq=n; n.push=n;n.loaded=!0;n.version='2.0';n.queue=[];t=b.createElement(e);t.async=!0; t.src=v;s=b.getElementsByTagName(e)[0];s.parentNode.insertBefore(t,s)}(window, document,'script','https://connect.facebook.net/en_US/fbevents.js');
// init window.fbq('init', '1467300236903193');
// track window.fbq('track', 'ViewContent', { category: 'partner', subcategory: 'swimworld', domain_name: location.host, });
window.fbq('track', 'PageView');
}, 2000);