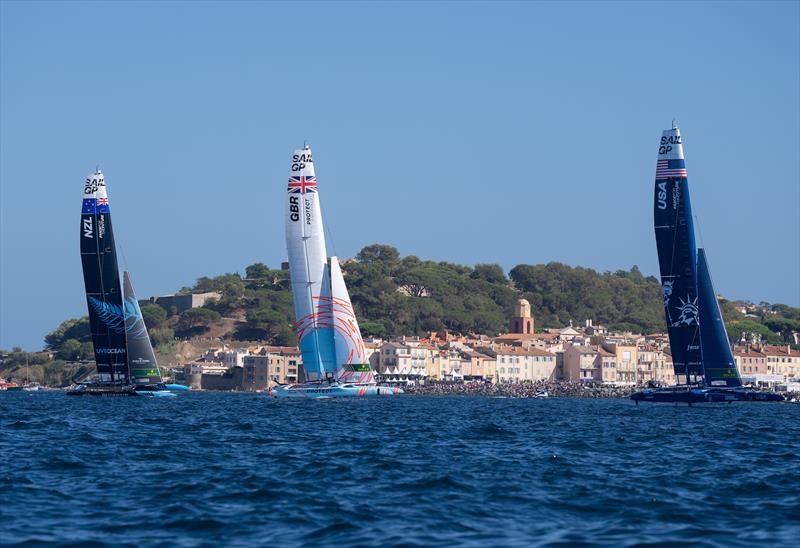 GBR back on the podium as light winds create tense final day in Saint-Tropez
by GBR SailGP Team 11 Sep 11:35 PDT
10-11 September 2022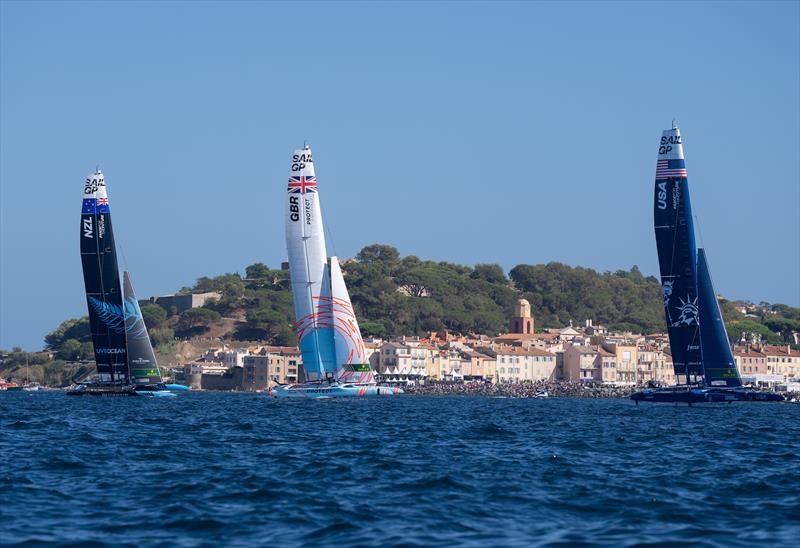 New Zealand SailGP Team helmed by Peter Burling, Great Britain SailGP Team helmed by Ben Ainslie and USA SailGP Team helmed by Jimmy Spithill win action on Race Day 2 of the Range Rover France Sail Grand Prix in Saint Tropez, France © Bob Martin for SailGP
Final day of racing sailed in light and tricky conditions with little foiling possible and only 14-16kmp/h (7-8 kts) wind speed on the racecourse
GBR start the day in fifth in the overalls, two points behind third placed Australia and one point behind France.
R1: GBR finish in third place ahead of AUS & FRA to move into third place overall
R2: Race abandoned by the race committee as the leading team unable to finish within the 14min time limit
R3: The final fleet race cancelled by the race committee.
GBR qualify for the podium final alongside Peter Burling's New Zealand SailGP Team and Jimmy Spithill's United States SailGP Team.
Podium final: GBR make good start, but the first gybe was the defining moment of the race with USA in more pressure and able to pull of the manoeuvre. USA led for the remainder of the race to take their maiden event victory
Podium final result: 1. USA, 2. NZL 3.GBR.
GBR move up into third in the Season 3 overalls
SailGP Season 3 resumes in Cadiz, Spain for the final event of the European leg on 24-25 September 2022

QUOTES: The Great Britain SailGP Team Co-Owner & Driver, Ben Ainslie:

On the light conditions and looking back at the podium final.

"Tough day in really light conditions, it was all about finding the pressure to get the boat around the course and in the right position. The team did a really good job to get into the podium final, it wasn't easy out there".

"We had a nice start in the final but on the first gybe, the Americans had more pressure and gybed slightly earlier. That move defined the race as the right-hand side has slightly better pressure.

"Congratulations to the Jimmy and the US Team, they've been knocking on the door for a while now.

"We have a great team, that has come through quite a lot of adversity through the past couple of seasons. We keep digging and putting ourselves out there and definitely have the capabilities to win the events, I'm confident that we can get there."

GBR displayed a special tribute to Her Majesty Queen Elizabeth II on their F50 race boat in France, following the death of the UK's longest-serving monarch.

"It's a poingant moment for our country, The Queen was such a huge part of everyone's lives. To lose her, was very sad. We wanted to put on a show for everyone back home, we didn't quite get the win but hopefully we have put a few smiles on faces. We are proud to represent Britain, for our Queen, and now for our King."