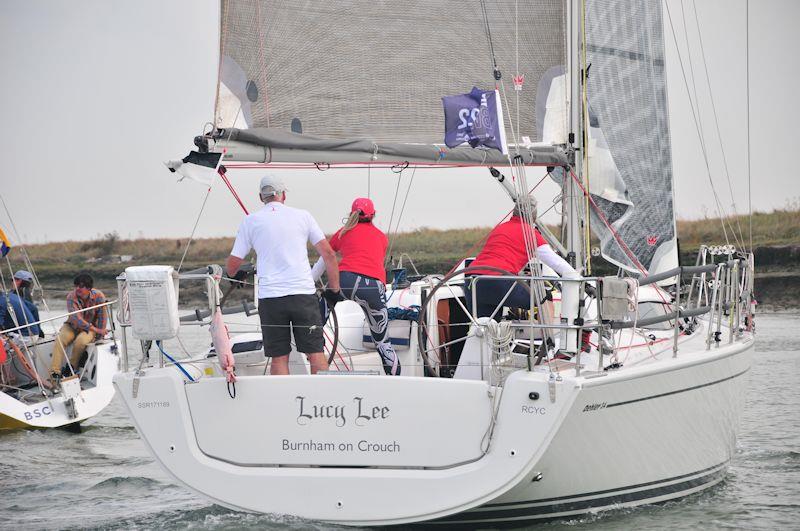 Burnham Week 2022 – Trophy Day
by Sally Harbott 4 Sep 08:53 PDT
27 August – 3 September 2022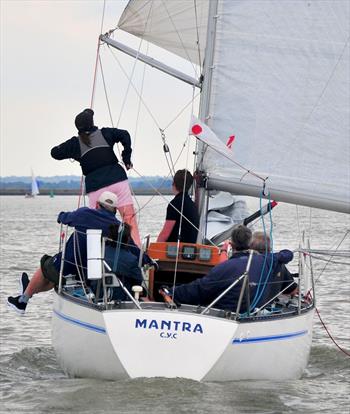 Burnham Week 2022 final day © Alan Hanna

The last day of Burnham Week 2022 and all classes were sailing for trophies. Class One were racing for the Town Cup.

The Town Cup started down river of Pile House at Pinto with a fantastic fleet of 12 ranging from Oystercatcher XXXV rating 1.427 Sigma 33s rating close to 0.900.

At the start Jackal led the fleet with Slipstream, Secrets and Mantra in pursuit. Oystercatcher XXXV were a distance up river of the line and backed their jib to be able to get going and she had shortly sailed through Jackal to leeward.

On corrected time the higher rated Sigma 33 Woozle Hunter helmed by Alex Thomas forty seconds ahead of Phillip Harbott's Aphrodite 101 Mantra.

In traditional style the Town Cup was taken to every club in Burnham by the winners, after they filled it up!

Class five raced for the Commodore's Cup and Ophelia owned and helmed by Richard Moore had a fantastic start and led the fleet round the course finishing 12 minutes ahead of the next boat.

The next three boats in the pack were RSJ, Charlie Ball, Quillet, Ron Nichols and Cezanne Phil Collard with Cezanne having caught up having been aground at Branklet.

On corrected time Quillet won by 2 minutes from Ophelia.

In Class Six Ian Keam George led for the whole race and won on corrected time to take the Roach Trophy from Voyager, Simon Sanders second.

Ian Keam George won the best performance in classes 5 and 6 for the week.

In the Squibs Mickey Wright led the whole race in Spoof finishing first by a considerable distance. The next few places were hard fought for between David Mellard's Electra, Dan Wastnage's Crackers, Slinky Ray Apthorp and Guy Fawkes, Phil Aspinall. At the finish second place was claimed by Slinky with Crackers third and Electra fourth.

The RBODs were led in by Amanda, David Smith, with Whimbrel second and Ariel third.

The RCOD class was won by Justin Waples in Cormorant, with Martin Makey's Corinna second and Sue Law in Coralie third.

Ian Ruffles in Gigi, one of the two Bermudan Rig ECODS, led the fleet. The two gaff rig ECODs enjoyed such close racing that on the final leg home they were neck and neck coming up to the line.

In the Dragon class Still Crazy, Ian Gray,led the fleet up the Roach. However by the final run in home Peter Marchant in Beauty and the Beast had the lead from Rob Campbell in Quicksilver VI. Page Boy XI Clive Page third.

Serious Moonlight Richard Bavin led for the entire race from Sparkles Andrew Courts who were sailing just two up.

The dinghies again raced from the Burnham Sailing Club. They had two races followed by prize-giving at the clubhouse.

In the Lasers Ant Law won in his radial with back-to-back firsts from Stephen Carty. Chris Roberts won the Phantoms with two bullets from Bill Taylor.

All results and great photos on www.burnhamweek.com