Robert Kitson reports from Stade Vélodrome:
That's the lot from me. Thank you for reading – a hearty well done to La Rochelle, and sincere commiserations to Leinster. They will be back, don't worry about that.
Rob Smyth has the Champions League, rather than the Champions Cup, final right here. And it's live:
Leo Cullen speaks to BT: "Just gutted for everyone really, involved in the blue team … the blue team are licking their wounds now. It's fine margins, a couple of defensive sets … it's probably a story before that, when we got ourselves in that situation. We probably weren't accurate enough … we didn't deliver … but that's a lot of credit to La Rochelle as well, they put us under a lot of pressure, and hats off to them. But it's very tough, it's very, very tough.
"Credit to them, it's fine, fine margins … there's probably moments leading into that last 15 when we could have been a little bit better.
"La Rochelle came with a plan to knock us out of our stride … we started the game well … we allowed them too much access to our end, particularly in the second half. You've got to give them credit it, they stuck at it to the very end."
Well said.
More Ronan O'Gara, this time from BT Sport: "I knew defensively, the way we'd set up, we wouldn't let the play … we did a lot of homework and the Connacht and Leicester games gave me a lot of ammunition to work with … if you stand off them it's going to be like the Aviva [a home game for Leinster]. We've got to be proud of the way we defended … do you know, there was great heart. At 18-10 we could have rolled over … this is the start of something special, I hope.
"It went down to a one-point game … the scrum was very good … The discipline near the end, if you lose that … the quickest way to the try-line is straight."
He takes a break from the interview as his players come and spray him with champagne and bundle into him.
On the forward effort: "When you're trying to dissect it live it's hard because I see it as a No 10 … but we thought we'd have an advantage [up front] … for us, it's hard, people don't get the 23-man game … we knew Leinster are usually out of sight at half-time … the boys were sunk at half-time but I was like: What's your problem? The data shows we score most of our tries in the last 20.
"It feels a little bit surreal. It was such a tense game. 10 months ago we went to Racing and got beaten 49-0 … There was infighting, it was carnage."
"Retiére is an average nine and an average wing but he's a brilliant rugby player without a position … it helps that he's four and a half foot."
Shaun Edwards, on pundit duty for Channel 4, was marvelling (like the rest of us) at the quality of that match: "It had aggression and misplaced aggression," he said. Which of course he meant as a compliment.
The victorious Ronan O'Gara is asked on Channel 4 what this means to him: "I don't think you've any idea. Where we started was a long way away from dreaming of getting to finals … I've got to thank those boys … it was easy to keel over and lose today, but that's not us. We have a little bit of balls about us. We found a way to win. Was it pretty? No. Mentally, this is the start of a good journey for this team.
"This team was second division eight years ago. Now we are playing with the big boys, and why not, why not us? … They are all warriors. That's potentially the first time Leinster haven't scored a try in a knockout game. The defence was everything.
On the fans: "You'd take this all day long."
He smiles and walks away. A job well done.
Snap match report here:
You just sense, looking them bounce up and down on the podium and celebrate riotously together, that La Rochelle's players and staff are going to have a good night tonight.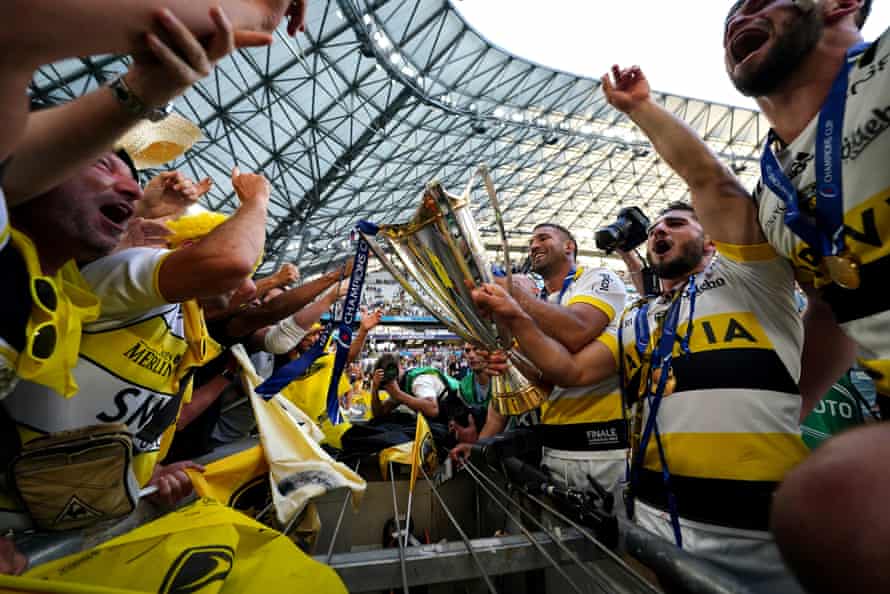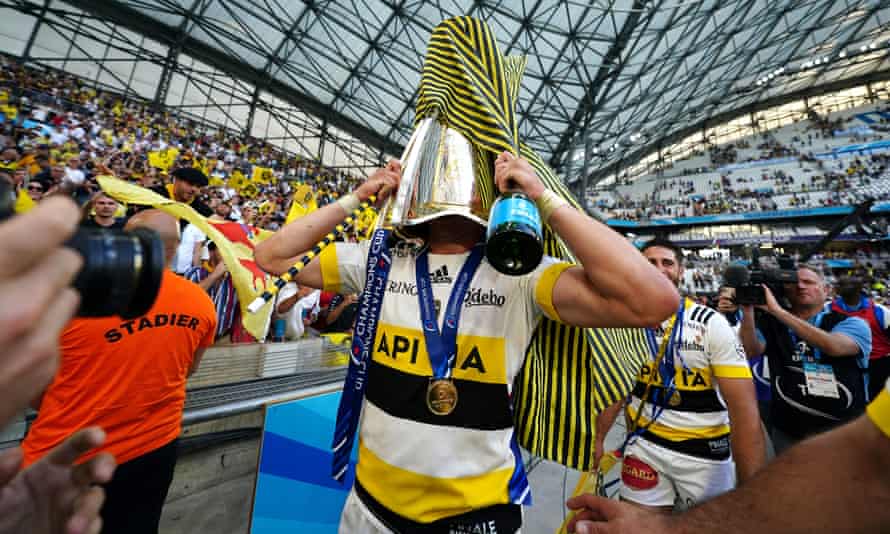 The Leinster players, who are understandably looking utterly bereft, have taken their losers' medals. And now La Rochelle are receiving their winners' medals before the trophy lift.
The final chapter of that story was so compelling. The whole match was brilliant but the end was so, so tense. It looked like La Rochelle's relentless pick-and-gos were not going to pay off, such was the ferocity of the Leinster tackling. But they got the sniff of the try-line that they needed and they are European champions.
Sexton speaks to BT: "It's an incredibly hard competition to win. When you get to the final it's the hardest game of the season … we had some chances we probably didn't take. It's devastating to lose it that way at the end … the ball squirts out, and he slips … it's devastating, yeah."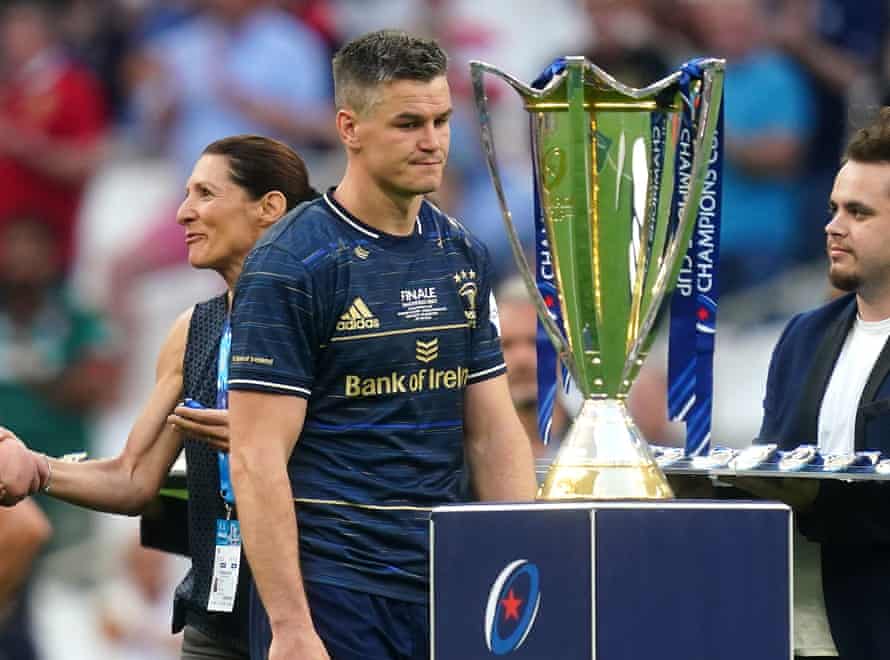 The La Rochelle fly-half, West, speaks to Channel 4: "No one gave us a chance … but we believed, deep down, we had what it took to win. I honestly don't know what to say. The fans were amazing. It was special."
Hats off to Ronan O'Gara whose gameplan upset Leinster's rhythm. Blitz defence, fierce competition at the breakdown, and in truth Leinster never really got going, such was the determination and the effectiveness of their opponents.
Full-time! Leinster 21-24 La Rochelle! La Rochelle are champions!
Incroyable. Wow, wow, wow. La Rochelle have their first Champions Cup. What a finale that was. Leinster were surely lucky that a yellow card wasn't produced, such was the persistence of their offending, but their defending was absolutely outstanding at the same time. They were seconds from glory, seconds from winning their fifth Champions Cup. It looked as if Leinster were going to have time to kick off, even after the try, but once West cracked the final conversion over and capped a fine individual performance, it was all over. Rhule was phenomenal for La Rochelle too, and Alldritt was, well, Alldritt. And a mention too for the second row Skelton, who was incredible in attack and defence.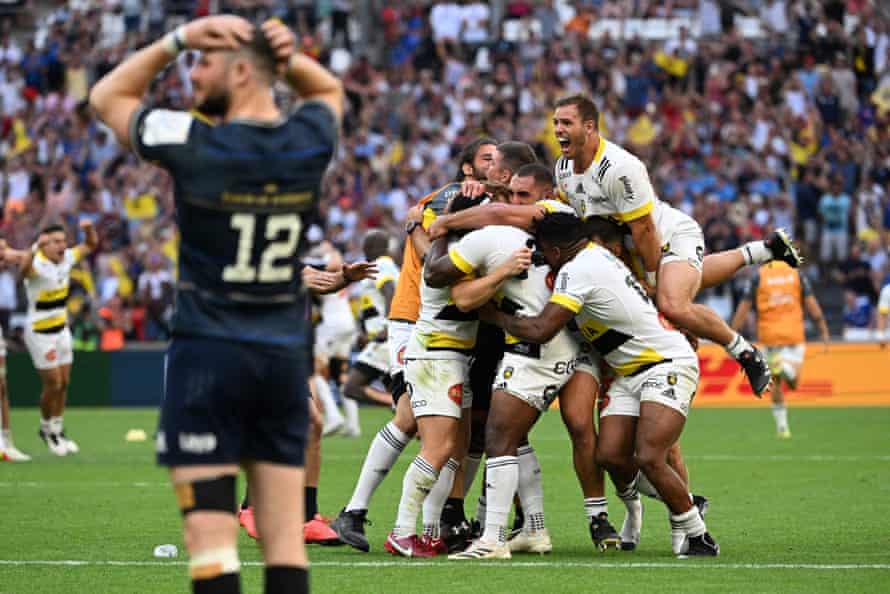 Try! Leinster 21-24 La Rochelle (Retière)
It's there! Incredible. Retière has the ball in hand, with a bit of space. He stumbles and hits the turf, but reaches for the line and dots down, and the TMO confirms the score. Conversion to come … and it's over!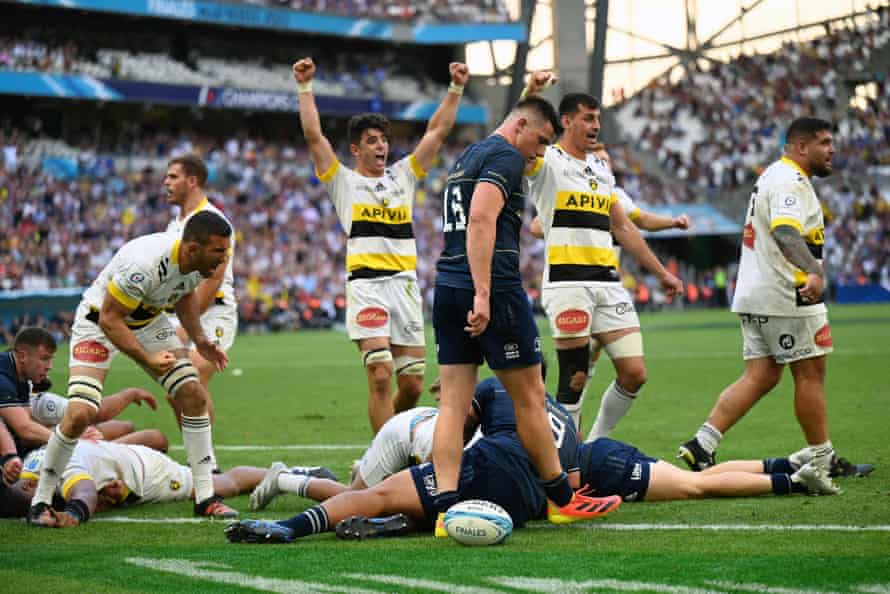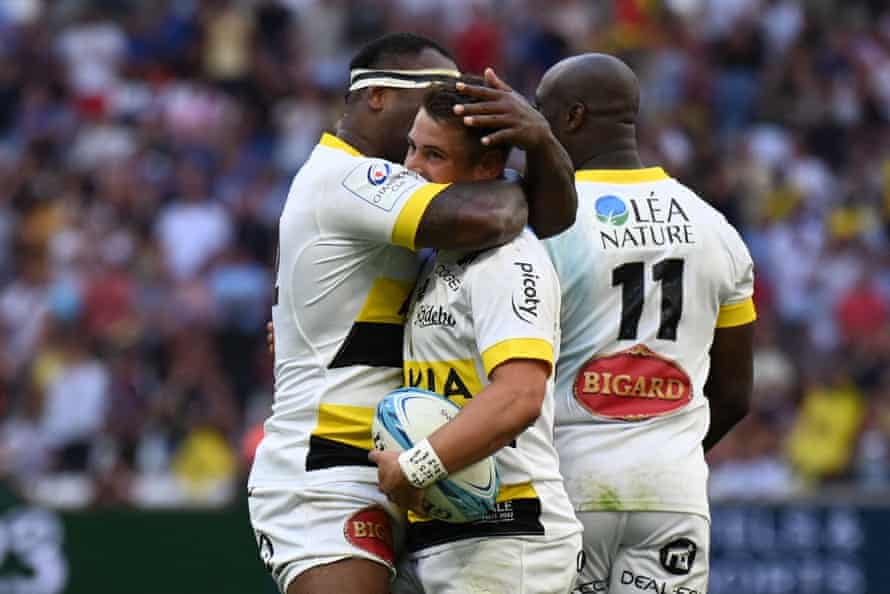 78 min: TMO Check … I think it's a try for La Rochelle! On-field decision is try for Retière!
77 min: Pick and go, time after time after time … and they edge closer to the Leinster line …
76 min: It's basically an endless penalty advantage for La Rochelle now as they hammer away near the try-line. But the Leinster defending is so, so impressive. Perhaps they are lucky that a yellow card hasn't been produced at this stage. A match that many, myself included, to be a regulation win for Leinster has been an arm-wrestle and a half.
75 min: La Rochelle take another scrum and it's another penalty conceded by Leinster as their scrum collapses.
74 min: Phase after phase of La Rochelle possession as they bash away a couple of metres from the line. The Leinster tackling is top-class. They hold firm and Dulin, again, spills a pass with the try-line beckoning when La Rochelle spin the ball left! Sazy comes on at the end of the sin bin.
73 min: Despite that moment of utter brainlessness by the second row, Lavault, he is about to come back on, and La Rochelle are the ones putting their opponents under pressure.
71 min: La Rochelle work through a few phases in the Leinster 22. Leinster are penalised at the breakdown … the resulting decision is not to take the three, and not to kick for the corner, they take a scrum!
69 min: A high tackle by Gibson-Park in midfield. Dulin drills a fantastic touch-finder for the right corner. A try for La Rochelle now and Leinster will need another score to win their fifth Champions Cup.
Squeaky Bum Time.
Penalty! 66 min: Leinster 21-17 La Rochelle
Byrne, on for Sexton, cracks over the kick. Serious damage done for La Rochelle, who had done so well to force themselves back into things. O'Gara will be furious with that. But Leinster fans will suddenly be liking the look of the scoreboard a bit more, not to mention the fact that they have a man extra for 10 minutes now.
65 min: Yellow card for La Rochelle: Lavault
This is so, so, so stupid. The French second row, Lavault, trips Gibson-Park as the scrum-half darts past chasing a kick ahead. The TMO has a look and the second row is sent to the bin. And rightly so.
64 min: Sexton has gone off, seemingly injured, Byrne on for Leinster. Liebenberg on for La Rochelle.
Try! 60 min: Leinster 18-17 La Rochelle (Bougarit)
They're over! La Rochelle nail a lineout drive and Bougarit flops over with Leinster unable to deal with the French side's short-range power. West, with incredible coolness, drills the penalty through the posts from a fairly demanding angle. It's a one-point game and we have an insanely tense final 20 minutes in the offing.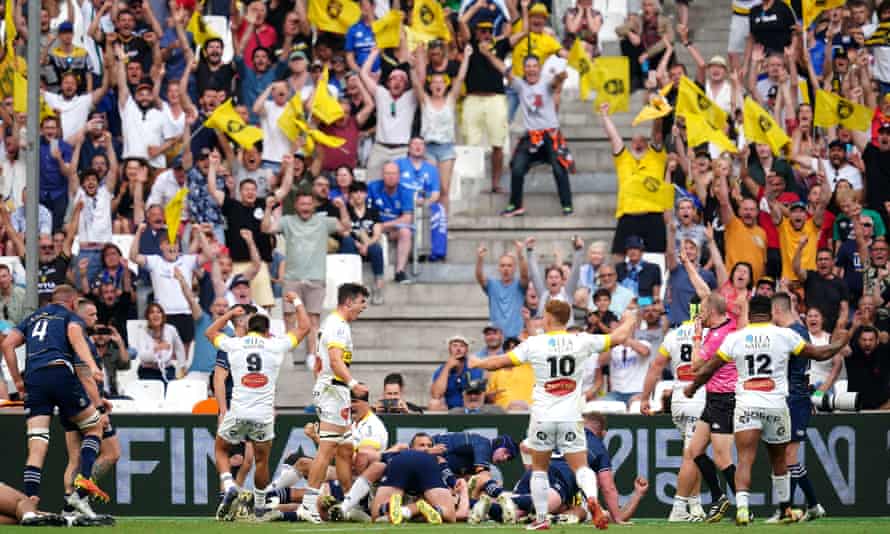 58 min: Time is off for a TMO check. Rhule was sprinting on to a kick down the left wing and Keenan looked like he may have touched the ball as it went out in the in-goal area. But he gets away with it. Dulin then tries a massively long drop-goal, gets it wrong, but there is good chasing by La Rochelle and they win a penalty for their troubles. A good attacking platform …
57 min: The knock on by Atonio gives Leinster the put-in at the scrum. Leinster kick for territory and there is now an exchange of tactical kicking from hand. As we approach the final quarter, given their relative lack of discipline, it is really hard to see La Rochelle getting back into this.
56 min: A good spell of passing and pressure for La Rochelle, which ends when Atonio accidentally runs in front of a pass from a teammate as they were moving into the 22.
Penalty! 54 min: Leinster 18-10 La Rochelle (Sexton)
That's now 12 penalties that La Rochelle have given away. Leinster have given away four. That looks very much like it's going to be the difference.
50 min: Danty, who is a fearsomely powerful carrier when he gets going, slams into an attempted tackle by Sexton. Sexton bounces off him. Now, Leinster have the put-in at a scrum in their own half. Gibson-Park starts off another attack, Sexton sends up a high kick, and the ball finds its way to Henshaw, who produces a brilliant step to beat the first tackler. Cullen's side move the ball from left to right, but their progress is interrupted and Barnes brings it back for yet another easy penalty for Sexton to mop up.
Penalty! 48 min: Leinster 15-10 La Rochelle
That is five from five kicks for Sexton. Metronomic.
47 min: Leinster keep working through the phases, and shove over the try-line, but Barnes says it's held up. They will come back for – you guessed it – another penalty conceded by La Rochelle.
45 min: Leinster work their way into the opposition half after winning yet another penalty. Lowe tries to get on the end of an angled grubber kick by Sexton but Rhule does well to cover and bundle the ball into touch.
Penalty! 42 min: Leinster 12-10 La Rochelle (West)
An easy kick is sent through the posts by the La Rochelle fly-half. If Cullen and team were hoping for a less stressful second half, it's doesn't look like they are going to get it.
41 min: Straight from the restart and La Rochelle win a penalty as Doris is penalised at the breakdown after fine work by Priso.
Here we go.
"We haven't been at our best," admits the Leinster forwards coach, Robin McBryde, speaking to Channel 4. "We need to put that doubt back in La Rochelle's heads."
Half-time reading:
Penalty and half-time! Leinster 12-7 La Rochelle (Sexton)
Sexton slots an easy kick. Leinster lead by five at the break. That could very easily have been a half-time lead for La Rochelle instead but that is a big, big swing in Leinster's favour after they won that scrum penalty, ran it down to the other end and made Dulin pay for a high-risk piece of defending near his own line. Still, all to play for in the second half …
40 min: A free-kick for Leinster, then a penalty for offside as they try to find a gap in the La Rochelle line. Barnes lets them play for a couple more phases and then brings it back for the penalty. Sinzelle is complaining to Barnes but he says, and he's got a point, that he's made his decision … Sexton will kick.
39 min: Leinster stream down to the other end, making speedy progress along the right wing. A kick is sent over the top of the defensive cover – Dulin comes to tidy up but lets the ball bounce, picks it up, and tries to run out of trouble but he is scragged on the try-line by eager Leinster chasers. Big attacking platform for Leinster now!
37 min: A scrum for La Rochelle a couple of metres from the line after Barnes brings it back for the earlier penalty … Alldritt takes the ball from the base of the scrum, but as he does so, Barnes blows his whistle and he's penalised La Rochelle at the set-piece! Priso, the prop who was penalised for going to ground, shakes his head in disbelief. They were big celebrations from Leinster there when that penalty arrives. Big relief for Cullen's men after an intense attempt at the try-line from their opponents.
35 min: Action stations for the Leinster defence as La Rochelle nip down the blindside, through Bougarit, after a lineout in the 22, Alldritt offering a nice little offload to his hooker. Bougarit is brought down and they bash away by the line a few times, with a penalty advantage, before spinning the ball out wide to the right wing but a pass from Sinzelle, intended for Dulin, goes to the floor off the full-back's hand! So close to another try for La Rochelle! That was superb defence from Leinster, too.
32 min: Skelton, with a couple of beefy carries, gets La Rochelle over the gain line more than once and they move ominously towards the Leinster line. Leyds offers up another beautiful offload in contact to Rhule, who is brought down a few metres from the line. La Rochelle then cough up another penalty. La Rochelle are having to play at their limit to live with Leinster, and I fancy the Irish side's conditioning will play a big, big part in the second half. Rhule, I should mention, is absolutely explosive and you can understand why La Rochelle are looking to feed him the ball at every opportunity.
29 min: Sexton attempts a long-range drop-goal but it doesn't come off. Henshaw runs it back from deep after the La Rochelle restart. If O'Gara's men can find a score before half-time and go into the break ahead on the board, it would be a huge psychological boost given the pressure they have been under at times.
27 min: Another scrum in La Rochelle territory. Sexton feeds Ringrose with a smart pop pass and his fellow Ireland international crashes into the 22. A glimpse of Leinster's well-oiled attacking machine, which is creaking a little as a result of the pressure that La Rochelle are exerting on them. They are rushing up in defence and trying to shut down Leinster's fluency of running and passing and for the most part, it is working well.
Penalty! 22 min: Leinster 9-7 La Rochelle (Sexton)
More indiscipline from the French side, and the pendulum swings back in Leinster's direction following 10 minutes of superiority for La Rochelle. Sexton sends the ball sweetly through the sticks, if a little bit closer to the right-hand post than he may have liked.