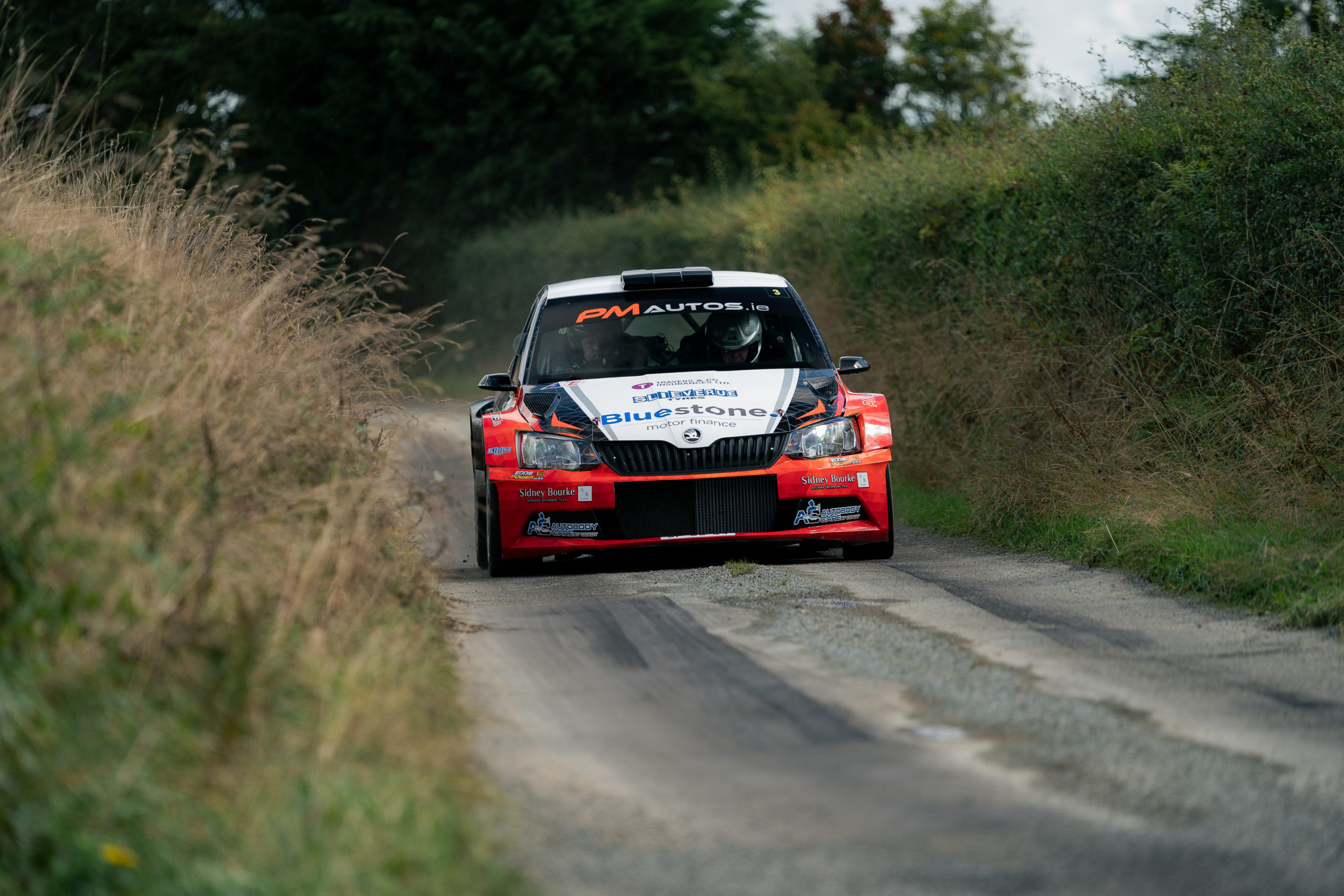 Andrew Purcell and Andy Hayes overturned a 53.6-second overnight deficit to beat long-time Wexford Stages Rally leader, James Stafford by 31.2 seconds.
The Skoda Fabia R5 pilot was fastest on five of Wexford's eight stages on Sunday to seal his first win since 2018's Carrick-on-Suir Forest Rally. The result meant Hayes kept the coveted home Wexford crown, the two-day rally win now ticked off his list.
---
Heavy rain turned the 2022 Wexford Stages Rally on its head after Stafford and Thomas Scallon dominated proceedings on Saturday in their two-wheel-drive Darrian T90.
The Wexford crew feared the inevitable as Purcell reduced their advantage by 27 seconds on Sunday's first two stages. Staying on the road was a big enough challenge, never mind holding onto the rally lead, as Stafford softened his Darrian's set-up through Sunday morning.
Purcell finally claimed pole position on Wexford's 15th stage. Daniel Barry set the fastest time on a stage that took Wexford's wickedly wet conditions to a new level. Barry had moved up from fourth to third on Sunday and his steady improvement had given him a one-minute cushion with a single loop of stages remaining.
A podium finish and several stage wins proved a great confidence builder for Barry who was making his comeback after an accident in France two months ago.
---
Kevin Eves was another mover up the field. The Toyota Corolla driver started the day in sixth, 5.8 seconds behind Gary Kiernan. His Ford Escort Mk2 rival dropped out on stage 10 with axle damage, a heavy consequence for an early morning attack.
A series of top three times had Eves overtake Saturday's star driver, Richard Moffett, on Wexford's 13th test. Eves was setting the two-wheel-drive benchmark, utilising his experience behind the wheel of his Twincam in slippery conditions.
Moffett, by his own admission, was less confident in the rain-soaked roads. The Monaghan driver was grateful to survive two spins on stage 15. A switch to full-wet tyres on the final loop seemed to help Moffett as he finished Wexford a fantastic fifth overall with a minute in hand over Mikko Hirvonen.
---
Hirvonen, despite the rain, was enjoying his second day in Wexford. The flying Finn showed glimpses of his world-class with two top-three stage times on Sunday. Ultimately, though, he was too far back to battle Eves and Moffett after suffering brake issues for most of the rally's opening day.
John Warren and Ruthann O'Connor were kept busy with their Corolla losing water between stages. The perseverance was rewarded with a Class 13 win ahead of Leon Galvin and Ger Foley, just missing out on a top ten overall finish.
---
Photos by Ross Delaney