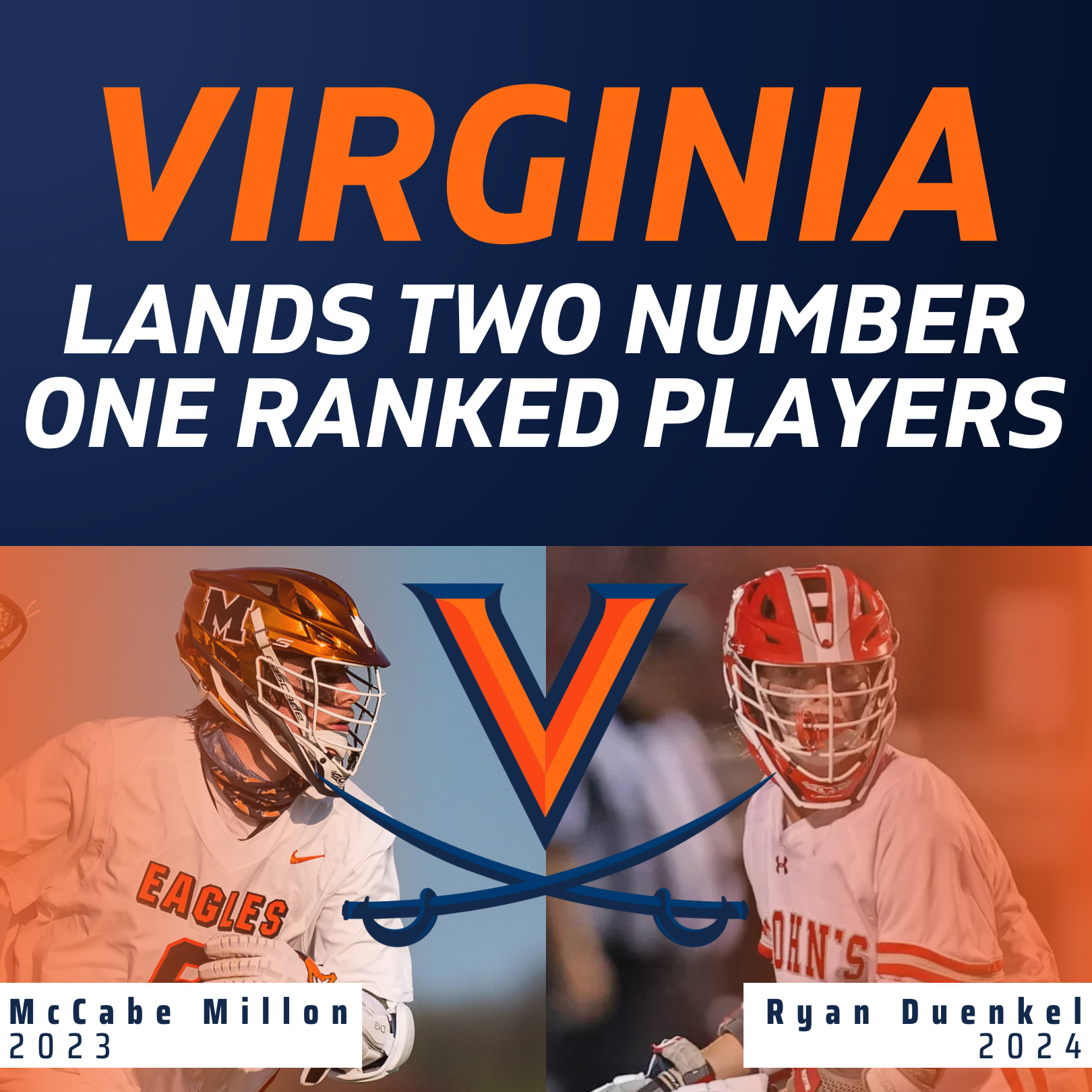 Within a twenty-four hour span, the University of Virginia landed not one, but two No.1 players in their respective classes. Inside Lacrosse's No.1 player in the class of 2024, Ryan Duenkel, announced his commitment to UVA on Sunday afternoon. Duenkel's decision was not too shocking because his father played football in Charlottesville and his older brother is currently a kicker on the Virginia football team. 
As a sophomore, Duenkel dazzled under the bright lights scoring 51 goals and 29 assists for the undefeated St. John's (DC) powerhouse. Duenkel was arguably the best player on the nation's best high school lacrosse team, and it's no surprise why he was chosen as the top player in his class. 
On Monday morning, McCabe Millon shocked the lacrosse world. The former Duke commit posted a message on Instagram thanking Coach Danowski and the Blue Devils staff while also announcing his decision to decommit from the program to flip to the University of Virginia. 
My first reaction was complete and utter shock. Outside of a couple Millon summer lacrosse camps from over a decade ago, I haven't spoken to McCabe or the Millon family. During the brief time I did spend with McCabe, he seemed laser focused and incredibly sharp. Even from a young age, Millon exuded confidence and direction which is why I'm so surprised by his decision to flip schools.
Did Duke's absence from the NCAA tournament play a factor in this decision? Or was Duenkel's commitment to the Cavs the determining factor? It's impossible to ignore the timing of Duenkel's decision, but it's equally noteworthy that Duke has severely underachieved in recent years. Maybe Millon realized the McDonough orange just looked too good on him and wanted to rep the same colors in college. Probably not, but it's possible. Either way, Duenkel's commitment and Duke's lack of success must have been considerations.
It's unusual for a No.1 ranked player like Ryan Duenkel to announce their commitment this early in the recruiting calendar. After the NCAA modified their recruiting rules to begin September 1 of a player's junior year, we waited until October 17, 2018, for Brennan O'Neill to share his commitment to Duke. One year later, then No.1 recruit Andrew McAdorey sat on his decision until pledging to Duke on October 29, 2019. Joey Spallina, who always knew he'd play in the Carrier Dome, announced his commitment to Syracuse on September 15, 2020. Lastly, McCabe Millon originally committed to Duke on October 4, 2021. These players all played the "wait and see" game watching other four and five star recruits pick their college destinations before choosing their own. 
That will not be the case with the class of 2024.
The biggest domino has fallen with Duenkel's commitment to Virginia, and now Millon's choice makes UVA even more attractive. These announcements by Duenkel and Millon will certainly impact decisions by other elite high school recruits. 
We recently witnessed Joey Spallina's commitment to Syracuse motivate other prospects to join him in Upstate New York. As a result, Syracuse was awarded the No.1 recruiting class including nine players who were selected as Under Armor All-Americans. That's unheard of.  
Lars Tiffany and the Virginia coaching staff will have a leg up on the field recruiting the rest of the 2024 class. If the Cavaliers can continue landing these blue-chip prospects like McCabe Millon and Ryan Duenkel, we may be witnessing a truly special era in Charlottesville, VA.