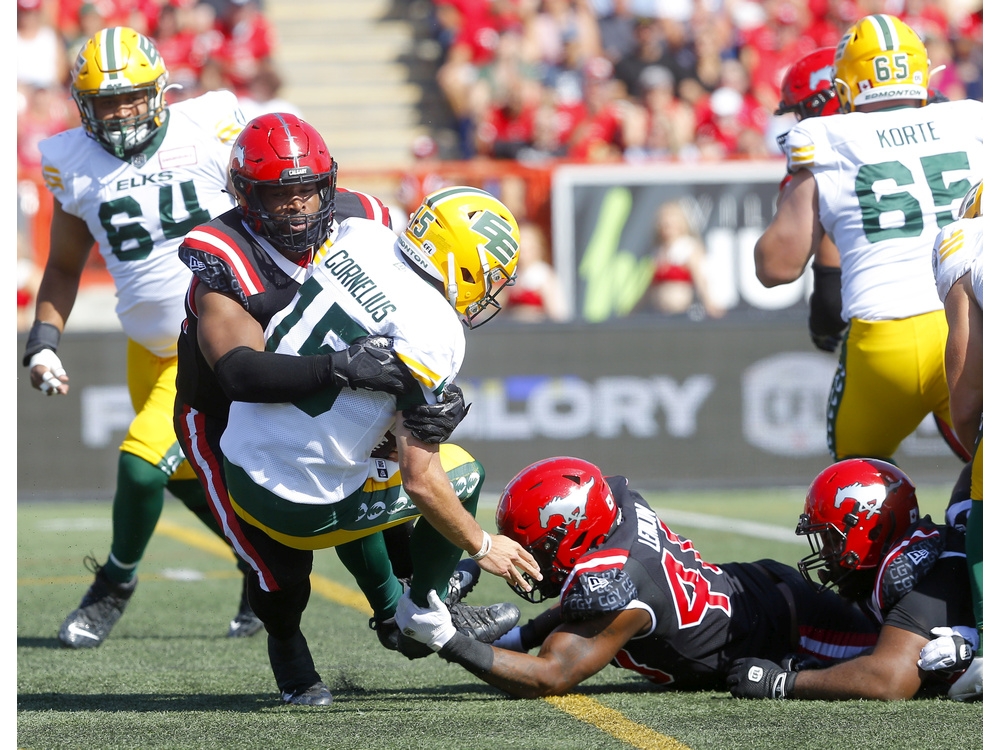 Article content
For most of the career, it's been extremely lucrative to be the guy playing next to Jameer Thurman.
Article content
Whether it was Alex Singleton or Darnell Sankey in past seasons, or Cameron Judge this year, Thurman does all the little things that allow his linebacker teammates to do what they do and put up big tackling numbers.
Article content
Not on Monday, though.
On Monday, Thurman was front and centre.
After missing three games with a knee injury, Thurman came back with a bang in the Labour Day Classic, earning himself recognition as one of the CFL's three top performers of the week with a 10-tackle game as the Stampeders defeated the Edmonton Elks 26-18 at McMahon Stadium. He was also initially credited with a sack that eventually was changed and given to Shawn Lemon.
Article content
"Oh yeah, he was chomping at the bit to get back out there for a while," Judge said. "I knew he was going to have a good day once they gave him the green light."
Article content
To be clear, it's not like Thurman hasn't put up some awfully impressive numbers in his four seasons with the Stampeders. He was as good a weakside linebacker as you could find in the CFL in his first sting with the Stampeders in 2017 and '18. His partnership with Singleton was utterly dominant and it was not a Batman and Robin situation where Thurman was playing the sidekick. They were a tandem, and while Singleton led the league in tackles that season, Thurman was eighth with 82 — playing at WIL linebacker, which traditionally gets a lot less tackles.
Thurman was just outside the top 10 last season playing alongside Sankey, who led the CFL at season's end.
So yeah, Thurman is a guy who makes his teammates better. Nobody who pays any attention to the league underrates him, he's long been recognized as being elite.
Article content
On Monday, though, he set a career-high with 10 tackles.
That's the sort of thing that really gets people talking.
"I just had to make my presence felt," Thurman said. "I missed a couple of games and I wanted to go out there and show what I can do. Pretty much, that was it.
"I was trying to make plays in all phases of the game: Pass-rush, stopping the run, pass coverage. I think I showed up pretty well in all three phases."
It was a star performance from a star player. Thurman tends not to be the loudest trash-talker and generally doesn't pump himself up too much in the media. His most enthusiastic quotes this season were when he was trying to make sure teammate Titus Wall wasn't flying under the radar and was getting early season consideration for Most Outstanding Player.
Article content
Even if Thurman doesn't crave the spotlight or actively seek it out, it's not like he doesn't appreciate a little recognition.
The Stampeders were definitely happy he got some for his big Labour Day Classic performance.
"I know he got player of the week, which is cool. The rumour is Lemon got credit for his sack, so Lemon I think called league office and lobbied pretty hard for that one," Stamps head coach Dave Dickenson said with a laugh. "I thought he played excellent (after) having those weeks off, and I thought his knee looked excellent.
"I couldn't tell the difference, I thought he played one of his best games of the season. I'm happy he got that recognition, he's not playing for recognition but I know it feels good."
Article content
Ottawa Redblacks receiver Jaelon Acklin and defensive lineman Lorenzo Mauldin IV were named the two other top three performers of the week. Acklin had 159 receiving yards in a 38-24 win over the Montreal Alouettes. Mauldin recorded five tackles, two sacks and one pass knockdown in the victory.
QUICK HITS
The Stamps only have one practice this week before their rematch against the Elks in Edmonton on Saturday (6 p.m., TSN/770 CHQR) , but they did host a low-impact walkthrough on Wednesday .
It's always best to avoid drawing too many conclusions from walkthroughs on short weeks, but there were a couple of notable absences.
Defensive backs Daniel Amoako and Natrell Jamerson were both out and receiver Kamar Jorden was a non-participant, as well.
Article content
"We've got some questionable guys, I'm sure (the Elks) will too," Dickenson said. "It was a physical, physical game and we ware going to try to get something out of a full practice tomorrow and that's basically it. I'm confident that even if the guys don't maybe practice at full speed tomorrow, if they tell me they're good to go I'll try to play them."
The defensive backs are likely a bigger concern than Jorden. That's not a knock on the receiver, more a comment on how low the Stamps are on bodies in their defensive backfield. Fortunately, Branden Dozier was fully back on Wednesday, but there's still a long list of DBs who are unavailable.
"It's getting to the point right now where I look at my board and I've got 12 guys on the injured list and seven are DBs," Dickenson said. "One man's injury is another man's opportunity, but I know our scouting department is looking and we're talking and seeing who's out there and trying to make sure our team has enough guys to go out there and win."
Daustin@postmedia.com