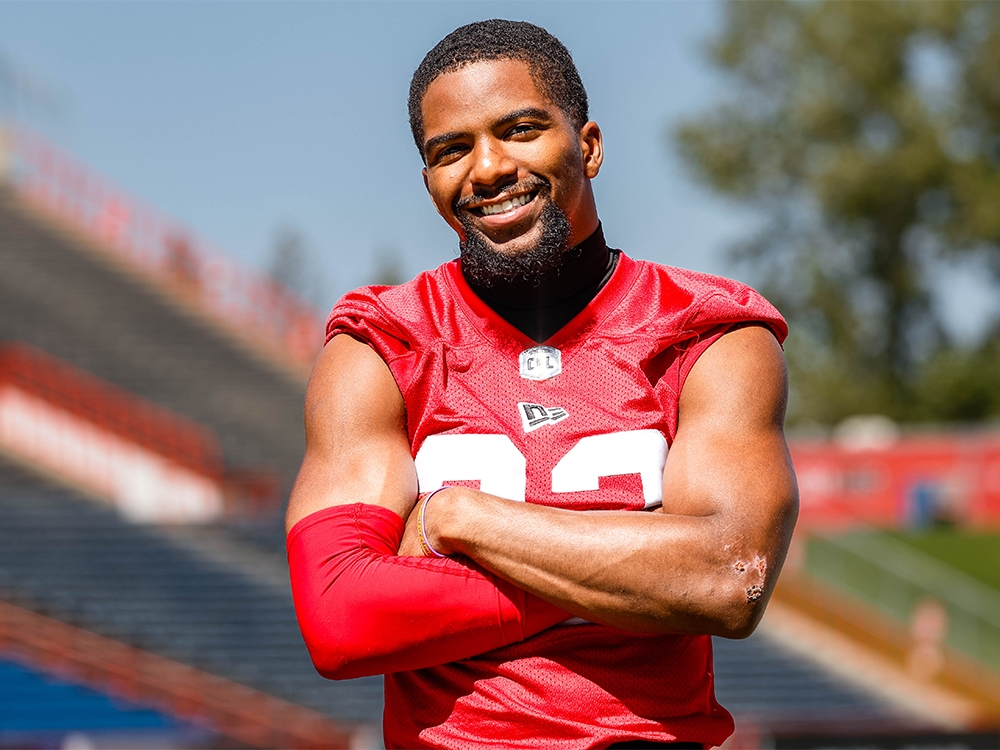 Article content
Jameer Thurman has started the campaign to make sure end-of-season awards voters don't ignore Titus Wall when it comes time to vote for the CFL's Most Outstanding Rookie.
Article content
Branden Dozier, though, isn't sure that award is enough.
"(Wall) is just dominating right now," Dozier said. "Jameer's been pushing (rookie of the year), but if you look stats-wise, what defensive player has better stats than him right now? Maybe be should be a step above that and it should be (Most Outstanding Defensive Player)? I believe that."
Article content
It's obviously way too early for anyone to be making a final decision on end-of-season awards, but that doesn't mean the Stampeders can't start actively campaigning for their starter at the SAM position.
There are veterans at McMahon Stadium who have seen their teammates go ignored by voters enough times — Tre Roberson's Most Outstanding Rookie snub in 2018 sticks out — and they've realized how important it can be to be vocal.
Article content
Wall himself probably isn't going to start lobbying for consideration but his older, more experienced teammates are happy to do the job for him.
"Since the beginning, he's been making plays," Thurman said. "We understand this is an offensive league, everyone understands that, but as a defensive player, to have two touchdowns this early in the season? That speaks volumes.
"Especially coming in as a rookie, you have to take into account all the stuff he's doing: interceptions, sacks, touchdowns … He's in all phases of the game, and that usually doesn't happen for a rookie in the CFL, so I feel like his play has spoken volumes and people need to get out of the mindset of the offensive league and the points and all that and look at how dominant a lot of these defensive players are."
Article content

While Wall's stats don't tell the whole story, they're still wildly impressive.
In only seven games as a pro, the Missouri State product has 30 defensive tackles, two sacks, three interceptions, two forced fumbles and two defensive touchdowns. That has him leading the league in defensive touchdowns, tied for the CFL lead in interceptions and second in forced fumbles.
There have been some massive, game-changing plays, too.
The Stampeders would not have beaten the Hamilton Tiger-Cats had it not been for Wall stealing the ball out of Dane Evans' hands and running it in for a late touchdown after they'd fallen behind 24-3 in the first half in Week 2.
Against the Ottawa Redblacks last Friday night, Wall had a pick-six and another interception that he caught in the Stamps' end zone. Those two plays amounted to a 14-point swing. The Stamps won the game 17-3.
Article content
"I personally feel he's taken to the coaching because he's in a tough position, so credit to both Dwayne Cameron and Brett Monson," said Stamps head coach Dave Dickenson. "But he still has to do the job and I just feel like some guys, when the opportunity hits them, they make it.
"We've had a lot of dropped interceptions this year, but not from him. When he gets the chances, he makes the play."

As for Wall himself, he's taking it all in stride. He's not going to start pumping his own tires in the media, but he's clearly grateful for the love he's getting from his teammates.
"It means a lot to have that respect from my teammates and my peers, but at the end of the day the job's not done. I come to work every day trying to be the version of myself," Wall said. "Every day's an interview and I play like my job's on the line every day."
Article content
NOT GONE FOR GOOD
On Monday night, it was reported that Tre Roberson had undergone surgery and was out for the season.
As it turns out, the situation might not be as cut-and-dry as that.
Roberson did have surgery on his injured knee, but there's still a chance he could be back on the field before the season is through.
"Wasn't a complete tear, looking at a couple months," Dickenson said. "I'm not saying he's out-out, but I wanted to put his mind at ease, meaning that make sure you're better and play when you can play and hopefully the surgery helps him have a longer career."
The Stamps were also missing a couple of other key pieces who were dealing with muscle issues at Tuesday's practice. Running back Ka'Deem Carey was out after missing all last week with a hamstring issue and was joined on the sidelines by both Thurman and starting right-tackle Julian Good-Jones.
The team is hopeful they'll all be available for Saturday's massive clash with the B.C. Lions.
"I think all three have a chance, a good chance. I would consider them muscular injuries. I'm not saying they're not severe, because muscles, you need to run, but I'd say we have a good chance for tomorrow," Dickenson said. "Football's rough. I just hope they're back, they're three pivotal players for us."
daustin@postmedia.com
Twitter: @DannyAustin_9