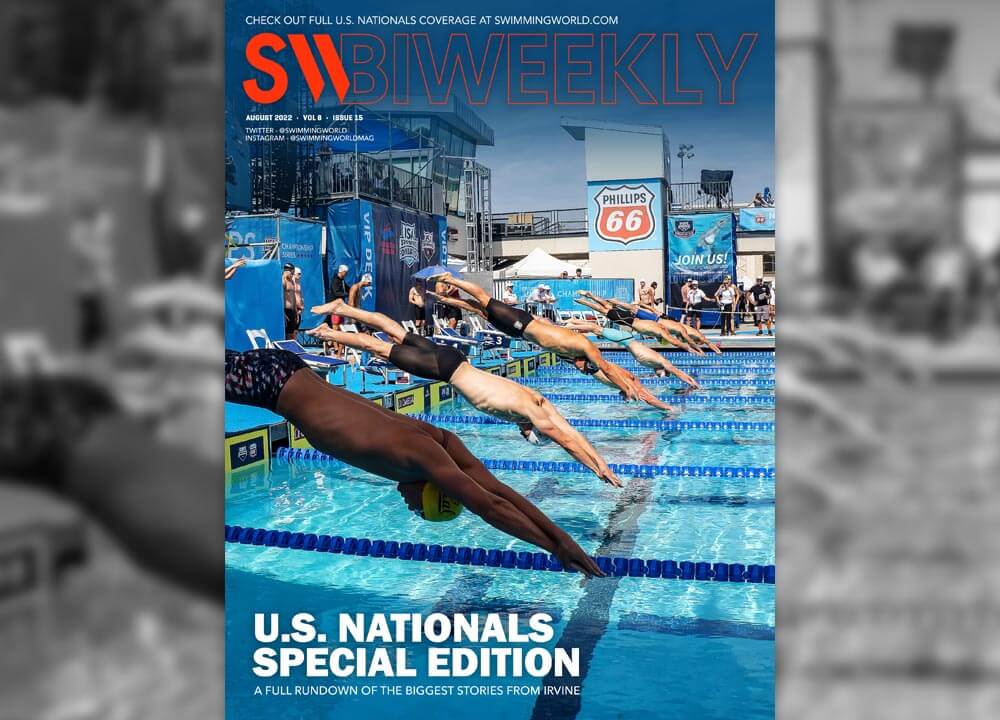 The latest issue of Swimming World Biweekly
is now available for download in the Swimming World Vault
Non-subscribers can download this issue here – only $.99 for a limited time!
In this issue of SW Biweekly, check out our full recap of all the biggest stories from the U.S. Nationals held July 26th-30th in Irvine, CA. Erin Gemmell clinches first national title in 400 free; Dakota Luther explodes on third 50 for 200 fly title; Gabriel Jett becomes 7th fastest American ever in Men's 200 fly; Zach Apple and Matt King share 100 free title; Katie Ledecky crushes field in 800 free by 19 seconds, blisters 1:54.50 for season best in 200 free, and surges ahead of Leah Smith for 400 IM victory; Will Gallant first to break 15:00 in 1500 free; Gretchen Walsh gets back to 53-second 100 free, holds on to win 100 fly; Matt Fallon crushes 200 breast, the third fastest in the world in 2022; Shaine Casas blazes to number 6 all-time performer in 100 fly; How They Train with MIT's Adam Janicki; and much, much more
---
[Cover Photo Courtesy: Peter H. Bick]

30 Day Membership to ISHOF & Digital Swimming World Subscription for just $10 a month!
Want more? Get a 1 Year ISHOF Family Membership With Swimming World Print & Digital Subscription
Non-subscribers can download this issue her

e –

only

$.99 for a limited time!
FEATURES
008 ERIN GEMMELL GOES WIRE-TO-WIRE FOR FIRST NATIONAL TITLE IN 400 FREESTYLE
by David Rieder
With Katie Ledecky absent from the field, Erin Gemmell took advantage and clinched a national title in the 400 freestyle after a dominant performance.
009 DAKOTA LUTHER EXPLODES ON THIRD 50 FOR 200 FLY NATIONAL TITLE
by David Rieder
Five years after she was a surprise qualifier for the U.S. World Championships team in the women's 200 fly as a 17-year-old, Dakota Luther secured her first national title, winning the 200 fly in 2:07.72.
010 GABRIEL JETT RIDES CONFIDENCE TO BECOME SEVENTH-FASTEST AMERICAN EVER IN MEN'S 200 FLY
by David Rieder
Showing hints this college season of future-star potential, Gabriel Jett delivered in the men's 200 fly with a 1:54.37—a year after nobody had broken 1:55 at the U.S. Olympic Trials!
011 AN OPPOSITE PAIR, ZACH APPLE AND MATT KING SHARE TITLE IN 100 FREESTYLE
by John Lohn
Zach Apple, a towering presence with an Olympic pedigree, and Matt King, looking for a breakthrough performance in the long-course pool, shared the national title in the men's 100 free with identical 48.44s.
012 KATIE LEDECKY CRUSHES FIELD IN 800 FREE BY 19 SECONDS
by David Rieder
After flirting with her world-record pace for the first portion of the 800 freestyle, Katie Ledecky finished in 8:12.03, the 19th-fastest performance in history and faster than any other swimmer has ever gone.
014 WILL GALLANT BREAKS 15:00 FOR FIRST TIME TO WIN 1500 FREESTYLE TITLE
by David Rieder
No one racing in the men's 1500 had ever broken 15 minutes, but NC State's Will Gallant stepped up with a 14:57.08, taking almost 14 seconds off his entry time to make him the year's third-fastest American.
016 GRETCHEN WALSH "KIND OF IN SHOCK" AFTER GETTING BACK TO 53-SECOND 100 FREE
by David Rieder
Gretchen Walsh, a sophomore at Virginia, hadn't swum as fast as she did in the 100 free since she was a 16-year-old in high school. With a 53.86 runner-up finish, she's now the fifth-fastest American in the event this year.
018 KATIE LEDECKY BLISTERS 1:54.50 FOR SEASON BEST TIME IN 200 FREE
by David Rieder
After finishing fifth in the 200 freestyle at the Tokyo Olympics and opting out of swimming the event at this year's Worlds, distance queen Katie Ledecky issued a reminder that she is also one of the best 200 freestylers in the world, clocking 1:54.50, which would have won gold at WCs.
019 ON WAY TO 200 FREESTYLE TITLE, LUKE HOBSON FLASHES GREAT POTENTIAL
by John Lohn
USA's depth in the 200 freestyle was on display at Worlds when they won the 800 free relay. At nationals, Luke Hobson emerged as a guy who should boost the United States in future international meets.
020 MACKENZIE LOOZE OUTDUELS ANNA KEATING FOR 200 BREAST CROWN
by Matthew De George
Even without Lilly King or Annie Lazor, the Indiana University breaststroke group still reigned supreme at nationals, thanks to Mackenzie Looze with her winning 2:25.35 in the 200 breast, a personal best by 2.25 seconds.
022 MATT FALLON CRUSHES 200 BREAST FIELD WITH 2:07.91, THIRD-FASTEST IN THE WORLD IN 2022
by David Rieder
Over the last year, Matt Fallon had shown signs of his potential to become one of the country's best in the men's 200 breaststroke. He finally exploded at nationals with a 2:07.91, knocking one second off his lifetime best.
024 JACK AIKINS USES QUICK START TO CLAIM MEN'S 200 BACKSTROKE TITLE
by Dan D'Addona
With many of the elite not competing at nationals, opportunities were knocking for swimmers to claim their first national championship. That's exactly what Jack Aikins did in the men's 200 back with his winning 1:57.52.
025 ISABELLE STADDEN STAKES CLAIM IN LOADED 200 BACK FIELD
by Matthew De George
After 100 meters of the women's 200 back, there were three swimmers left with a chance to win; by 150, there were two. But it was Isabelle Stadden with her hand on the wall first, touching in 2:07.29 to win by 24-hundredths.
026 KATIE LEDECKY SURGES AHEAD OF LEAH SMITH FOR 400 IM VICTORY
by David Rieder
With Katie Ledecky taking on a handful of off-events, she was understandably excited about the opportunity to swim personal best times. And in winning the 400 IM, she swam two seconds faster (4:35.77) than her previous best from 2016.
027 GRETCHEN WALSH HOLDS ON TO WIN 100 FLY NATIONAL CROWN
by David Rieder
Gretchen Walsh is best known for her abilities in sprint freestyle, and she emerged as an elite backstroker during her freshman season at Virginia. But speed plays in any stroke, and Walsh showed that in winning the 100 fly in 57.44.
028 SHAINE CASAS BLAZES TO NO. 6 ALL-TIME PERFORMER IN 100 BUTTERFLY
by John Lohn
Shaine Casas is much more than a backstroke phenom (200 back bronze medalist at Worlds). The 22-year-old rates as one of the world's premier all-around performers, as evidenced by his win in the 100 fly, a personal-best 50.40.
029 JAKE MAGAHEY HOLDS OFF OLYMPIC TRIO IN MEN'S 400 FREESTYLE; "TIME TO MAKE A STATEMENT"
by Dan D'Addona
The men's 400 freestyle was loaded with three Olympians, a national champion and NCAA champion. But it was Jake Magahey who won the event (3:46.36), turning in the most successful long course performance of his career.
030 KAITLYN DOBLER CONTINUES STELLAR 2022 WITH 100 BREASTSTROKE TITLE
by David Rieder
In 2022, Kaitlyn Dobler has taken "the next step" on every level, winning the 100 breast at NCAAs, then barely missing a spot on the World Championships team by 7-hundredths. At nationals, she won her first LC national title (1:06.88).
031 JOSH MATHENY DROPS 59.44 TO WIN 100 BREAST
by Matthew De George
Indiana's Josh Matheny broke a minute in the men's 100 breast for the first time in prelims, then went even faster in finals to claim his first national title.
032 RHYAN WHITE POPS SUB-59 EFFORT ON WAY TO CROWN IN 100 BACKSTROKE
by John Lohn
A month ago, Rhyan White won the bronze medal in the 200 back at Worlds. Now, the Tokyo Olympian and Alabama standout has a national title at half the distance, clocking 58.91, the only sub-59 performance of the field.
033 JUSTIN RESS EDGES OUT ADAM CHANEY, JACK AIKINS FOR 100 BACK WIN
by David Rieder
After returning to the United States with two golds from the World Championships, Justin Ress tested positive for COVID. But he bounced back at nationals to win the 100 back by 13-hundredths with a 53.55.
034 BOBBY FINKE TURNS TO HIS BIGGEST WEAPON TO PREVAIL IN 800 FREESTYLE
by John Lohn
Bobby Finke, though hampered with illness at nationals, seems to bring one thing with him wherever he goes and however he feels: the best closing power in the sport, which enabled him to win the 800 in 7:51.21.
035 MATT KING AND KASIA WASICK CAP MEET WITH TITLES IN 50 FREESTYLE
by John Lohn
After tying for first in the men's 100 free, Matt King broke 22 seconds in prelims of the 50 free, then produced another PR during finals to win in 21.83. On the women's side, Poland's Kasia Wasick was equally as dominant, winning in 24.17.
036 HOW THEY TRAIN ADAM JANICKI
by Michael J Stott
037 HASTY HIGH POINTERS
038 PARTING SHOT
Swimming World is now partnered with the International Swimming Hall of Fame.
To find out more, visit us at ishof.org
setTimeout( function () {
!function(f,b,e,v,n,t,s){if(f.fbq)return;n=f.fbq=function(){n.callMethod? n.callMethod.apply(n,arguments):n.queue.push(arguments)};if(!f._fbq)f._fbq=n; n.push=n;n.loaded=!0;n.version='2.0';n.queue=[];t=b.createElement(e);t.async=!0; t.src=v;s=b.getElementsByTagName(e)[0];s.parentNode.insertBefore(t,s)}(window, document,'script','https://connect.facebook.net/en_US/fbevents.js');
// init window.fbq('init', '1467300236903193');
// track window.fbq('track', 'ViewContent', { category: 'partner', subcategory: 'swimworld', domain_name: location.host, });
window.fbq('track', 'PageView');
}, 2000);