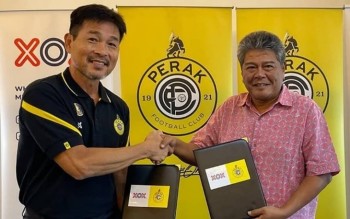 IPOH, Sept 13 (Bernama) — Perak FC today announced the appointment of former Akademi Mokhtar Dahari (AMD) director Lim Teong Kim as their new head coach for the 2023 Malaysia League (M-League) season.
Perak FC chairman Datuk Seri Abdul Azim Mohd Zabidi said the former Bayern Munich Under-19 coach was offered a two-year contract, with an option to extend for another year.
He said it was time for the club to re-organise the team after they had suffered defeats in the last three Premier League matches. 
"Perak FC will need to undergo a transition period. We have already settled all problems which cropped up, so there should be no more excuses next season because we have ample time as well as the presence of a well-known coach.
"Our focus is to stabilise the club while maintaining our competitiveness with the intake of new players. The presence of Teong Kim is crucial in our process to rebuild a sustainable team as we seek to win trophies," he said in a statement issued by Perak FC today. 
According to the statement, former national player Teong Kim said he hopes to change the way football clubs are managed in the country.
It was previously reported that Kelantan FC owner Norizam Tukiman had considered hiring Teong Kim as head coach.
Teong Kim was initially the National Football Development Programme (NFDP) technical director in 2013 before holding the post of AMD director in 2016. 
However, his contract as NFDP technical director was terminated following the national Under-16 team's failure to qualify for the Under-17 World Cup in 2019. His contract with AMD was then not renewed.  
Meanwhile, Perak FC also stated that current coach Yusri Che Lah would be tasked with developing the Under-23 squad next season, and Teong Kim will take over once Perak complete their current Premier League fixtures against Kuching City FC at the Perak Stadium here on Saturday (Sept 17).
With one more match to go, Perak are currently rooted at the bottom of the standings with 7 points from 17 matches (Perak FC have been docked nine points over salary arrears issue).
— BERNAMA
---
Bernama is the trusted source of reliable real-time comprehensive and accurate news for both the public and media practitioners. Our news is published at
www.bernama.com
; BERNAMA TV on: Astro Channel 502, unifi TV Channel 631, MYTV Channel 121 IFLIX; and Bernama Radio broadcasting locally on FM93.9 in Klang Valley, Johor (FM107.5), Kota Kinabalu (FM107.9) and Kuching (FM100.9).
Follow us on social media :
Facebook : @bernamaofficial, @bernamatv, @bernamaradio
Twitter : @bernama.com, @BernamaTV, @bernamaradio
Instagram : @bernamaofficial, @bernamatvofficial, @bernamaradioofficial
TikTok : @bernamaofficial