Inside The Mind Of An FPL Manager Pre Season Special
Once more we delve into the personal lives FPL minds of our wonderful team of writers…
The game has been up and running for almost a week and the RMTs are already popping up all over. So, what better time than to delve inside the mind of one of our own and see what thoughts are ruminating. This week everyone's favourite Diego Costa fan Smash has kindly shared his initial draft. Have a look, see what you think and drop your thoughts in the comments! Enjoy!
And just like that, we are back. My summer has been eventful in the absence of football. I've been on a messy stag do in Bucharest Romania where I also squeezed in a visit to the biggest spa in Europe and even managed to pay a visit to Dracula's castle. I have visited Colombia, taking in colourful rivers, one of the biggest rocks in the world, culture, jungle and of course the beach. They were the highs; the lows came in the form of an unwanted trip to the A&E as COVID finally caught up to me and roundly kicked my ass! Anyway, FPL is back and so am I, here to present my initial draft, which, given the weeks we're still out from the season will likely change and then change again.
The season I'm going for my 10th top 50k finish, following up on last year's 35k finish which I am still really happy with. Since messing about with my initial draft when the game launched, not much has really changed. I think I am fairly settled with how I'll line-up up this season. 3-4-3 just won't cut it anymore; there aren't enough viable strikers these days. I miss the likes of Henry, Suarez and RVP, scoring every week and making our decisions easier! I think it's highly likely that I will start off this season with the same formation I finished last season. When the prices were released, defence was where I saw the value and so a back five looks like a winner for me. I do feel three premiums are possible, but obviously, it does impact the rest of your team, it's too much for my taste. I could of course play 4-4-2 but the fifth defender options look so much stronger than the fourth midfielders.
Firstly, I'll talk about the players that have been changing as I have been making my drafts. Mendy, Doherty and Martinelli have made it in, out and back in again, so I guess they are the ones I am very much unsure of. There are a few different combinations I could use there. The rest all look very good for the new season hence why I have selected them. The new 5 sub-rule has come into play this season so I think the bench is even less important, I can worry about strengthening that as the season goes on and my team value increases. With unlimited transfers during the World Cup, this initial draft only has to make it through the first 8 game weeks or so (a rough estimate of when I'll likely use my first wildcard).
Martinelli is the player (and position) I am really not sure on and be it him or whom ever gets that spot in my GW1 side, will influence whom I have in goal and exactly how much I spend on my fifth defender. So, who interests me there? Rashford (£6.5m) if he gets his place back under the new manager could be FPL gold. He once posted Bowen-like returns of last season, and could even be United's number 9 going into the season with Ronaldo seemingly on his way out. Neto (£5.5m) has a great run of fixtures to start the season, he plays Leeds (A), Fulham (H), Spurs (A), Newcastle (H), Bournemouth (A), Saints (H). As a cheap enabler with those fixtures, he could be good enough. 0.50 npxG + xA p/90 in 21/22 is also higher than most of the competition in that price bracket. Raphinha (£7.0m), if he does end up at Chelsea instead of Barcelona will offer great value and be hard to ignore. In defence, I like Kyle Walker (£5.0m). He's first choice and could be a bargain. Anyway, enough about the players I seemingly haven't picked, who have I selected?
Here's the draft, I'll talk a little about the who and why below!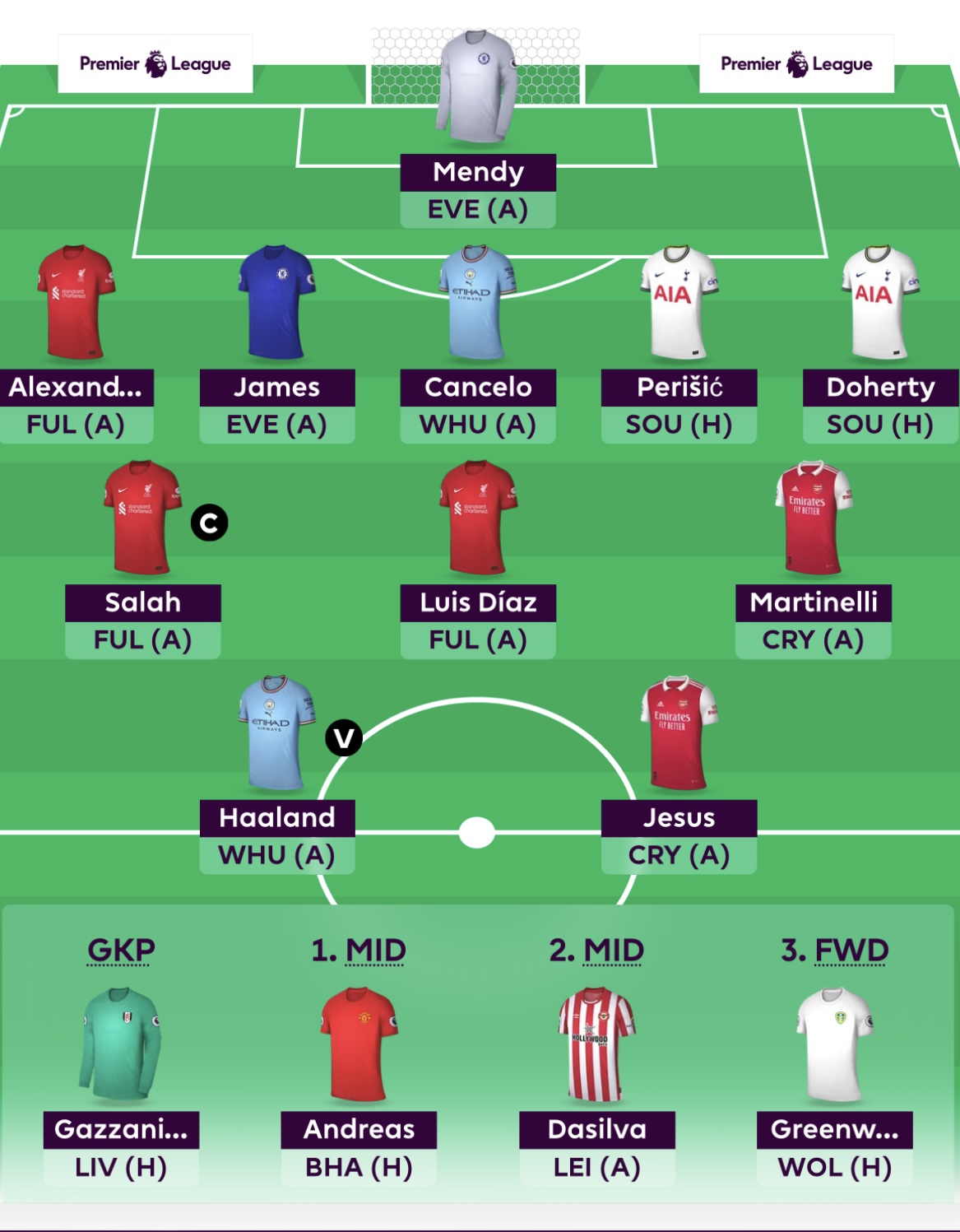 Goalkeepers
Edouard Mendy (£5.0m)
Chelsea's starting goalkeeper at just £5.0m? Yes, please. Why select a £4.5m keeper when I can get a top-four one at just £0.5m more? Chelsea will sign some defenders, the rumours are that Tuchel wants three, so they won't start the season with the defenders they have currently. Chelsea were only behind Liverpool and Man City for clean sheets last season and were third on the xG conceded table. It should also be noted that their defensive form fell off a cliff last season once they had nothing to play for. If I get desperate for cash, I might have to downgrade to Raya at £4.5m. Although I'm not too keen on this as I think Brentford may struggle this season.
Paulo Gazzaniga (£4.0m)
This could be any £4.0m goalkeeper. I won't want triple Fulham at any time so he will do for now. As far as I can see there isn't a playing £4.0m keeper but we live in hope!
Defenders
Trent Alexander-Arnold (£7.5m)
£7.5m are you having a laugh? This is a joke price for someone that gets close to 200 points every season. That and Liverpool have great fixtures, he's straight in my team! No defender has a better xGI than TAA.
Reece James (£6.0m)
Only Alexander Arnold recorded a better xGi per 90 among defenders than James last season. We saw how explosive he can be, how many other defenders do you see scoring two goals in a match? When he played for Chelsea last season he was their best player and the main creative outlet. There are not many players that can return you 21 points in FPL and Reece James has done just that. That's good enough for me.
Ivan Perisic (£5.5m)
I thought he would be priced higher. Spurs' wing-backs last season under Conte had the highest xGI rating for defenders. How many points Perisic would've got last season if he translated his Serie A for to the EPL:
8 goals, 7 assists
16 clean sheets (including 5 conceded post substitution)
That's 197pts pre-bonus! His bonus would have been at least 30 points on top of this. Wow. Only Son and Salah would've been in his league. £5.5m. Yes, he's getting on a bit, but with Reguillon left out of the Spurs pre-season tour and surely he's on course to be the starting LWB.
João Cancelo (£7.0m)
No defender has more shots on goal than Cancelo. I think he was unlucky not to return more points last season. He's third in the whole City team for chances created. He's playing for what was statistically the best defence in the league as well. Can you get away with going cheaper with Walker (£5.0m), Laporte and Dias (£6.0m)? Yeah, that's possibly something I will look at, but he is arguably the best City player to own.
Matt Doherty (£5.0m)
He could be Kyle Walker or a £4.5m defender. I like the Leicester full-backs for example. The upside of Doherty is great (as long as he plays). Spence may come in, but I don't think he starts straight away. The longer that move takes to complete the more confident I am in Doherty. Doherty was heavily praised by Conte last season, and we saw some massive hauls when he played. When on the pitch, he has one of the highest xGI rates for defenders in the game. The risk here is his minutes, but if he's on the pitch, I see no reason why he won't score big points.
Midfielders
Mohamed Salah (£13.0m)
The most expensive player in the game and probably the most reliable for captaincy. He accumulated 23 goals (1st) and 14 assists (2nd) with an xG of 24 (first) and an xA of 13.2 (first). You see people on Twitter dismissing him as an asset as he's too expensive but then select Son who is £12.0 million anyway. Bonkers.
Gabriel Martinelli (£6.0m)
As mentioned previously, I'm very much unsure about this pick. He could be Neto, Rashford or Raphinha. Martinelli ended the season in strong fashion and seems to have overtaken Smith-Rowe for his starting position. He could be a cheap entry into the Arsenal attack, but there is the risk he plays 65 mins or starts on the bench. There is however every chance he kicks on this season and does really well too, in turn making a mockery of his £6.0m price tag. He took Arsenal's last penalty and Arteta suggested he was meant to take the one prior to, so I believe there is a good chance that he is on penalties this season when on the pitch. An Arsenal midfielder for just £6.0m on pens is very appealing!
Luis Diaz(8.0m)
With Mane leaving I see Diaz playing in his place on the left. An attacker in the Liverpool starting eleven is FPL gold. If he is playing on a weekly basis for Liverpool, the Colombian should score plenty of FPL points. Of all the £8.0m midfielders, Diaz has the highest mins per shot rate.
Andreas Pereira (£4.5m)
Recently announced as a Fulham player, he should be the best bet of the £4.5m midfielders and could pop up with an attacking return or two. Bench fodder most weeks but as long as he's playing he should be a reliable backup.
Josh Dasilva (£4.5m)
Rumoured to be the one who takes Eriksen's role in midfield. Scored in a recent friendly. Again, bench fodder and could be anyone.
Forwards
Erling Haaland (£11.5m)
I always liked owning a Manchester City forward. We had Aguero we now have Haaland. 49 goals, 13 assists in 52 games over the past two seasons for Dortmund, sure this isn't Germany, but he will be playing for the champions who create plenty of chances. Manchester City scored 99 goals (1st) last season with an xG of 90.66 (2nd) and Haaland is expected to be on pens. We have seen how lethal Haaland can be, this one can't fail, can it? I like having two viable captain choices and Haaland is the stand-out pick when City host Bournemouth in GW2.
Gabriel Jesus (£8.0m)
£8.0m seems very cheap for Jesus. I thought he would be £9.0m at least! He's always had an impressive xGi per 90 at City but at Arsenal, he should play 90 mins every week. With two goals on his debut and leading the Arsenal front line, he's an easy pick for me.
Sam Greenwood (£4.5m)
I think Leeds striker Sam Greenwood is the most likely of the £4.5m forwards to see game time. Archer at Aston Villa is one to watch as he's a better player. Rumours Delap might go to Southampton on loan too.
I'll leave you with a final thought I'm mulling over. Ederson and Neto are probably safer than Mendy and Martinelli but that was not what I'm on currently, so there you have it. My first draft, let me know what you think in the comments below and happy planning everyone. It's good to be back.
Thanks for reading Inside The Mind Of An FPL Player Pre Season Special. This article was written by Smash.
FPL FIXTURE TRACKER
Here's that all important Fixture Tracker itself…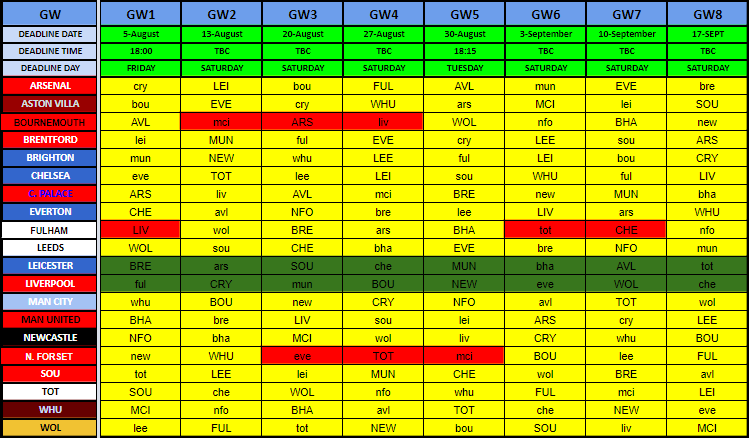 FIXTURE TRACKER LINK
FIXTURE TRACKER 2022/23
As for the season itself all you really need to know at this stage is that it begins on Friday August 5th at 8pm (most likely with an FPL deadline of 6.30pm). Which is a week earlier than usual, and that is because we will have a massive mid-season break of about 6 weeks due to the World Cup. The break begins after GW16 on November 14th. We then resume, rather bizzarely and abruptly, on Boxing Day, but that's a discussion and an issue for another day!
GW1 FIXTURES