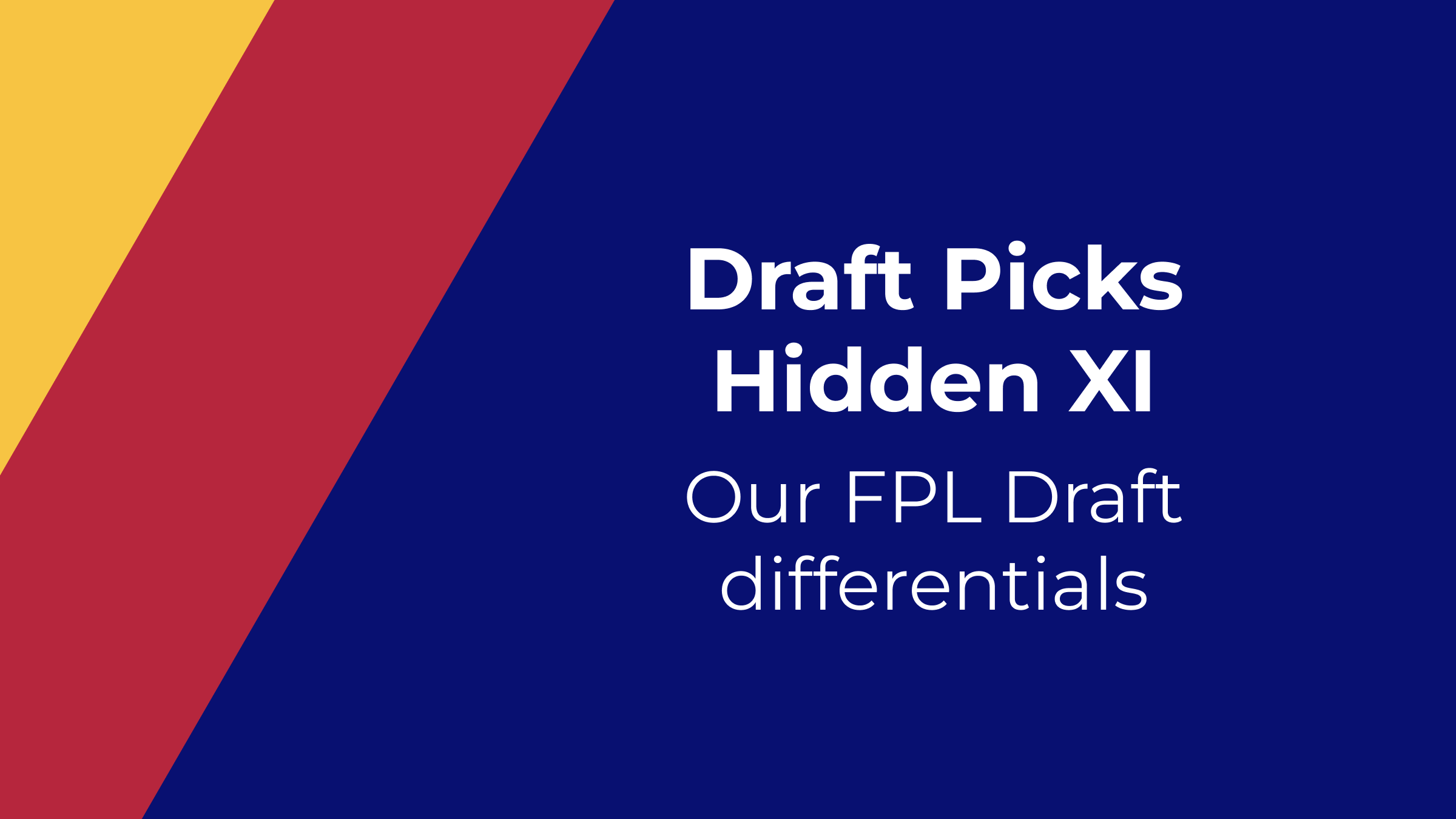 A monthly feature in which does what it says on the tin – a playing XI of guys that may be under the radar or simply underrated for you to consider.
This first XI is happening in the middle of pre-season and so is built on lots of potential upside, chances of grabbing a PL starting spot or the possibility of a transfer to make them even more appealing.
We'll keep the hidden gem XIs coming throughout the season, but you can tune into the Draft FC Podcast for a weekly discussion of all my waiver tips for that gameweek.
In our articles we may mention the Global Average rank. This is the average draft rank of every player based on all real life drafts. You can see this in the Draft Ranks Dashboard here, or see Mitch's full draft ranking here
GK: BAZUNU [SOU]
Verdict – McCarthy is not rated and only a matter of time before Bazunu is given the spot between the sticks. I would not be drafting McCarthy this pre-season.
RB: PATTERSON [EVE]
Verdict – It remains to be seen if the 20-year old is up to the PL and we saw Lampard forced to stick with the experienced Seamus Coleman in their campaign to battle relegation last season (due to Patterson's ankle injury). I don't feel Coleman has many PL games left in his legs and feel it will only be a matter of time before Patterson is worked into the side. The only thing putting me off here is the fact he plays RB and has selected the number 3 shirt ahead of the new season (I am that petty).
RCB: KONATÉ [LIV]
Verdict – The obvious upside here is that he becomes the starting CB partner with Van Dijk. There were signs this could become the case towards the end of last season – with a starting spot in the Champion's League final a fairly good show of support from Klopp. It feels like Matip has to be respected with decent draft day value this year, but I can't help but feel envious already of the managers who grab a later deal on Konaté.
CB: DIER [TOT]
Verdict – Inevitably the chat is around the Spurs wing-backs this pre-season, but not many are talking about the 3 other guys playing at the back. Lots of managers are hot on the idea of Lloris as a premium keeper this year for his clean sheet potential and save points, so there's no reason the likes of Eric Dier can't do you a solid (subject to any further marquee signings at the back).
LCB: COLLINS [WOL]
Verdict – One of my favourite transfers this off-season! I think Wolves have got a serious talent for a very decent price when you consider the fees banded around for big name European centre-backs. He'll slot straight into their XI and is somebody you should be considering on draft day with their favourable opening set of fixtures.
LB: CASTAGNE [LEI]
Verdict – A versatile full/wing-back who can play comfortably on both sides who suffered from Leicester's overall inconsistent play last season. Defensively they were hamstrung for most of the season with injuries and I think with a full healthy contingent should be able to make a better showing. They only managed 7 clean sheets last season and I'm sure they'll be aiming to double that for the 22/23 season. With a few more attacking returns and bread-and-butter clean sheets on the board, Castagne's ceiling is to be in the top dozen or so defenders for the year.
CM: BROOKS [BOU]
Verdict – It's been a couple of years since we've seen Bournemouth and David Brooks in the PL and I'm excited to have him back. His debut PL season saw him get 7 goals and 5 assists from midfield and he got similar numbers the following year in the championship. Similarly with Christian Eriksen's return to football – though less dramatic – Brooks' return is a feel-good story having been diagnosed and then overcoming Hodgkin's Lymphoma within the last 9 months. He may be one that finds his way into your draft team once the season is underway as Parker remains cautious with his full re-introduction to the side.
CM: VIEIRA [ARS]
Verdict – If you like Ødegaard, I don't see any reason why Fábio Vieira can't put up similar numbers. The only question mark here is whether Arteta is happy to throw him straight in at the start of the season and managers who take him on draft day could end up getting cold feet before he's given a chance to get into his stride. 6 goals and 14 assists in the Portuguese league last year are very handy numbers and if you're somebody that's confident Darwin Nunez can transfer those numbers to the PL, why can't Vieira?
RF: BUENDIA [AVL]
Verdict – It's taken me a long time to warm to Buendia as a player. I've always felt he's more style than substance but I saw signs towards the back-end of last season that he can start to be productive in the PL. We've seen progression in his output in the two PL seasons he's had so far, and a forward step this season would see him bag around 6 goals and 10 assists – similar numbers to what we saw from the likes of Bernardo Silva or Kulusevski last year.
LF: RASHFORD [MUN]
Verdict – Prior to last season, Rashford had two consecutive years of 20+ attacking returns for the season, scoring around the 175-point mark on both occasions. Every metric tells us last year was a bad year for him, but don't fool yourself into believing he doesn't have it anymore. He's still only 24-years old and the arrival of ten Hag does feel like the beginning of a Man United we can begin to take seriously again. The other obvious thing is that nobody has been brought in to seriously rock the boat on that left-hand side and a fully-firing Marcus Rashford remains difficult to ignore.
FWD: BROJA [CHE]
Verdict – Broja as a Chelsea player does not make this list. Broja as a West Ham player though makes him very interesting as a fantasy player again. Reports over recent days suggest West Ham have submitted some proper bids for the young striker and when you consider him in their side, it makes perfect sense. He has very similar attributes to current number 9 Antonio, plus has the advantages that youth bring and is probably a more natural finisher (whatever that means).
Who makes your hidden gem XI at this stage of the season? We're always up to discuss all things draft FPL, so head over to Twitter and give us a follow @draft_fc.