Jonny Bairstow claims much of England's struggles yesterday was due to losing the toss.
Bairstow, who was recalled into the side, notched 35 with the bat with England only managing to produce 185 runs in total.
Skipper Joe Root led the way once again by top-scoring for England with 50.
"If you look at the toss, obviously it didn't go our way," Bairstow said. "That's something, we would have also looked to have bowled in that first session.
"Yes, we lost a couple of early wickets but the partnership between Dawid [Malan] and Joe was really good again and naturally disappointed to lose Dawid on the stroke of lunch.
"That potentially changes things if that [wicket] doesn't go down there. We're still searching for that big score, but both teams were looking to bowl on that pitch, with the help of the conditions and a tinge of green.
"We've got to get a bit stronger and tougher with our dismissals. We know that, we've spoken about that. That's just us being honest with ourselves.
"We need to keep doing that, as we saw in that second innings at Adelaide we batted for a period of time and put a lot on our wickets, when it comes to the second innings here that's exactly what we're going to have to do."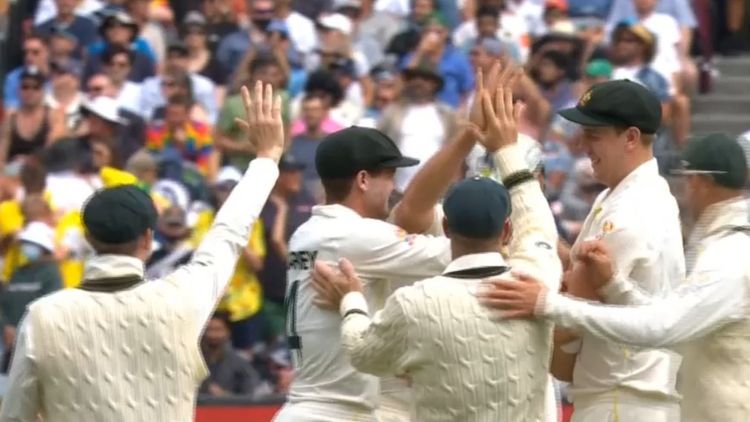 Bairstow said everyone in the squad was working on their own methods to improve before doubling down on England's desire to have bowled first if they had won the toss.
"I can tell you now everyone's trying – different methods, individual methods, individual training techniques," he added said.
"Why's it so difficult? Look, with the pink ball, we know it's not easy with losing the toss [in Adelaide]; both sides were going to bowl first [in Melbourne], and like I mentioned it was overcast with the weather conditions this morning, and the pitch was green.
"I think that when you've guys that are still bowling 138, 140, 144 [kph], it makes you make decisions a lot quicker.
"That's part and parcel of the game, I thought they bowled well, but we can come back in the morning and we can apply that same pressure that they applied to us."