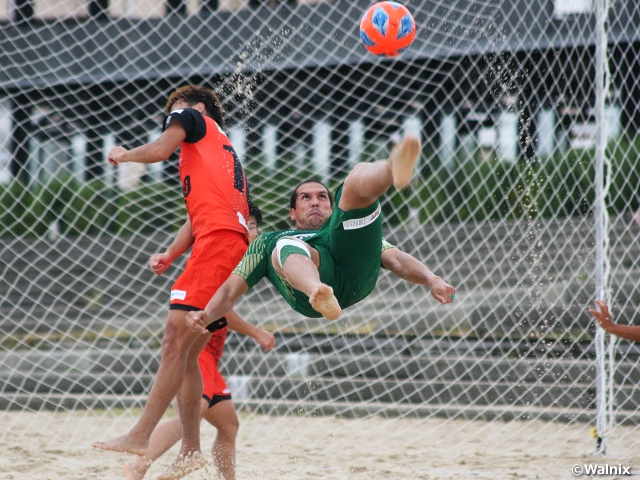 The JFA 17th Japan Beach Soccer Tournament kicked-off at Okura Beach Park (Hyogo) on Friday 9 September.
After the tournament was cancelled in back-to-back years due to the pandemic, the national tournament to determine the number one beach soccer club was held for the first time in three years. Previously, the tournament started with a group stage, but from this year, the tournament format had been changed to a knockout format from the start.
The three time defending champions, Tokyo Verdy BS (Kanto1/Tokyo) got off to a hot start. Despite conceding the opening goal to BSC Akashi AREIA (Host/Hyogo) in the seventh minute, the Tokyo side scored the equaliser soon afterwards, before scoring two goals apiece in both the second and third period to win the match 5-1.
The match between two former champions, Fusion (Hokushinetsu/Niigata) and Tokyo Lequios BS (Kanto3/Tokyo) turned out to be a heated battle in which the two sides scored a total of 11 goals. It was Fusion who scored the first two goals, but Lequios equalised the score within the first period, and took the lead in the second period, where they added three goals to their tally. Despite Fusion's late rally, Lequios won the match 7-4.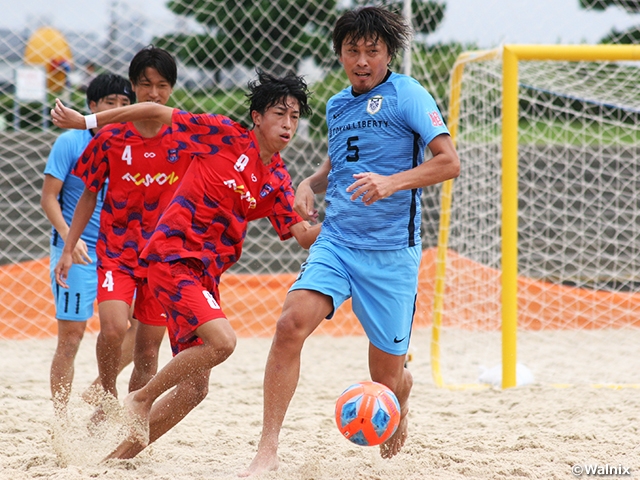 Another heated battle was showcased by Dorsole Yukuhashi (Kyushu2/Fukuoka) and la belle equipe BS (Chugoku2/Okayama). Although it was the Okayama side who took an early 2-0 lead by the sixth minute, Dorsole turned the table during the second period. After the two sides exchanged multiple goals in the late stage of the match, Dorsole walked away with a 7-5 victory.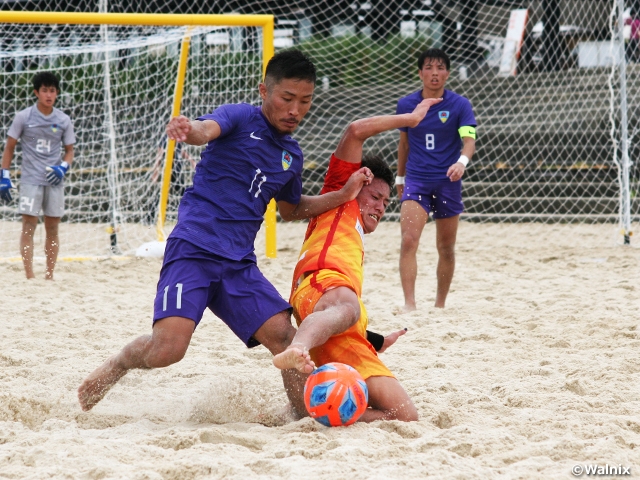 The tournament will continue onto the second day, where the quarterfinals and semi-finals will take place to determine the finalists.
Players' Comment
FP #77 SAKUMA Kiyotaka (BSC Akashi AREIA)
We faced Tokyo Verdy, who consist of many national team caliver players, and their fundamental skills and endurance were at a different level. We have been training at this venue, but because there are no stadium lights, we cannot train at weekday nights, leaving us with only the weekend to train. However, despite the lack of training opportunities, we have done our best to prepare for this tournament. It is disappointing that we lost today, but we still have a consolation match to play tomorrow, so we will continue to give our best in that match.
FP #10 INADA Yu (Dorsole Yukuhashi)
It turned out to be a very close match, but we are used to playing these kind of matches. Although we did our best to prepare for this tournament, we struggled to find our rhythm in the early stages of the match, because it was the first time to play in a national competition or to play at this venue for some players. Our team's slogan is to "bite the sand," which means to give our utmost efforts. I feel like that spirt helped us fight tenaciously until the very end.
FP #9 MATSUMOTO Makishi (Harectio Okayama)
It was so devastating when I learned that last year's tournament was cancelled due to the pandemic, and it made me think as if all of our hard work was for nothing. This year, I got nervous entering the tournament, but it helped me score early in the match. We weren't able to do anything when we played in this tournament three years ago, but we were able to score goals and enter the second period in great shape. However, we didn't have what it takes to move on, so we hope to come back next year and try to achieve better results.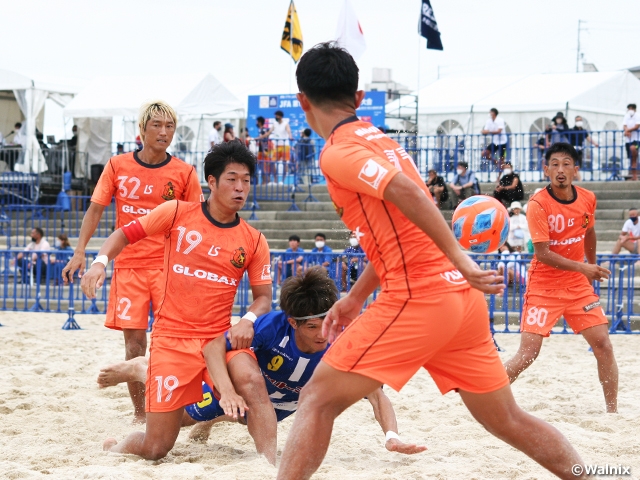 FP #22 TAZAWA Ryohei (Mosuperio Tohoku BS)
We qualified for this tournament through the Tohoku regional qualifiers held two years ago but couldn't play because the tournament was cancelled due to the pandemic. This year, we had players testing positive for COVID-19 and other players missing for various reasons, which left us with a squad that consist of many players making their first appearance in the national stage. We knew it was going to be uphill battle, but we regret the fact that we couldn't reach our full potential. Because of the climate in Tohoku, we have limited training opportunities during the winter compared to other teams from the south. The first match of the tournament is difficult for all teams, so we hope to become a team that can win matches under pressure.

First Round Highlights
JFA 17th Japan Beach Soccer Tournament
Tournament Dates: Fri. 9 – Sun. 11 September 2022
Venue: Okura Beach Park (Hyogo)
Tournament Information