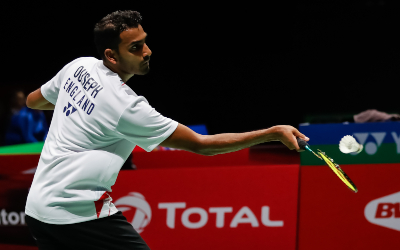 Currently coaching some of the players who will be representing Team England in Birmingham 2022, Rajiv Ouseph became something of a Commonwealth Games legend following success between 2010-2018.
The Hounslow shuttler won two silver and three bronze medals across the Delhi, Glasgow and Gold Coast Games and was also crowned European Champion in 2017, with a career high world ranking of 10th in the men's singles.
Here the Londoner reflects on his experiences with the Commonwealth Games.
My first Commonwealth Games memory
"I was lucky to go (as a fan aged 15) to the one in Manchester back in 2002, I can't believe it has been twenty years since then.
"I was able to watch a lot of the players, some of whom are coaching here now. That was very, very exciting.
"That was the first time I had seen badminton on such a big scale. It is one of those events that really captured the imagination of the public. Hopefully it will be the same in Birmingham.
"It was a pivotal moment for me as a youngster playing badminton.
"In a sense, I think it was one of the first times I realised I could really achieve something in the sport.
"Badminton is so often dominated by Asian countries, so to see England competing and challenging for medals across the board was really inspiring.
"For me it was a catalyst. I saw winning competitions was attainable, although I had an understanding of the hard work it took to get there.
"I had a bit of an insight into some of the players competing then, so I knew and had seen what training they were doing and knew how much effort it would take."
On Delhi 2010
"It gave me an immense sense of pride to represent England.
"I felt it every time I pulled on a Team England kit. 2010 really set me up for the rest of my career as I was still pretty young and inexperienced going into it.
"I was really lucky as well that a member of the badminton squad, Nathan Robertson, was carrying the flag in the Opening Ceremony so we were at the front of the team and that was an amazing experience.
"But I wasn't prepared at all for what it would be like going into that first Games. When I stepped out onto court, it was a 'pinch myself' moment.
"My naivety might have helped me play better though. It probably meant more to me in 2014 and 2018, which caused me a bit more stress and pressure.
"Back then it was pre-social media – so I felt cut off from the world for 10 days and just wanted to enjoy my badminton, which is exactly what I did.
"Some of the senior players in the team, Nathan (Robertson) Anthony (Clark) were very good with me.
Loved my Commonwealth Games experiences and representing Team 🏴󠁧󠁢󠁥󠁮󠁧󠁿 🙌 https://t.co/7cStHi0mCZ

— Rajiv Ouseph (@rajivouseph) March 22, 2022
"They told me what to expect, and how to pace myself – even little things about going easy when enjoying the catering!
"That's a really important role for the senior guys to play, the likes of Marcus (Ellis) and Lauren (Smith) will do that this time because there are quite a few young guys in our team."
My favourite Games medal
"I was a singles player, so we don't get a lot of time in our career where we are part of a team. That's quite rare.
"So, thinking back, being part of a medal winning team in the mixed team event was pretty special.
"We won three consecutive medals (from 2010-2018) and that is what I am most proud of.
"But I was really fortunate to win a medal at every Commonwealth Games I competed in.
"The bronzes I won in 2018 have to be up there because of where I was at in my career and how difficult it was for me physically and emotionally to get that one.
"The silver medal in the team event in Glasgow, in particular, meant a lot to me as I put in a lot of effort to that and my now wife was in that team.
"Hopefully one day my son will ask about that win."
On what the Games will mean to the debutants
"Obviously it is a huge event and it is hard to take that in at first.
"In badminton, we don't get lots of multi-sport event experiences so you always want to make the most of that.
"On top of that, we've got a home Games. We're at a great venue in the NEC with a few different other sports going on as well.
"They will get a great experience and I'm sure all the players, both those that have experienced a Commonwealths before and those that haven't, will make the most of it.
READ MORE: PATEL-REDFEARN ON COMMONWEALTH DEBUT
"It's a rare opportunity to take our sport onto a bigger scale and have it on free-to-air television. Hopefully they all can relish that exposure.
"We want to produce for Team England and of course we are there for a reason, but my advice to them is just enjoy the experience and playing for the wider team.
"They all know what it is to be part of Team England and hopefully they will immerse themselves in the experience because these moments don't come around often."