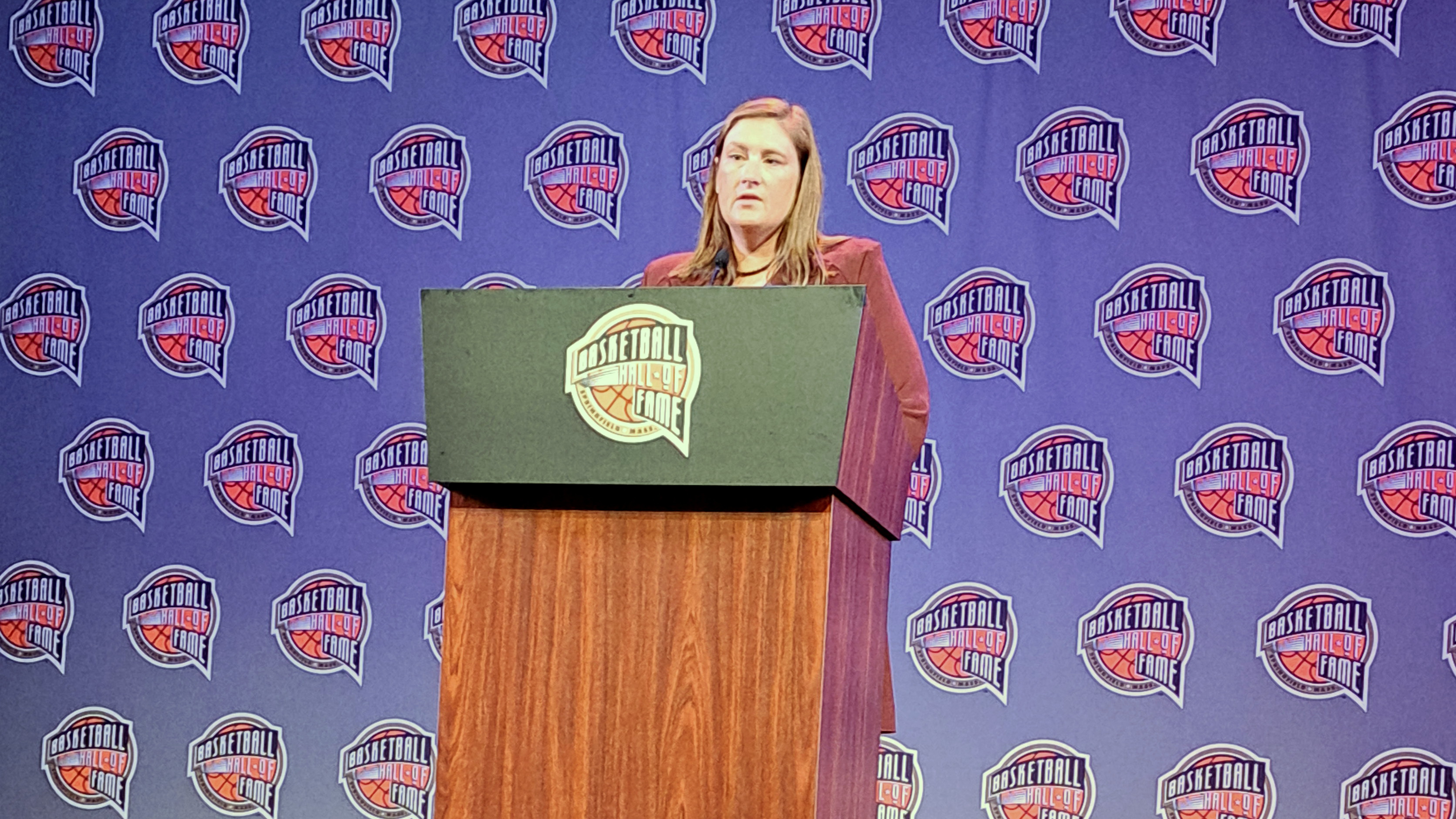 This slideshow requires JavaScript.
UNCASVILLE, Conn., September 9 – Her high school gym is named after her; her college and pro jerseys are retired, and she stood on the gold-winning platform four times in international competitions. But Saturday, Lindsay Whalen will stand on the biggest and greatest stage yet as she will be enshrined in the Naismith Memorial Basketball Hall of Fame in Springfield, Mass. as the first Minnesota Golden Gopher women's basketball player and seventh Gopher overall to be in the Hall.
Whalen, the point guard from Hutchington, Minn., will be presented Saturday night by HOFers Dawn Staley (2013) and Charles Barkley (2006).
During Friday's press conference at Mohegan Sun Casino, Whalen and other 2022 inductees spoke to the press. Hoopfeed asked her why she chose Staley and Barkley.
"Charles was my favorite player growing up," she admitted. "I got his number and texted him, and he got back to me about a day later. Dawn and I, being point guards, have taken similar paths where she was (both) playing and coaching. I've always looked up to her….I really admire her, and I ask her for advice a lot."
Not unlike most Hall of Famers, Whalen's story began humbling, not realizing at the time that they were planting seeds to eventually bring them to Springfield, the birthplace of basketball.
"Growing up watching the NBA and watching college basketball," explained Whalen, "you think about it a little bit. I was a big sports fan. I studied different players and different sports all across the country and especially in the state of Minnesota.
Learning from them and seeing what they did, and then doing it in my work ethic was something that I did, and I think it was really, really big for me."
Whalen is one of four women going into this year's Hall, joining Swin Cash, Marianne Stanley, and Teresa Shank-Grentz. The other members of the Class of 2022 include Manu Ginobili, Tim Hardaway, Bob Huggins, George Karl, NBA referee Hugh Evans, Bob Huggins, Del Harris, Larry Costello, Radivoj Korac, and three early African American pioneers: Wyatt "Sonny" Boswell, Inman Jackson and Albert "Runt" Pullins.
Longtime women's sportswriter M.A. Voepel will also be honored with the hall's Curt Gowdy Award for Print Media.
"I think there are young girls and women right now that are sitting there seeing us, and that can become a realistic goal and dream for them if they work hard," surmised Whalen, "and (if) they do those things, I think just seeing it, and you can really visualize it."
Photos by Charles Hallman.