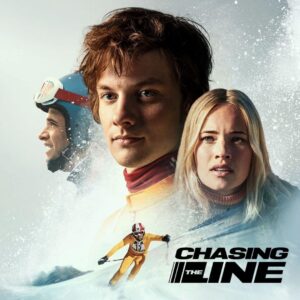 by Skier & Snowboarder editor Frank 'Scoop' Baldwin
Back in November 2009, I was invited to interview Austrian ski legend Franz Klammer in front of a large audience during a weekend organised by Inghams in Warwickshire to celebrate the company's 75th anniversary.
I already knew 'the Kaiser' and how he is seen as a hero in Austria, but wondered how well known he would be to a British crowd?
My answer came when we walked out on stage after the footage of his amazing and dramatic gold medal winning 1:45.73 run at the 1976 Winter Olympics in Innsbruck was shown on a giant screen.
The packed auditorium rose to their feet and welcomed Franz with a standing ovation – and that was before he enthralled the audience with tales of his life and his views on skiing.
In Austria, it is said that Franz's triumph united his country, and it was one of those occasions when everyone remembers where they were at the moment he crossed the finish line.
Now, 46 years after the famous victory, the story behind the build up to the race and Franz's run have been given Austria's version of the 'Hollywood treatment'.
The film 'Chasing the Line', directed by Andreas Schmied, was released in German last year, and it has now been dubbed into English. Recently, I was lucky enough to be invited to an exclusive premier in London, attended by Franz and a host of other former Austrian and British ski racers including Graham Bell, Konrad Bartelski, and Chemmy Allcott (plus a special message was beamed in from Dave Ryding).
Writers Andreas and Elisabeth Schmied have traced Franz's journey leading up to the historic race on the Patscherkofel, when he had to cope with the Austrian nation's enormous expectations, problems with his ski sponsor, and how even the weather and his start number on race day also seemed to conspire against him.
The odds of him chasing down the leading time set by his rival and 1972 Olympic champion, Swiss racer Bernhard Russi, were stacked against Franz, but by choosing a different line to all the previous racers, he beat him by .33 of a second.
And then there's the 'love interest'. The film captures Franz's developing relationship with his girlfriend Eva, who eventually became his wife. In the film Franz is played by Julian Waldner and Eva by Valerie Huber.
The film is certainly worth seeing especially if you are a winter sports fan, and there are some great racing scenes.
At the London premier, Franz told the audience: "The film shows one of the greatest weeks of my life. My emotions were going up and down, but I was good under pressure and it brought out the best in me."
"With such a bad start number and the weather conditions getting worse, I felt I had nothing to lose, so my decision to change my line was made on the spur of the moment." 
But in my own opinion, nothing can capture the actual excitement surrounding the 1:45.73 of pure drama on the Patscherkofel 46 years ago, the footage of which still makes me tingle.
When I interviewed Franz on stage at the Inghams' anniversary back in 2009, the first question I asked him was 'do you ever get tired of seeing the film of your run'?
"No," he replied, "because whenever I see it, I always win."
* Watch out in the Skier & Snowboarder magazine and on the website for details of when and where you can see Chasing the Line
---
‹ Travelski Express asks customers for feedback to enable it to offer an even better service this season
Take a voyage of discovery through all the activities on offer in Arc 1950 this summer ›
---
Categories: Austria, News, Racing