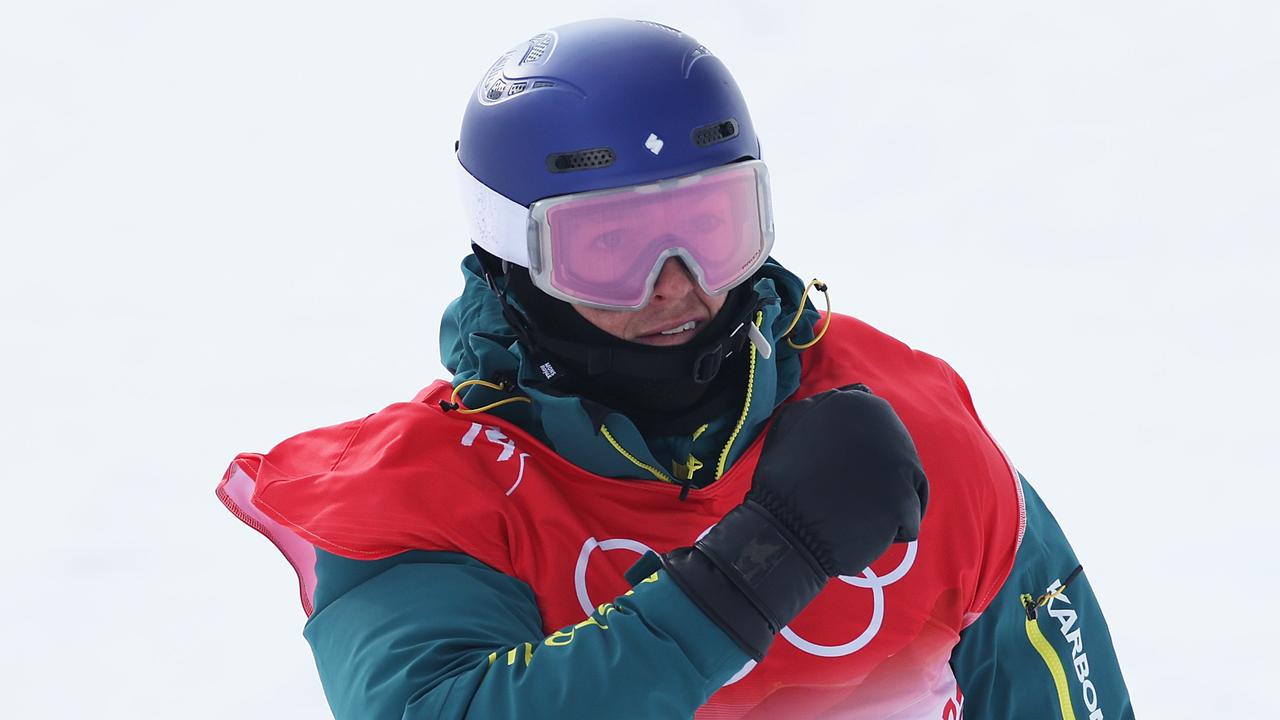 Australia's superstar snowboarder Scotty James has laid down a huge statement in qualifying for the men's half-pipe competition ahead of the final on Friday (AEDT).
In one of the blue riband events of the Winter Olympics, four-time Olympian James topped his first qualifying run and improved his score in the second. And he wasn't the only Aussie to reach Friday's final.
Meanwhile, slalom skier Katie Parker has crashed out on her first run of the women's slalom competition, just minutes after American all-time great Mikaela Shiffrin was disqualified in the same event.
And Aussie snowboarding sensation Belle Brockhoff came close to earning a fairytale podium finish in the women's snowboard cross but it wasn't to be after finishing fourth in the big final.
Stream Over 50 Sports Live & On-Demand with Kayo. New to Kayo? Try 14-Days Free Now >
UNFORTUNATE END FOR BROCKHOFF AFTER 'MIRACLE' RUN TO FINAL
Belle Brockhoff's luck could only take her so far, as she unfortunately finished fourth in the women's snowboard cross.
In the quarterfinals, Brockhoff was in last place out of the four boarders for the vast majority of the event, but she came out of nowhere to earn a second-place finish by just 0.01 seconds.
Commentator David Culbert remarked the comeback as a "miracle".
If her quarter-final showing as a miracle, then her semi-final was a moment of divine intervention.
Brockhoff was in second place for most of the race this time, but the French race leader unfortunately took a tumble and nearly clipped the Aussie on her way down.
However, Brockhoff stayed on her feet although she conceded first place in the process.
She managed to finish in second place to book a spot in the final.
But it was not to be in the medal event, as a slow start cost her dearly and left her needing to claw back the distance for the entire race.
The event was won by America's Lindsey Jacobellis.
Speaking to Channel 7 after her race, Brockhoff was understandably emotional and explained just how big of a battle it was to even get to the big final.
"I thought I'd be OK, I thought I wasn't going to cry but I'm definitely crying," Brockhoff said.
"I had a really bad training day yesterday, I couldn't get a lap down.
"Had a crash, hit my head. My knee's been a lot of issues these past few days. I had a s*** time trial, I was having a bit of a breakdown in front of my family.
"But there's a lot of fight in me.
"I went from 18th to the big final and I just gave it my all, that's all I wanted to do here and that's what I feel like I've done.
"All I can say is 'oh well' rather than 'what if'."
Speaking on her quarter-final stunner, Brockhoff knew it was all about striking at the right time.
"I was just patient, I knew I could pass them," Brockhoff said.
"I just had to wait for the opportune moment.
"I know different areas have different drafts, when I saw this opportunity at the end, I just took it straight away and didn't look back."
But when it came to the big final, it unfortunately didn't quite go to plan.
"I hate blaming other s***, and it's my fault as well," Brockhoff said.
"I really struggled on the left side, because it's tilted this way and made me toe-edge heavy which I'm not great at in managing.
"I just tried with what I had and worked the rest of the course to keep with the pace.
As for what's next?
"I've gotta cry like a little b***h right now and figure my s*** out," Brockhoff said.
SUPER SCOTTY MAKES BIG STATEMENT IN FOURTH GAMES
Scotty James made a statement in the qualifiers for the men's snowboard half-pipe with a stunning pair of runs – and he's still got plenty in the tank come the final on Friday.
James finished the first runs in top position with a monster 88.25 before improving that past 91.25 points on his second run.
James said: "I feel really good. We stuck to our plan today and we executed really well. The half-pipe is fantastic, the weather is incredible."
"To say the least it was absolutely fantastic. I'm over the moon."
He'll be joined by 16-year-old countryman Valentino Guseli, who scored 85.75 in a clutch second run to finish fifth after crashing on his first attempt.
Australia's four-time Olympic veteran James is hoping to improve on his bronze medal at PyeongChang 2018, having also won the event four times at the X Games – including last month.
But he faces the sport's iconic superstar in American legend Shaun White, who is retiring after these Games – his fifth – at the age of 35. He won gold in 2006, 2010 and 2018.
However, White crashed on his first attempt while attempting the exact same run that won him Gold in PyeongChang 2018, managing just 24.25 points. But White was whooping and hollering after a sublime second run, wiping sweat off his brow after the pressure enforced from his first-up fall.
White's 86.25 sent him into fourth place, and he fist-pumped exuberantly when the score was announced.
White told Channel 7: "I was making my way through the first run and everything went great. I just let off the gas a little bit."
"As I'm making my way through (the second run), I can't tell you the relief riding away from that last hit.
"I was nervous, I won't lie. I'm like 'Okay, last Olympics. To not make finals would be a bad look, I've got to get it done!'"
James' first run included a switch backside 900, a cab 1080 double cork, frontside 900 with tailgrab, and backside 1260 deleter grab, then a frontside 1260.
His second saw him dropped in switch before delivering a switchback 900, cab 1080 double cork, frontside 900 with tailgrab, backside 1260, and finished with a frontside double cork 1440 – the final trick being the key difference from his previous run.
Japan's Ayumu Hirano was second after the first run with 87.25, before storming into first with a sensational run. He started with back to back 1440s, the second a cab 1440, and finished with a score of 93.25.
Guseli then delivered a brilliant second run of his own. It saw him pull off a backside 720 – where he came unstuck in his first run – then a switch method, a cab 1080, frontside 1260 into a back 900.
"Hi everyone at home… I love you mum, see you soon," he said while waiting for his score to drop – which then left him just saying a shocked "wow."
He was fourth at the time, but was pipped by White.
The top 12 advance to the final on Friday at 12.30pm AEDT.
ARTHUR'S TOUGH TIME
In the women's competition, Emily Arthur was hoping to emulate Torah Bright's stunning success in the event – gold in at Vancouver 2010 and silver at Sochi 2014.
But she Arthur was left distraught at missing out on the finals after crashing in her second run.
Needing to finish in the top 12, Arthur delivered a score of 62.50 on her first run, good enough for 12th position. But she crashed in her seccond run and did not improve her score, with rivals overtaking her for an eventual 16th-place finish.
US STAR'S OLYMPICS NIGHTMARE
Mikaela Shiffrin's Beijing Olympics campaign went from bad to worse on Wednesday as she slid out of the women's slalom in which she was one of the big favourites.
The American, who lasted just four gates in a shock exit from the giant slalom earlier this week, managed just two in the slalom before skiing out.
Shiffrin went into the shortest technical event as a four-time world slalom champion and gold medallist at the Sochi Olympics in 2014, who also holds the most victories of any slalom skier in history.
After sliding wide on the turn, meaning she lost her momentum, making it difficult to re-align quickly enough for the next gate, Shiffrin immediately skied to the side of the course and plonked herself down in the snow, head in hands.
– AFP
MORE NEWS
TUESDAY WRAP: Aussie medal bolter's skeleton stumble; huge appeal over pro-China 'injustice'
'SNOW PRINCESS': How 'uniquely profitable' Olympics star leads $22m double life
Furious rivals lodge fresh appeal after everything goes China's way amid 'cheating' accusations
Real reason for Olympics' weird 'nuclear plant' ski jump backdrop
BAFF OUT IN QUARTERS
Josie Baff looked to back up the success of fellow snowboard star Tess Coady who claimed bronze in the women's slopestyle.
Josie Baff, the youngest member of Australia's team, delivered a 1:25.11s to put her 14th at the time and good enough to qualify directly.
Teenager Baff was riding brilliantly in the top section of her 1/8-final, only to crash out while in third place. She got back up to finish in the same position, but a mile behind the first two riders who qualified for the quarterfinals.
A disappointed but optimistic Baff told Seven: "It's a bit brutal, I've been riding really well in training."
"I thought I was going to save it but then I crashed a second time," she added.
"It's still a great experience… It's been so much fun. Everyone's really taken me under my wing."
PARKER CRASHES OUT AFTER COVID CHAOS
Australia's Parker lasted longer than Shiffrin, making it two-thirds of the course before also losing her way. It means that she will also not complete the second run, later this afternoon, which decides the placings.
Parker was set to fly to Beijing from the US last week ahead of the games, but was forced to delay her departure due to multiple positive Covid-19 tests.
That saw her scratched from Monday's Giant Slalom competition. But having tested negative in the US, she flew into Beijing yesterday – only to return a positive test.
That sent her into isolation at Zhangjiakou, where she subsequently took two more PCR tests overnight. Both returned negative results this morning, seeing the Aussie alpine star cleared to compete in the slalom event.
Australian Olympic Team Chef de Mission Geoff Lipshut said: "We are thrilled for her after a very difficult ride. It's a big ask for her today to step up to this level of competition off the back of this whole experience but she has shown incredible mental toughness and determination.
"She stepped onto that plane knowing there was a real possibility she may be positive at the other end, but here we are this morning waking up to news that further testing has come in negative."
MONDAY WRAP: Aussie crashes out in reverse Bradbury, gifts win to little-known rival
SUNDAY WRAP: Australia's 'incredible' new winter golden girl seals nation's best EVER day
US Olympic star's gruesome injury rocks rivals as fake snow wreaks havoc on Beijing
The $6.5m 'game-changer' behind Aussie golden girl's secret weapon
'Completely destroyed': Athletes fume over Olympics nightmare
Catch up on the day's Winter Olympics action in our BLOG below!
If you can't see the blog, click here.