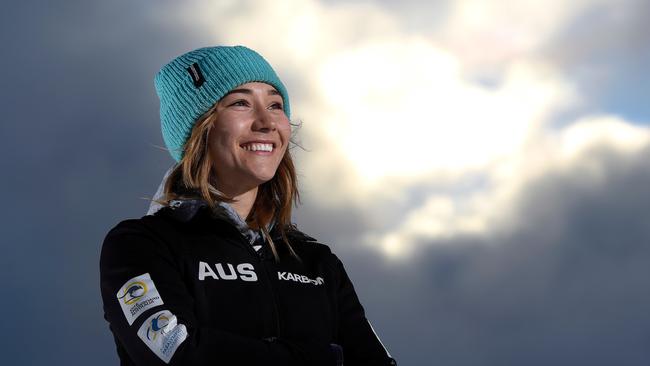 JOANY Badenhorst has a left leg worth $50,000.
But above that? Rat shit. Like her luck.
Take the left knee cap of this Winter Paralympian, which is dislocated. Surrounding it, serious nerve damage too.
Even that pricey prosthetic likely requires workshop time after it was frantically removed by Australian team staffers as Badenhorst lay, on Saturday evening, concussed in the snow.
"So right now I'm a little fragile," the Griffith snowboarder said.
Only days after carrying the Australian flag into the opening ceremony, 23-year-old Badenhorst has been forced to withdraw from the Games following a nasty training crash that not only smashed her patella, but ­resulted in the amputee being sledded off the mountain, unable to walk.
WINTER DRAMA: The extraordinary story of Joany Badenhorst
Worse, the injury comes exactly four years after the world No.1 for snowboard cross suffered the same fate in Sochi.
On that occasion, though, the crash came not days out from her Paralympic event, but hours.
So severe, too, she suffered a broken and dislocated patella, collapsed hip and severe nerve damage.
All of which means, after eight years, Badenhorst remains a Paralympian in name only.
BIG GOAL: Van Dijk hoping to drop in on world elite
"And when you put it like that it's devastating," she said. "I can't really think about it because it makes me really emotional."
Ditto the rest of this Australian team, of which Badenhorst is the undeniable face.
"This really is a case of lightning striking the same place twice," Chef de Mission Nick Dean said. "I'm devastated, everyone is devastated."
Apart from leaving Badenhorst shattered, the withdrawal is a also huge blow for Australia's medal hopes given she was ranked one in the world for snowboard cross and third for banked slalom.
And good luck Australian officials getting a Winter Paralympian to ever carry the flag again.
Four years ago, amputee ­alpine skier Cameron Rahles-Rahbula was also given the same honour … then promptly broke his leg in a training crash.
Asked about Saturday's crash, the athlete who lost her left leg in a tractor, aged 10 said: "I caught air in the middle of the course, wasn't balanced and as I came down, the tip of my snowboard caught the downward ramp of a feature, which tomahawked me forward and slammed my body into the snow. After that there was a lot of tumbling.
"Still, considering the damage I did to my helmet, back brace and knee brace … it could've been so much worse."
Apart from stressing she would not be defined by her consecutive crashes, she admitted to "killing it" in practice.
"And I can say that now because I can't compete so I don't have to be sincere," she laughed. "For the first time in any competition, I felt fearless. It was the best I've ridden in my life."
Which has to make this harder to take, right?
"You would think so," she said. "But I always said that as long as I put something down I'm proud, I'll be incredibly happy.
"And I did.
"Went for it.
"So, no, it's not ideal.
"But I'm going to take it, I'm going to smile … and I'm going to walk away."