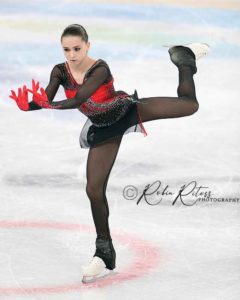 By Maura Sullivan Hill, Team FSO contributing writer
Photos by Robin Ritoss
At the end of the women's free skate at the 2022 Olympics, the winner stood alone, looking stunned and clutching a stuffed animal.
Seventeen-year-old Anna Shcherbakova  of the Russian Olympic Committee (ROC) had just won an Olympic Gold Medal, but chaos was erupting around her: tears, shouting, some hugging. You did not have to speak Russian to see that the dominant emotion was anguish — even though NBC broadcaster Johnny Weir does, and he translated some of the scene for viewers. Silver medalist from ROC Alexandra Trusova was refusing to go to the medal ceremony. Even bronze medalist Kaori Sakamoto of Japan was crying, but in the arms of her coaches and other support staff.
And out on the ice, Olympic volunteers set up the podium for the medal ceremony that most people assumed would not happen during these Games.
But happen it did, because Kamila Valieva of ROC finished off the podium, enabling the ceremony. After a positive drug test from Dec. 25, 2021 was announced on Feb. 8, 2022, Valieva was suspended and then quickly reinstated by the Russian Anti-Doping Agency, between the team event and the individual event. The Court of Arbitration for Sport ruled that she could compete in the women's individual event amid protests from the International Olympic Committee (IOC), the International Skating Union, and many former Olympic athletes.
The ROC gold medal from the team event is still in question because of Valieva's positive test, and her results at this competition will have an asterisk until the doping issue is resolved.
In the meantime, the IOC decided that a medal ceremony would not take place if Valieva ended up on the podium, but she finished the event in fourth place after struggling through her free skate. She threw her arm in the air in frustration after hitting her final pose.
Valieva led after the short program, earning a score of 82.16 points despite stepping out of her triple axel and receiving negative GOE on that element. But in the free skate, the jumps that she has been so well-known for eluded her. She under-rotated her quadruple salchow, fell on one quad toe and stepped out of another, which she attempted to save by putting sequence with a triple salchow, but she fell and it was downgraded. She also stepped out of her triple axel.
Instead of Valieva, the title belonged to Anna Shcherbakova, who has often exhibited nerves of steel under pressure. She is a three-time Russian National Champion and the 2021 World Champion. Here in Beijing, she skated a season's best short program, and personal best free skate that included two quadruple flips.
"During the skate I was very focused. I moved from one element neatly to the next," Shcherbakova said. "The thought in my head was that I can't relax, that I need to do the maximum in each of my elements, so the skate was very focused and, for me, this is a very correct mindset. I am very happy that I dealt with the nerves, with all the emotions and at the right moment, in the right place showed everything that I can do."
Silver medalist Trusova earned a personal best in the free skate, and did five quads – the same amount as men's gold medalist Nathan Chen. She won the free skate portion of this event, buoyed by the quads and PCS marks in the 8s and 9s, despite the program effectively being a jump drill, with music from the soundtrack of the movie "Cruella" behind it.
"Everything was enough for me. I did everything. And after, it is out of my hands," Trusova said. "In the short and in the free, I did everything I could. I am content with my programs. I am happy with my performances. I did everything that I could."
While she was happy with her performance, Trusova was visibly dissatisfied by the results before the medal ceremony, and in the press conference, she said, "I am not happy with the result. There is no happiness."
Bronze medalist Kaori Sakamoto earned personal best scores in the short program, free skate, and overall score. She added this individual bronze medal to the one that Japan earned in the team event (pending official confirmation of the results after Valieva's doping case is resolved).
"Before Kamila Valieva's score was out, I wasn't sure I was going to get another medal. Then I saw my name in the third place, I was like, 'Wow'. It's just so unbelievable. I almost cried," Sakamoto said. "This bronze in women's single is a bit of a surprise for me. I am just happy and grateful for it. By winning two medals, I hope to bring more people into the world of figure skating."
Sakamoto is a two-time Japanese National Champion and Grand Prix Final competitor. Here, she skated to "Gladiator" in the short program and a medley of songs and spoken word celebrating womanhood in the free skate, where she nailed a triple flip-triple toe combo and a double axel-triple toe-double toe.
Both Sakamoto and her Japanese teammate Wakaba Higuchi skated with speed, flow, and joy. Higuchi finished in 5th place, and fought through her "Lion King" free skate. After a stunning opening triple axel, which earned mostly +2 and +3 for grade of execution, she fell on the back end of her triple lutz-triple toe combination. But then Higuchi came roaring back for the second half of the program, even repeating the triple lutz-triple toe and landing it (with a quarter turn underrotation deduction).
"It was a program that will take me further down the road. I made the triple axel jump. I am so satisfied for accomplishing that," said Higuchi, who is the 2018 World Silver Medalist and won bronze in the team event here alongside Sakamoto. "I was so nervous. It was surreal, how time flies. I felt like Alice in Wonderland. It's an amazing experience, getting to skate in my best form on this stage. I had a bite of the bitter part of the Games [not winning an individual medal], but also the sweet part of it. It's the best stepping stone for my athletic life in the next four years."
In contrast to the scenes of the Russian team, Mariah Bell of Team USA ran out from backstage to congratulate teammate Alysa Liu on her clean skate, which included a downgraded triple axel attempt. Bell wrapped Liu in a hug in the kiss and cry.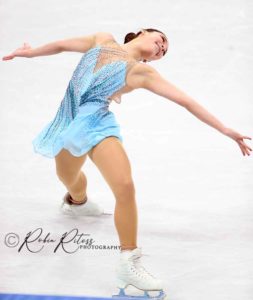 Liu skated two clean performances and finished in seventh place. Liu has made great strides in skating skills since winning the first of two U.S. titles in 2019 at just 13-years-old, and earned Level 4s on all but one of the spins and step sequences throughout both programs.
"I'm so happy with two clean programs," Liu said. "It's better than I ever thought I would do at the Olympics, and I'm really happy about it."
Bell, who fell on an attempted triple-triple combination in the short program, finished the event in 10th place with a clean free skate that had coach Adam Rippon jumping for joy at the boards. When she exited the ice, Rippon said, "You weren't going to let anything go," and Bell responded, "Nope!"
She earned Level 4s on all her spins and the step sequence in the free skate, and landed five clean triples, refusing to give up on a slightly shaky triple salchow. She went without a triple-triple combo, but her PCS marks were all in the high 8s and 9s.
"I felt extremely in the moment. Actually, I was very nervous, but I felt like I was really able to be in the moment and be centered. That made me very happy," said Bell, the 2022 U.S. Champion. "That's [she points back out to the ice] what I'll remember the most, that moment of just being so happy at the end of a program."
Karen Chen of Team USA finished in 16th place. She struggled with the triple loop throughout the team event and the short program, and the same was true in the free skate. She squeezed out a landing on the first loop, but fell on the second one, her final jump in the program, right after popping an intended triple lutz. Before those final two jump mistakes, Chen was attacking the program with speed, and looked to be enjoying her performance on Olympic ice. She told the media in the mixed zone that she hurt her ankle prior to the team event; it is possible that contributed to the problems on the loop.
"I think resilience is a very powerful word. And I think it can be used to describe all athletes, like all athletes are resilient in their own ways. They face different kinds of challenges. And personally, for me, I know that I've gone through so much to be here," Chen said, who competed in the team event and earned a silver medal. "And honestly, I've never talked about this, but before the team event I actually fell down [the] stairs and I hurt my ankle. But I was resilient, and I was like, 'I'm going to compete'. So it's just all these things that people don't know. I know that I went through this challenge and I fought through with all the strength I have."
While the medals were awarded today in Beijing, the shadow of Valieva's doping case still lingers over the women's competition, and the investigation into her situation, coaches, and training center must continue, to honor the efforts of all the clean athletes who competed in this event.
For photos from the women's short program and free skate, visit the gallery here.