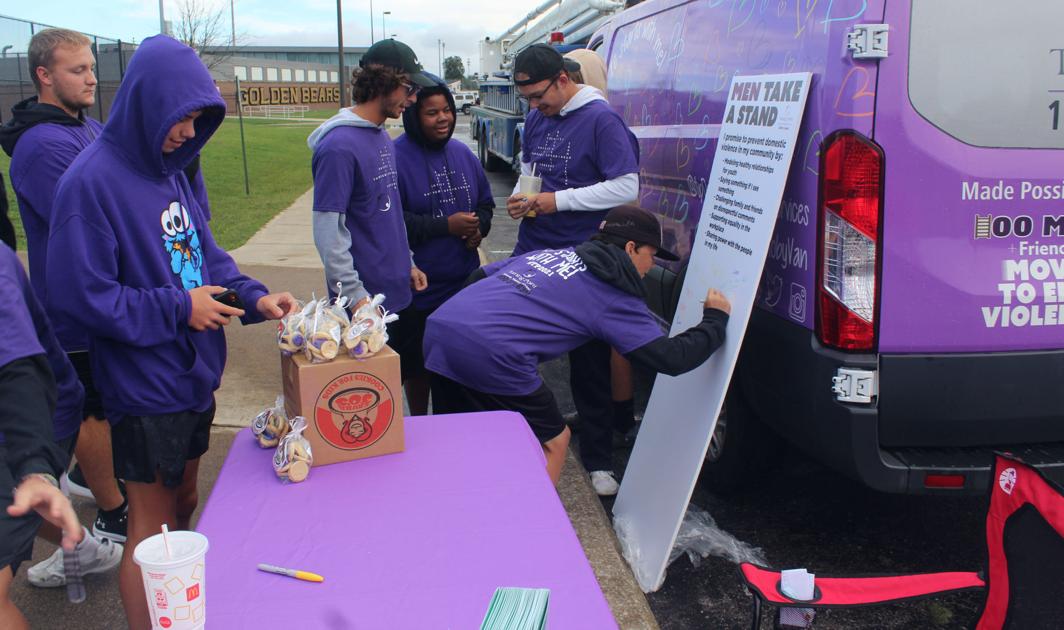 After about two months of discussions and lessons learned, the Shelbyville High School boys' tennis team is equipped to do its part in preventing domestic and dating violence.
The team served as the guinea pig of a pilot program called "Coaching Boys Into Men" that Turning Point Domestic Violence Services hopes to eventually expand across Shelby County. The program uses the unique relationship a coach has with his or her athletes, said Amber Knopp, Shelby County Community Services Director with Turning Point.
The team took time each week with Knopp and the coaching staff to talk about how to be respectful, why it's important to be respectful and how to call out someone who is using disrespectful language or behavior, she said.
There were 12 sessions in all.
Saturday morning was the culmination of those sessions, with each team member signing a pledge board promising to do their part in preventing domestic violence.
"If we're not able to call out other people and we're saying, 'oh, that's their business,' well, things like disrespectful language, disrespectful behavior or abusive behavior will continue to happen if no one else is calling them out," Knopp said before Saturday's tennis match with New Castle. "I really wanted them to be comfortable talking about it and being able to call out other people when they witness those things going on."
Those conversations were not something they were used to participating in during practice, and it was something they had to adjust to.
There was some hesitation among team members early on, coach Ashley Comstock said. But after a few conversations on different topics, the students were able to open up.
"I thought it was a good idea (participating in the program), (having) conversations about different topics we talked about that probably don't get talked about a lot," she said. "So I thought it was a good idea to start with our tennis team. Plus, you feel more comfortable around your teammates talking about certain things."
Once they grew more comfortable, Knopp said she could challenge them to think beyond their first thought.
"I think we had some really great conversations," she said. "I'm really proud of them."
Junior Connor Zobel said the program opened his eyes to the issue of domestic violence.
"I thought it was really useful because there were some behaviors that I didn't recognize and necessarily see as bad," he said. "They clarified a lot of things I wasn't really sure about."
Knopp said the team completed a survey on the program and, after glancing through them, she found the most common response was their comfortability in intervening in situations that they witness because of the discussions they had.
"All of them do care about doing that but having the conversations and talking about what tools can we use to intervene in those situations has really helped their confidence and ability to intervene when they see peers and classmates acting in ways that are disrespectful," she said.
Zobel encouraged other athletic teams should go through the program and indeed, that is Knopp's goal.
She has trainings scheduled with Shelbyville boys' swim coach Coen Weiler and baseball coach Royce Carlton to start the program with those teams. And she is hoping to expand it to the four county schools, including girls' teams as well.
"I think the more youth we can reach in doing so, it's going to really shift the culture of the community with these young people who are coming up through school and going to college and going to be adults in our community," she said.