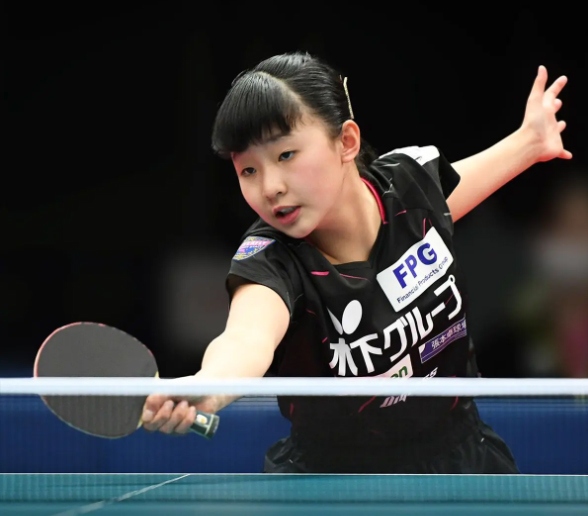 (by Steve Hopkins)
At this point, everyone who follows table tennis knows World No. 5 Tomokazu Harimoto.  Tomokazu's younger sister, Miwa, has slowly been improving and the world's ninth ranked junior may be poised to make waves in the adult circuit as well.  In this qualification rounds of this week's WTT Star Contender in Doha, Miwa (ranked outside of the top 500 in the adult rankings) beat two players between 75 and 100 to win her place in the Main Draw.  All three of her matches were upsets, beating China's Chen Yi 3-0, then Singapores Zhu Chengzhu 3-0, and then qualifying by beating Taipei's Liu Hsing-Ying 3-1.  Tomorrow, Miwa will face Egypt's Dina Meshref in the Round of 64 of the Main Draw.
The other Women's Singles qualifiers are China's Qi Fei, Fan Siqi, and Zhang Rui, and Korea's Joo Cheonhui and Kim Hayeong, and Romania's Adina Diaconu, and Japan's Sakura Mori. The top seeds in the Main Draw are Doo Hoi Kem and Adriana Diaz.  USA's Lily Zhang will face Ukraine's Bilenko in her opening match Sunday.
The headliners in the Men's Event are Hugo Calderano, Lin Yun-Ju, Darko Jorgic, Patrick Franziska, and Truls Moregard.  The top seeds will see action for the first time on Sunday – though USA's Kanak Jha will have a bye in the first round.
Many of the qualifiers are recognizable names in the Men's Singles event.  China's Liu Dingshuo and Zhou Qihao have both upset Chinese Team Members in recent events.  Two other Chinese players also won their qualifers: Yuan Licen and Zue Fei.   The other four qualifiers are Liao Cheng-ting of Taipei, Lubomir Jancarik of the Czech Republic, Lam Siu Hang of Singapore, and Alexandre Cassin of France.
Tune in for updates with early rounds starting on Sunday and the Finals scheduled for Thursday.
Visit ButterflyOnline.com for the latest table tennis news and results.
Share the post "WTT Star Contender Doha: Miwa Harimoto Among Qualifiers"