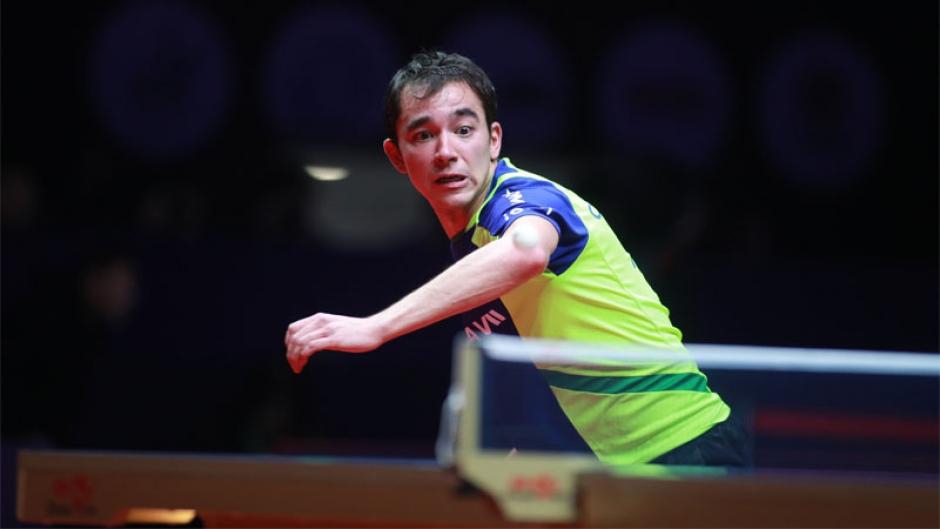 (by Steve Hopkins)
The World Table Tennis series is active again with a WTT Star Contender event in Doha this week.  The top two seeds in Men's Singles were Dimitrij Ovtcharov and Hugo Calderano – and other seeded players included USA's Kanak Jha, Sathiyan Gnanasekaran, Darko Jorgic, Woojin Jang, Sangsu Lee, Kristian Karlsson, Liam Pitchford, and Simon Gauzy.  After a string of upsets it was Hugo Calderano that came out on top.
The upsets began early when Ovtcharov fell 3-1 in the Round of 32 – a 3-1 loss to 23 year old Korean Seungmin Cho.  Two of  the Ovtcharov/Cho games were marathons and Cho won both (15-13, and 16-14) and that was the difference.  Cho lost in the next round to Andrej Gacina 3-0.  Gacina, a 35 year old savvy Croatian veteran, also upset Sathiyan Gnanasekaran a round earlier.
Kanak Jha had a solid 3-0 win over Germany's Ricardo Walther but fell to Darko Jorgic 1-3 in the Round of 16.  Jorgic has had a number of great performances this year already both in the German League and in tour events, and his No.25 ranking made him the favorite against Kanak.  Jorgic went on to top Gacina 3-0 to make the Semifinal (which will be played Saturday afternoon).
Darko Jorgic topped Sangsu Lee of Korea in one Semifinal and Hugo Calderano topped Pitchford in the other Semifinal.  In the Final, it was Calderano 4-2, falling behind but then winning three straight to close out the match.
Not too many surprises in the Women's Singles event as three of the top four seeds have advanced to the Semifinals.  Those top players are Jihee Jeon and Hina Hayata (who will play each other), and Doo Hoi Kim of Singapore. The surprise was Margaryta Pesotska of Ukraine who entered as No. 35 and took advantage of a good draw and an upset (Hyowon Suh lost to India's Akula) to advance.  On Saturday, it was Doo Hoi Kem and Hina Hayata who won.  Doo won 4-0 and Hayata needed to win 4 straight to eek out a 4-3 win.  In the final, it was Hayata easily 4-1.
Visit ButterflyOnline.com for the table tennis news and scores.
Share the post "WTT Star Contender Doha: Hugo Tops Field"