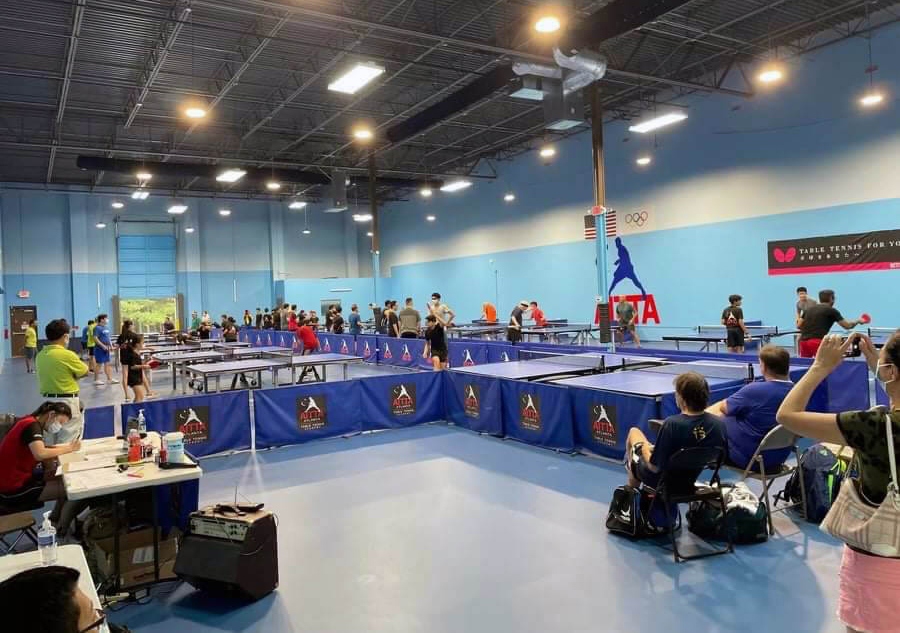 (by Steve Hopkins)
With their location just North of Atlanta in Suwanee, Atlanta International Table Tennis Academy has a strong presence in the largest metropolitan area in the Southeast.  AITTA is the result of a 2014 merger between Yang's Table Tennis Academy and Atlanta Table Tennis Academy.  They have full-time coaches across and have been a Certified International Table Tennis Federation Hot Spot International Training Center. The coaching staff includes Shigang Yang and Xiaoyuan Zhu.  Shigang Yang was the US National Team Coach in 2018 and has previously been the USA Junior Boys coach.  Xiaoyuan Zhu is a former China Olympic Training Center coach.
The AITTA facility provides up to 10 top-quality Butterfly tables, high ceilings, great lighting, rubber flooring, lounges, break rooms, wifi, a pro shop, and free parking.
The success of the club is evident in the quality of the players and AITTA features some of the best players in North America.  Top players have included: Yijun Feng, Jeremy Hazin, Ethan Ruan, Andrew Yang, Daniel Ng, Emilie Lin, Sabrina Zhu, Cody Wang, and Amber Liu – as well Shigang Yang (former US National Developmental Team Coach and US Junior Boys Team Coach).
As stated on the AITTA website, the club is available to all levels of player; "We're also committed to developing your game no matter your level of skill or athletic goals. Whether you're a tournament player looking to win local titles & improve your USATT rating, or a recreational player seeking to benefit from the many positive health effects of table tennis; we're here to help you achieve your goals."
Check out the AITTA Spring Camp April 4-8 (7230 McGinnis Ferry Rd., Suwanee Georgia)
Contact:
• Head Coach Shigang Yang: 678-469-0650 (English/Chinese)
• Email: yangshigangtabletennis@gmail.com  |  Web: www.yangtabletennis.com
• 7230 McGinnis Ferry Rd., Suwanee GA 30024
Hours: Monday-Friday 3:00pm – 11:00pm
Saturday-Sunday 9:00am – 7:00pm
See the current list of WE ARE BUTTERFLY CLUBS.   |   Interested in becoming a WAB CLUB?
Share the post "WAB FEATURED CLUB – Atlanta International Table Tennis Academy"