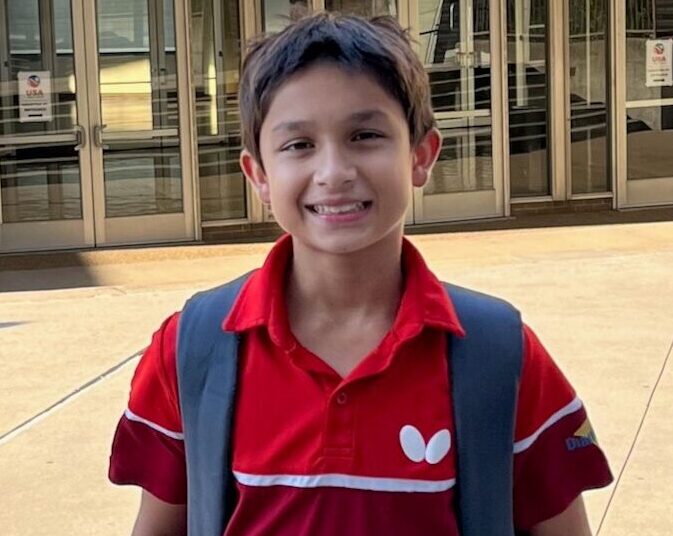 (By: Kef Noorani)
At the June 2022 US National Team Trials in Texas, my goal was to make the top four for U13 as it would allow me to represent USA at the Pan Am Championship. I was quite nervous because I was only fourth-seeded and at eleven years old, younger and physically smaller than the other boys: a single upset would eliminate my chances of representing my country. My dad was going to coach me as under him last year, I had won both the U11 trials and U11 National Championship undefeated. But he kept telling me to play the Trials for fun and experience as he just wanted me to try and make the team in 2023 but I wanted to make the team this year!
In Texas, we stayed with my cousins as they lived close to Fort Worth. I had a great time hanging out with them every day, playing pool, and playing fetch with their German Shepherd. But the Trials started right away. My first match was against another player from California. We had played many times and every match was close. But since this was the Trials, I was very nervous. In the first 10 minutes of the match, I had already gone down 0-2. I was freaking out, but my dad, who was also my coach, calmed me down and helped me get my confidence back. I caught back up to 2-2 and was feeling relaxed. I ended up winning the match 3-2 while realizing how tough the rest of the competition would be. My second match was against an opponent I had never played before. However, I was able to take this match 3-0. Right after that match, I had to play another. This time against one of my friends from California. We had played many times and were pretty even. I took the first game easily, but he fought back, winning the next game. I ended up losing the next two games on (13-11) and (12-10) taking my first loss. My final match of the day ended in me winning 3-0 putting my record at 3-1.
The next day I had three matches. My first started at 9:00 am against a fellow U11 National Team member. All our previous matches had all been very close. This time, I quickly went up 2-0 and was feeling relaxed. I lost the third game badly but recovered by winning game four. By this point, I had already made the final eight of the U13 National Team but my goal was to be in the top four. I still had two matches left but I wanted to win both because a 4-3 result would not guarantee me a top four spot. I was under immense mental pressure because I set myself a goal to have a 6-1 finishing record.
My first match was against an opponent I had played three days earlier in U15. I had won 3-0, but every game was close. We started the match fairly even with two close games and the score at 1-1. However, I was able to close the match with a 3-1 win. My last match was against one of my good friends whom I had just played the week before. I got destroyed in that match so this match was the one I really wanted to win. I managed to go 2-0 up but he came back 2-2 though. Going into the final game, he had a lot of confidence but I was able to take a 5-3 lead which later extended to 9-5. In the next point, he got me out of position but I got a lucky net point. 10-5 up, I thought it was over. I had the perfect serve to win the point but my opponent knew what it was. So I tricked him. I served wide to the backhand, but he had already come into the forehand for a flick. I missed the serve and was regretting not doing a safer serve. On his serve, one of my bad habits played back, allowing him to get the edge in the point. It was now 10-8 and we had already used our time-out. So I started to panic. 10-8 became 10-9 as I missed a forehand attack and then I lost another point. I had just lost 5 in a row, three of which were on my serve. I couldn't believe it. At that point, I had completely lost my mental strength, allowing him to win (12-10). I was devastated as we went back to our room. I had lost despite having five match points.
I now had a mediocre record in the final eight and I was fifth-seeded, which meant that I had to cause upsets to get a chance to make it to the top four. The second phase of the final eight had four more matches to play but I was not feeling confident after my heart-breaking loss earlier in the day. My dad tried to help me focus me by reminding me of our goal ("just have fun!"). However, in my first match that afternoon, I was already down 0-2 and feeling terrible. I realized I was not going to make the top four anymore so I decided to just try and play my best and have some fun. Weirdly, with my new mindset, I came back to tie up to score 2-2. It was a close last game and I ended up losing 11-8 but I didn't feel bad as I had played well against a very good player. I won the next three matches, including causing two upsets in very close matches, and finished with a record of 4-3. I thought I didn't make the top four and wouldn't get a chance to represent USA at PanAm but I was content. Next year, I would be twelve, physically stronger, and could still try and make the U13 team.
But to my surprise, all my fellow U13 team members came running to discuss the four-way tie for second place. I had ended up in it too. Due to my late afternoon upsets, I ended up winning the tie to get a second-place finish. I had made it to the top four and would get a chance to represent my country at the Pan Am Championship. I felt very happy and proud.
The Trials were a great learning experience. I am looking forward to the PanAm Championship which will be held in the Dominican Republic in late September. Thank you to Butterfly for supporting me and a special thanks to my dad who coached me the entire trip.
Stay "In The Loop" with Butterfly professional table tennis equipment, table tennis news, table tennis technology, tournament results, and We Are Butterfly players, coaches, clubs and more.
Share the post "My Experience At The U13 US Team Trials By Keft Noorani"