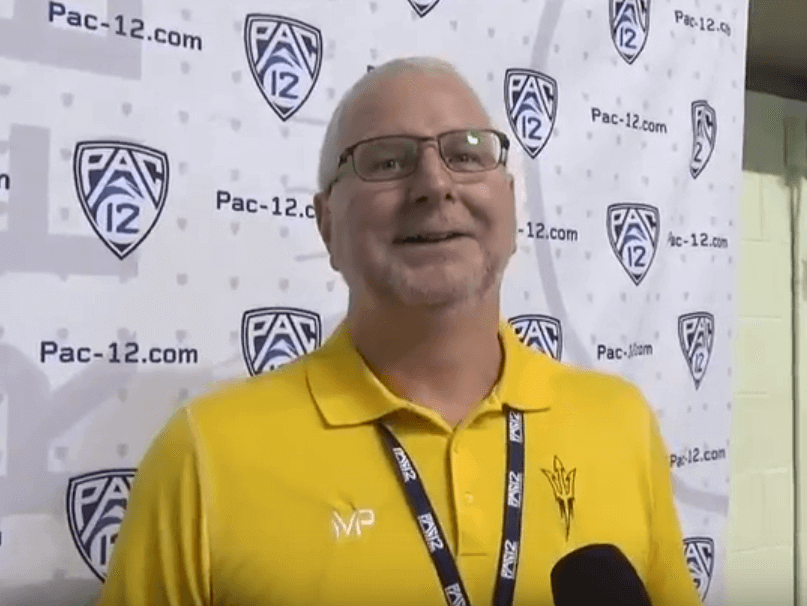 The Bob Bowman Redshirt Experiment Paid Major Dividends For Arizona State
The date was July 26, 2020. The COVID-19 pandemic was roaring, and the day-to-day operations of – well, everything – were changing by the hour. No, make that by the minute. There was no continuity in the world. No way to predict the days ahead – let alone weeks and months into the future. Uncertainty was king.
So, Bob Bowman made a move.
Now, before we get into this decision, let's look at the Bowman Way. It is predicated on preparedness and executing a plan that will reap the greatest rewards. Hell, you don't guide Michael Phelps to 28 Olympic medals without operating via precision and foresight. So, you tell an 11-year-old's parents they are raising a future Olympian. You suggest the removal of his wisdom teeth at a time that will not interfere with significant career moments. At some point, you intentionally break a pair of your pupil's goggles and make him race in them – knowing this obstacle will strengthen his resilience.
In a way, Bowman is a mad scientist who conducts his experiments not in a lab, but on a pool deck. And when the pandemic was raging, he opted for an out-of-the-box approach that he believed would benefit the future of the Arizona State swim program: Redshirt the entire team.
Go ahead, search for ASU results for the 2020-21 campaign. You won't find them. Not from dual meets. Not from the Pac-12 Championships. Not from the NCAA Champs. There was no season for the Sun Devils. Instead, Bowman consulted with Athletic Director Ray Anderson, his athletes and their families and determined that a redshirt year for all was a winning path.
"In March, Ray Anderson challenged all Sun Devil head coaches to find ways to make our programs stronger after the COVID-19 crisis," Bowman told Swimming World when the redshirt decision was announced. "This decision clearly accomplishes that goal. It promotes the health and safety of our student-athletes, enhances their educational opportunities, and allows time to rebuild and refocus on performing at the highest levels of NCAA competition."
Nearly two years later, the decision has proven wise.
At last week's NCAA Men's Championships, the Sun Devils finished sixth in the team standings for their best finish in 40 years, matching the effort of the 1982 squad. In addition to nine athletes earning All-American honors, the Sun Devils finished in the top eight in all five relays, including a second-place showing in the 400 freestyle relay. More, freshman Leon Marchand emerged as competition's premier performer.
Through Bowman's redshirt experiment, much was gained. First, athletes embraced an extra year of academic studies, an approach that will enable many to leave the school with a graduate degree. Second, the swimmers were able to dedicate themselves to training during their "sabbatical" year and didn't have to deal with the uncertain stresses of canceled meets, or other disruptions in the schedule. Finally, ASU had the chance to attack the 2022 NCAA Champs with a loaded roster – one that got the job done in Atlanta.
Marchand was the obvious headliner for Bowman, as he shredded the NCAA record in the 200 individual medley (1:37.69) and surged to another title in the 200 breaststroke, this time with the No. 3 performance (1:48.20) in history. For good measure, the Frenchman was the runnerup in the 400 individual medley and contributed to a quartet of high-scoring relays.
Meanwhile, Grant House was the silver medalist in the 200 freestyle and a member of four All-American relays, while Alex Colson placed seventh in the 200 butterfly. Cody Bybee was a factor on three All-American relays.
Although a redshirt year might sound like it was free of distractions, such was not the case. More than anything, Bowman had to create racing opportunities for his athletes. Those chances arrived during practices, or at local meets in Arizona. Despite the difficulties, Bowman knew – early in the season – that the redshirt decision was a good call.
"We were able to have a year of development," Bowman said. "I think we had some kids on our team that I feel like needed a year, and I also think we're able to keep some guys who were fifth-years who got to develop as well."
Flash back to 2008. At least temporarily, the Arizona State program was cut from the athletic department and forced to battle for reinstatement. Now, a little more than a decade later, the Sun Devils find themselves as a national power, and with no reason to believe their climb will not continue. In addition to returning considerable talent from this year's squad, Bowman's incoming recruits will be expected to provide a lift.
Exactly what the creativity of that redshirt campaign – and Bob Bowman – provided.
setTimeout( function () {
!function(f,b,e,v,n,t,s){if(f.fbq)return;n=f.fbq=function(){n.callMethod? n.callMethod.apply(n,arguments):n.queue.push(arguments)};if(!f._fbq)f._fbq=n; n.push=n;n.loaded=!0;n.version='2.0';n.queue=[];t=b.createElement(e);t.async=!0; t.src=v;s=b.getElementsByTagName(e)[0];s.parentNode.insertBefore(t,s)}(window, document,'script','https://connect.facebook.net/en_US/fbevents.js');
// init window.fbq('init', '1467300236903193');
// track window.fbq('track', 'ViewContent', { category: 'partner', subcategory: 'swimworld', domain_name: location.host, });
window.fbq('track', 'PageView');
}, 2000);