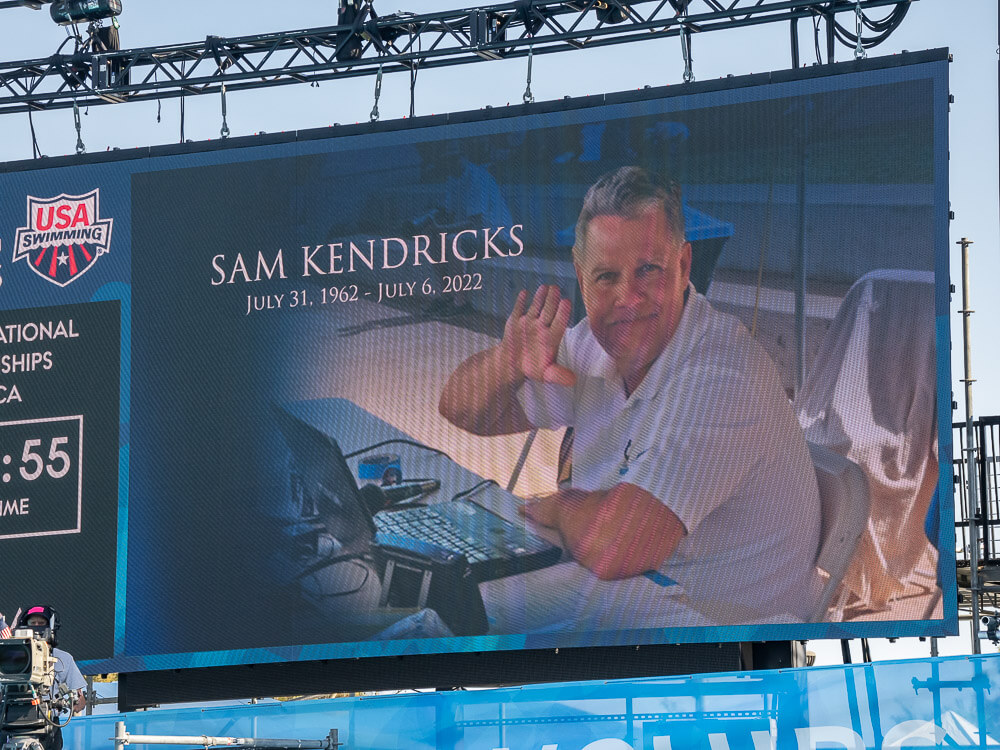 Sam Kendricks Celebration of Life Will Be Held November 5 in Austin
A celebration of life ceremony will be held in memory of Sam Kendricks this November at the Lee and Joe Jamail Texas Swimming Center in Austin following the Longhorns' dual meet against the University of Virginia. Kendricks, an announcer at major swimming competitions throughout United States for more than two decades, passed away in July after a nine-month battle with Merkel Cell Carcinoma.
Kendricks was an announcing voice at five Olympic Trials (2000, 2004, 2008, 2012 and 2016), and he announced every NCAA Division I championship meet for more than a decade up through 2021. But before that, Kendricks had a deep connection with the University of Texas, where he was a student manager on head coach Eddie Reese's first national-championship team and later an assistant coach for the Texas women. Most recently, he worked as a residential realtor in Los Alamos, New Mexico.
The remembrance event will begin no earlier than 12:30 p.m. CT (following the second day of the Longhorns-Cavaliers dual meet that begins at 10 a.m.), and it will take place in the grandstands within the arena. An Evite for the event says that of Kendricks' friends will speak, and a tree will be planted in his honor near the facility. Attendees are encouraged to wear burnt orange in honor of the school.
Kendricks was well known for his enthusiastic calls of key swimming races, and his primary catchphrase, "BOOM-SHAKA-LAKA," was saved for the most impressive of swims, including the numerous world and American records he called. At U.S. Nationals last month in Irvine, Calif., Kendricks was memorialized on deck, and USA Swimming showed a video of Kendricks announcing Katie Ledecky's first world record in the 400 freestyle at the same venue eight years earlier.
setTimeout( function () {
!function(f,b,e,v,n,t,s){if(f.fbq)return;n=f.fbq=function(){n.callMethod? n.callMethod.apply(n,arguments):n.queue.push(arguments)};if(!f._fbq)f._fbq=n; n.push=n;n.loaded=!0;n.version='2.0';n.queue=[];t=b.createElement(e);t.async=!0; t.src=v;s=b.getElementsByTagName(e)[0];s.parentNode.insertBefore(t,s)}(window, document,'script','https://connect.facebook.net/en_US/fbevents.js');
// init window.fbq('init', '1467300236903193');
// track window.fbq('track', 'ViewContent', { category: 'partner', subcategory: 'swimworld', domain_name: location.host, });
window.fbq('track', 'PageView');
}, 2000);