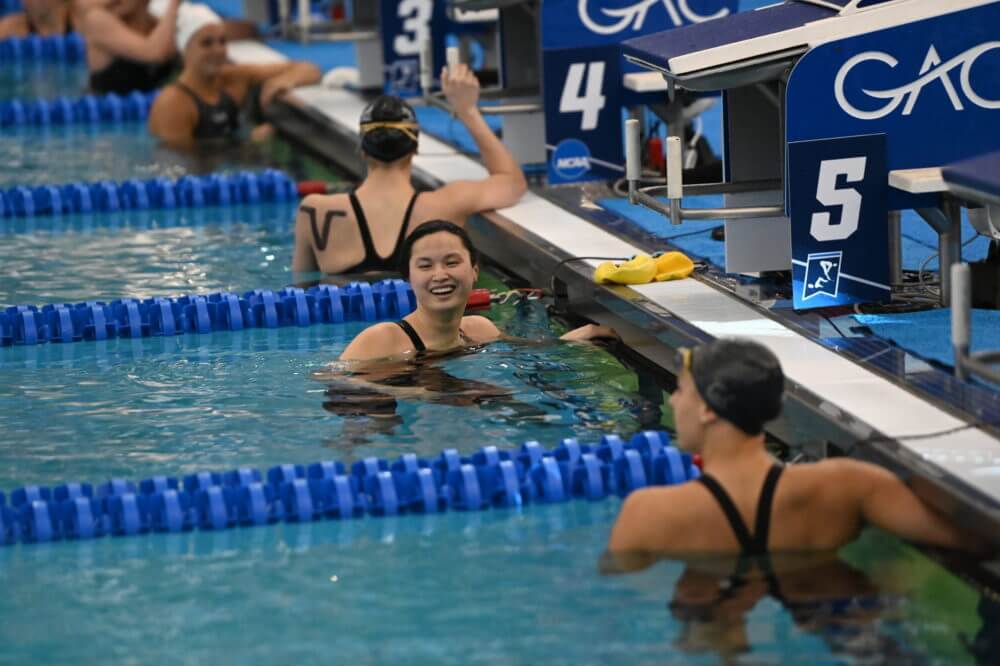 Swimming World Top NCAA Performance of the Year: Maggie MacNeil in 100 Butterfly
The return of the NCAA Championships brought out the best in many swimmers. The yearlong wait, the extra rest, the extra motivation all culminated into some spectacular performances in college pools across the country, especially at the NCAA Championships.
But it was Michigan junior Maggie MacNeil who had the top performance of the year. She broke through to become the first woman to break 49 seconds in the 100 butterfly. MacNeil clocked 48.89 as she smashed the NCAA & U.S. Open records that she co-held with Louise Hansson at 49.26.
In 2021, however, Maggie MacNeil and Virginia's Kate Douglass were able to line up head-to-head in three events, and produce one of the best 100 butterfly races in history. After dueling in the 50 freestyle with Douglass coming out on top, MacNeil took round two between arguably the two best swimmers in the NCAA with her 48.89, to Douglass' 49.55, which put her sixth all-time in the 100 butterfly.
"Definitely not (expecting that fast). It has been a goal of mine for a while, so it was amazing to achieve that, especially at NCAAs," MacNeil said after the race. "Kate is such a great racer, so I knew she would be out fast, so my focus was challenging the first 25 and first 50. That is definitely showing that my front-end speed has improved. We have been through such a crazy year. Whatever happens this summer will be a miracle."
It was MacNeil's first NCAA title in her career and the first for Michigan on the women's side since Emily Brunemann won the 1650 freestyle in 2008. MacNeil went on to win the 100 freestyle later in the NCAA Championships.
All-Time Rankings in 100 Butterfly:
48.89, Maggie MacNeil, Michigan, 2021
49.26, Louise Hansson, USC, 2019
49.38, Erika Brown, Tennessee, 2018
49.43, Kelsi Worrell, Louisville, 2016
49.51, Claire Curzan, TAC Titans, 2021
49.55, Kate Douglass, Virginia, 2021
49.70, Torri Huske, Arlington, 2021
49.97, Katie McLaughlin, California, 2019
Related
setTimeout( function () {
!function(f,b,e,v,n,t,s){if(f.fbq)return;n=f.fbq=function(){n.callMethod? n.callMethod.apply(n,arguments):n.queue.push(arguments)};if(!f._fbq)f._fbq=n; n.push=n;n.loaded=!0;n.version='2.0';n.queue=[];t=b.createElement(e);t.async=!0; t.src=v;s=b.getElementsByTagName(e)[0];s.parentNode.insertBefore(t,s)}(window, document,'script','https://connect.facebook.net/en_US/fbevents.js');
// init window.fbq('init', '1467300236903193');
// track window.fbq('track', 'ViewContent', { category: 'partner', subcategory: 'swimworld', domain_name: location.host, });
window.fbq('track', 'PageView');
}, 2000);