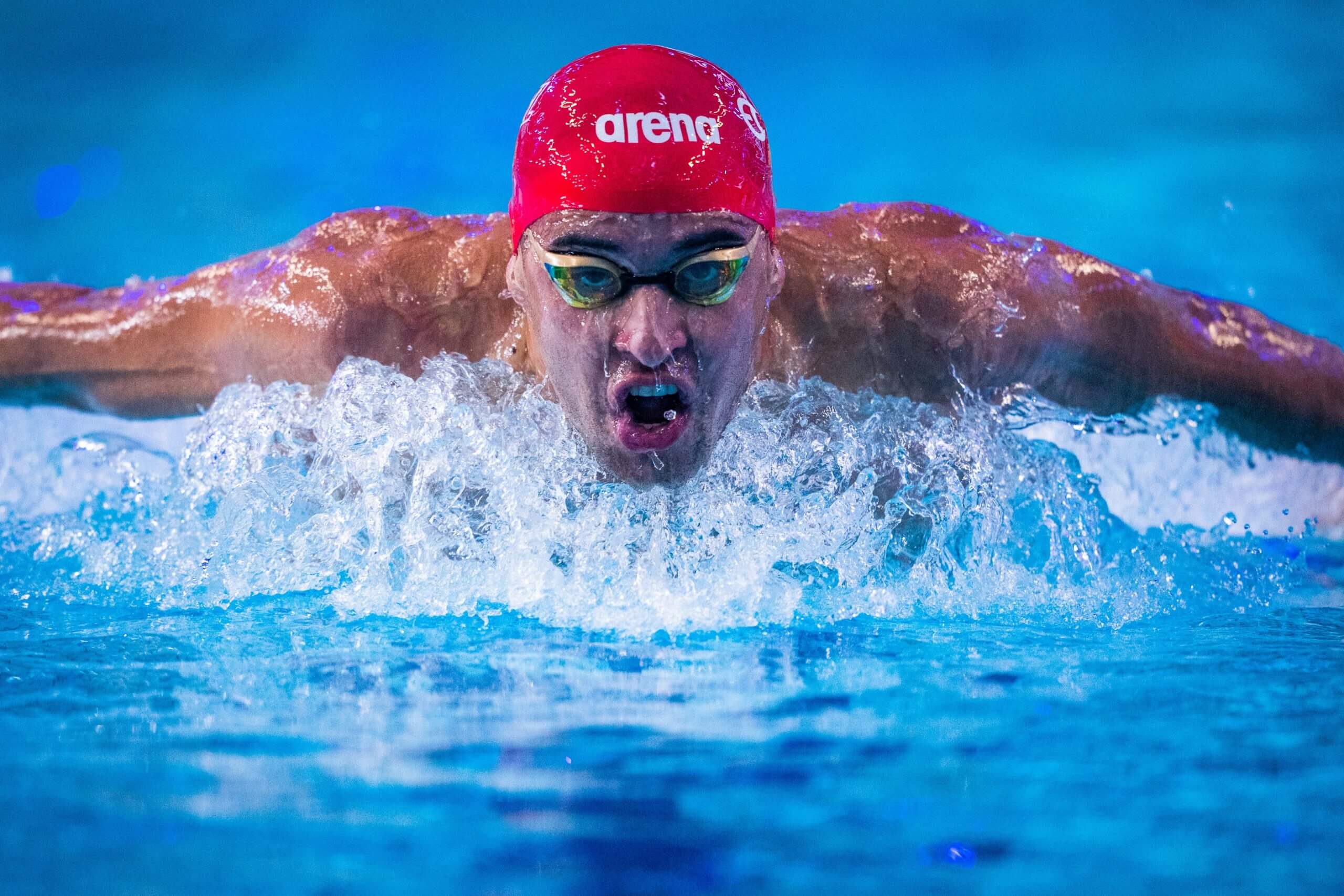 Commonwealth Game: Chad le Clos Starts Chase For Fourth Straight 200 Butterfly Crown; Tatjana Schoenmaker on WR Alert
The Sandwell Aquatics Centre has seen some terrific racing through the first two days of the Commonwealth Games, and the third-day preliminaries will set up additional showdowns. Heats in the latest morning session will be held in the men's 200-meter butterfly, women's 200 breaststroke, men's 50 backstroke, women's 50 butterfly and men's 100 freestyle.
Here is a glance at what took place during the Day Three prelims:
Meet Results
Men's 200 Butterfly
South African Chad le Clos started pursuit of a fourth consecutive title by qualifying second for the final in 1:56.85, behind only the 1:56.76 of New Zealand's Lewis Clareburt. Le Clos will be in Lane 5 for the final and the title will be decided on the 10th anniversary of his upset gold over Michael Phelps at the 2012 Olympic Games in London. That night, le Clos was also in Lane Five. Duncan Scott advanced as the third seed in 1:57.48 and will try to complement medals already won in the 200 freestyle (gold) and 400 individual medley (bronze).
"It's spooky," le Clos said of the connections to London. "It's a monumental day for me, absolutely, but you know what – I 've taken the emotion out of today because it's different, you know what I'm saying? It's the same country, same day, same hour, same lane, but at the end of the day, I've just got to be composed tonight, execute, have a game plan. If it's second or third or fourth, God bless the winners, you know what I mean."
Photo Courtesy:
Women's 200 Breaststroke
Could South African Tatjana Schoenmaker make a run at her world record? The reigning Olympic champion, who owns the world mark at 2:18.95, easily qualified as the top seed for the final. Schoenmaker went through prelims in 2:21.76, more than three seconds quicker than Australia's Jenna Strauch (2:24.97). England's Molly Renshaw was next at 2:25.06.
Men's 50 Backstroke
Coming off a title in the 100 backstroke, South African Pieter Coetze was the only swimmer under 25 seconds at half the distance. Coetze moved onto the semifinals of the 50 backstroke in 24.95, with New Zealand's Andrew Jeffcoat grabbing the No. 2 position in 25.04. Also moving on was Aussie Ben Armbruster, who covered his lap in 25.18.
Women's 50 Butterfly
One day after rallying for the gold medal in the 100 butterfly, Canadian Maggie Mac Neil posted the top time in the prelims of the 50 fly, going 26.24. New Zealand's Helena Gasson was next in qualifying at 26.52 while Canada's Katerine Savard was third in 26.57. Aussie Emma McKeon conserved energy on the way to fourth in 26.65.
Men's 100 Freestyle
Knowing it wouldn't take a major effort to advance to the semifinals, the big names in the 100 freestyle simply cruised into the semifinals. Taking the top seed was Canadian Joshua Liendo, who covered his morning race in 48.54. Following in second was England's Tom Dean (48.61) while Aussie Zac Incerti and Canada's Ruslan Gaziev tied for third in 48.84. Kyle Chalmers of Australia was sixth in 48.98 and Scotland's Duncan Scott was ninth in 49.31.
setTimeout( function () {
!function(f,b,e,v,n,t,s){if(f.fbq)return;n=f.fbq=function(){n.callMethod? n.callMethod.apply(n,arguments):n.queue.push(arguments)};if(!f._fbq)f._fbq=n; n.push=n;n.loaded=!0;n.version='2.0';n.queue=[];t=b.createElement(e);t.async=!0; t.src=v;s=b.getElementsByTagName(e)[0];s.parentNode.insertBefore(t,s)}(window, document,'script','https://connect.facebook.net/en_US/fbevents.js');
// init window.fbq('init', '1467300236903193');
// track window.fbq('track', 'ViewContent', { category: 'partner', subcategory: 'swimworld', domain_name: location.host, });
window.fbq('track', 'PageView');
}, 2000);