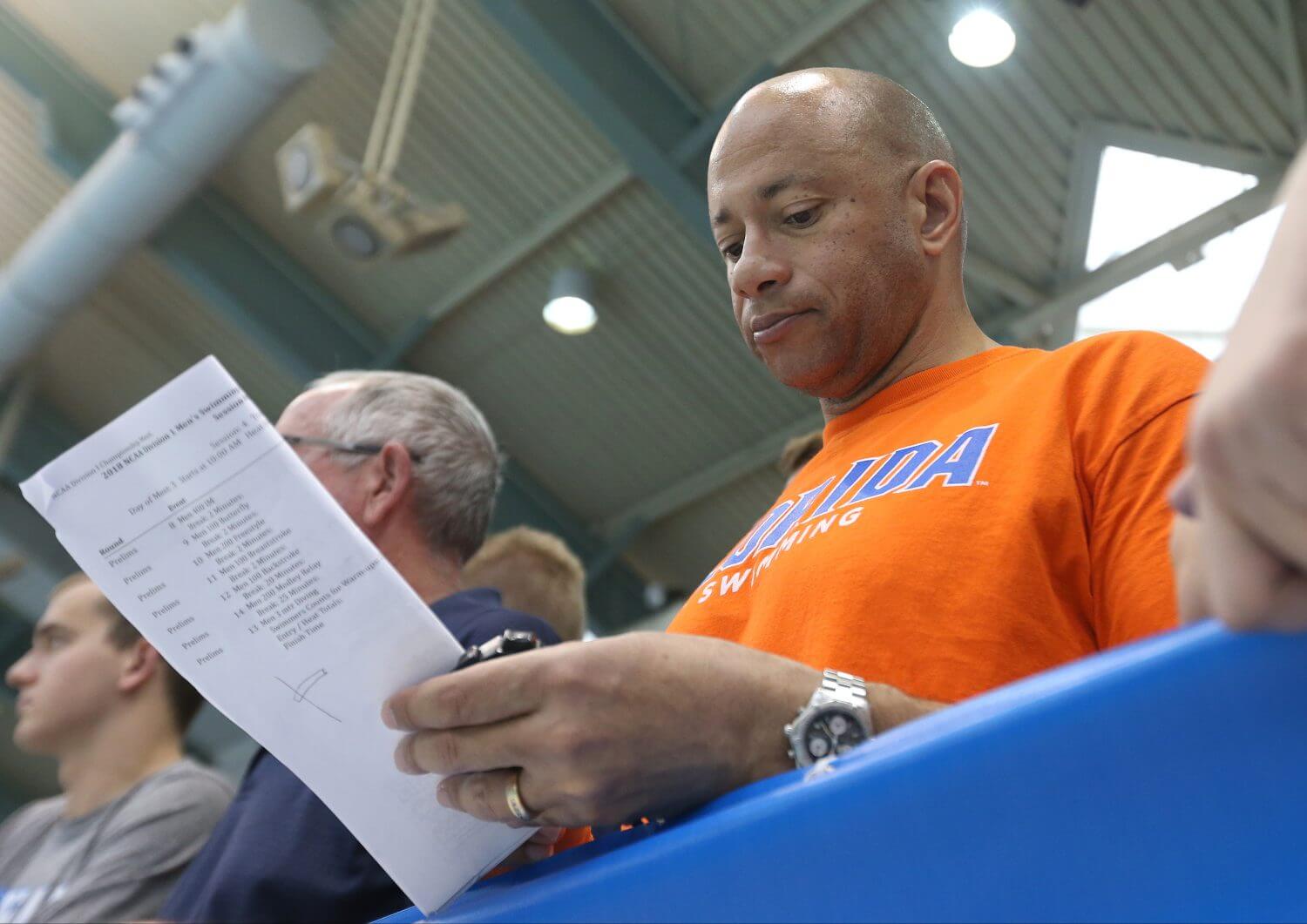 Anthony Nesty Named 2022 ASCA George Haines Coach of the Year
Florida head swimming coach Anthony Nesty was named the 2022 American Swimming Coaches Association George Haines Coach of the Year, the ASCA announced Thursday night at the ASCA World Clinic.
Nesty joins former Florida coaches Gregg Troy and Randy Reese as the only coaches in Gators history to win the award.
Being awarded since 1961, the George Haines Coach of the Year award is annually given to the individual whose coaching effectiveness has contributed the most towards American swimming excellence at the World level. Anthony Nesty was one of six finalists who coached athletes that won gold medals at the FINA World Championships last June in Budapest, Hungary.
The other finalists were Todd DeSorbo, Dave Durden, Ray Looze, Greg Meehan and Michael Norment.
Anthony Nesty coached multiple gold medalists in Budapest, including Caeleb Dressel, Bobby Finke, Kieran Smith and Volunteer Coach Katie Ledecky. The four combined for eight gold medals, the most golds coached by any finalist for the award this year.
"Anthony is one of the most revered coaches in college swimming, and one of the few who is considered both a great athlete and a great coach," Gregg Troy said. "He's got a great work ethic and a tremendous ability to get results. His experience at the Olympics as an athlete is instrumental in his ability to relate to our current athletes. His reputation for getting the most out of them speaks for itself."
Anthony Nesty began his international coaching career as an assistant coach for Suriname at the 2004 Olympic Games in Athens, Greece. He then continued his Olympic tradition as the head coach for Suriname at the 2008 Olympics in Beijing and the 2012 Olympics in London. On the 20th anniversary of Nesty's Olympic gold medal in the 100-meter fly, not only was Nesty honored as head coach of his country's team, but he was recognized as the Suriname flag bearer at the opening ceremonies of the 2008 Summer Games.
— The above press release was posted by Swimming World in conjunction with the University of Florida. For press releases and advertising inquiries please contact Advertising@SwimmingWorld.com.
setTimeout( function () {
!function(f,b,e,v,n,t,s){if(f.fbq)return;n=f.fbq=function(){n.callMethod? n.callMethod.apply(n,arguments):n.queue.push(arguments)};if(!f._fbq)f._fbq=n; n.push=n;n.loaded=!0;n.version='2.0';n.queue=[];t=b.createElement(e);t.async=!0; t.src=v;s=b.getElementsByTagName(e)[0];s.parentNode.insertBefore(t,s)}(window, document,'script','https://connect.facebook.net/en_US/fbevents.js');
// init window.fbq('init', '1467300236903193');
// track window.fbq('track', 'ViewContent', { category: 'partner', subcategory: 'swimworld', domain_name: location.host, });
window.fbq('track', 'PageView');
}, 2000);