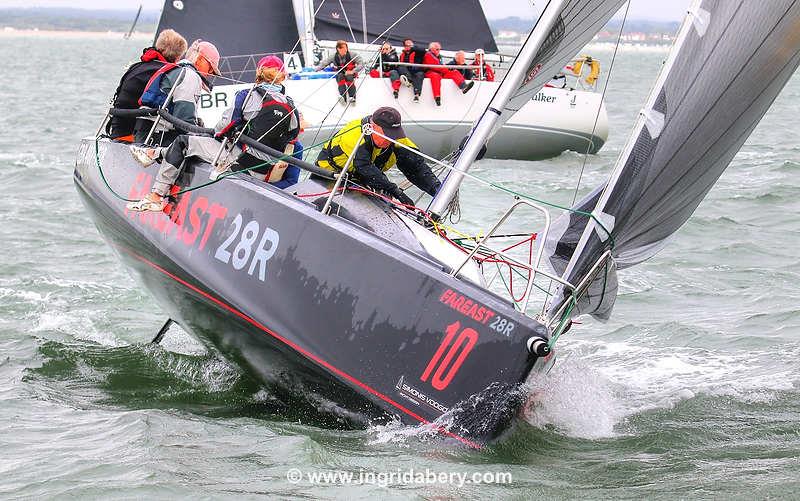 Cowes Week 2022 – Day 5
by Rupert Holmes 3 Aug 11:37 PDT
30 July – 5 August 2022

Lighter winds this morning increased to give competitors another great day on the water, predominately in breezes of 10-18 knots.

In the HP30 class Alain Waha's Far East 28R Gowest-Cogital is defending the Musto Young Skipper's Trophy he won last year. Today he judged the approach to the downwind, down tide start very nicely, as did Jerry Hill's Farr 280 Moral Compass, with both boats starting closest to the line and first in the fleet to hoist spinnakers.

Sture Wickman's Swedish McConaghy 31 Vitres was also nicely placed as the leaders passed inshore of the HMS Severn, which is on station as Cowes Week guard ship for the rest of the week. By the finish, another Farr 280, Chris Townsend and Richard Powell's Gweilo, had risen to the fore, taking line honours and winning on corrected time by a margin of 96 seconds. Moral Compass took second and Vitres third, pushing Gowest-Cogital down into fourth place.

As a result, Waha lost his second place overall in the standings for the Musto Young Skipper's Trophy, falling to fourth, but only 0.4 points behind Charlie, Tom and Harry White's Squib Kestrel. The Rouse-Allen family's Contessa 32 Andaxi now tops the rankings for this prize with a commanding lead, with two races to go, while a fourth place today for Carl Hentges' Oceanis 38.1 Veritas in Club Cruiser White class, lifted him to second place.

Among the big boats at the Regatta, Ian Atkins' Dark 'n' Stormy picked up one of the sailing world's most prestigious trophies, the Britannia Cup, which was first awarded to King George Vl in 1950. Atkins, who is sailing in his 33rd Cowes Week, stormed around the 25 mile course to take line honours three minutes ahead of another GP42, Guy Gillon and Christian Hamilton's Khumbu, with both boats saving their time on the lower rating boats in the fleet.

Downwind starts are a feature of many Cowes Week races. However, this year a combination of a consistent west-southwesterly wind and the tide times over the first four days meant all starts until today were conventional windward starts. However, with the starting sequence close to low water today, competitors were sent off to the east from the Royal Yacht Squadron line in order to keep boats clear of the Grantham rocks close inshore to the west of the line.

Given the number of premature starters earlier in the regatta, it's perhaps surprising that today everyone was very cautious, with the notable exception of two Redwings, which were still struggling to return to start correctly long after the rest of the class was half-way to its first mark.

A lot of boats approached the line reaching on starboard tack, sliding sideways on the tide, before bearing away and hoisting spinnakers at the gun. This appeared to work well for many of the lighter and faster boats in the early starts but proved a risky strategy for the slower dayboats later in the sequence if they couldn't rely on enough speed to make ground against the fastest stream in deep water.

Performance Cruiser A encompasses an impressive variety of yachts, including an immaculately refitted Nicholson 55, a Swan 62 and 65, the 45ft ex Admiral's Cupper Scaramouche, racing today with a team of girls from Greig City Academy, plus a pair of modern X4.3s. Today, the fleet was another that hung well back from the start, making accelerating up to speed for these relatively heavy boats as important as how close to the line a boat was at the gun.

Charles Esse's X4.3 Baby X was first to hoist her spinnaker and initially led the fleet away, even though the sail was slow to fill. However, it was not long before Richard Loftus' Swan 65 Desperado accelerated onto Baby X's windward quarter, with Derek Saunders' Corby 45 Incisor just a fraction behind.

Desperado went on the take line honours, however the giant ketch was unable to save her time on Baby X, which took victory on corrected time. Global Yacht Racing's First 47.7 EH01 was third after time correction, only 57 seconds behind Desperado.

John Howell and Paul Newell's A31 Arcus scored a decisive victory in IRC Class 3, almost seven minutes ahead on corrected time of a trio of boats that were separated by only 20 seconds in the standings. Mike Moxley's Malice was second across the line, followed by Mike Bridges' JPK1010 Elaine Again. However, neither saved their time against Clemency Williams Ives' lower rated J/105 Jos of Hamble, which took second place three seconds ahead of Bridges, with Moxley dropping down into fourth 17 seconds adrift.

IRC Class 4 this year comprises lightweight designs with asymmetric spinnakers, including J/92s and Cork 1720s. On the final approach to the start David Greenhalgh's J/92 J'Ronimo was closest to the line, sliding sideways on the stream before bearing away and filling the spinnaker ahead of her competitors. Richard Matthews' 1720 Decoy was also well placed, somewhat to leeward, with Jack Bank's J/92 Nightjar and Craig and Emma Dymock's modified 1720 La Vie en Rose 2 also doing nicely.

Of the two leaders, only J'Ronimo and La Vie en Rose passed upwind of the guard ship, gaining a further advantage over those who passed under her lee. Nevertheless, one of the lowest-rated boats in the fleet, Robert Baker's J/97 Jaywalker, took first place on corrected time, five minutes ahead of J'Ronimo, with Nightjar third a further five minutes adrift.

In IRC Class 5 David Mallett's Corby 29 Touchpaper, Rupert Poole's A31 Echo 5, plus Chris Agar and Lauren Bates' Half Tonner Secrets, started in a bunch at the outer end of the line. Tightly grouped boats often sail slowly thanks to the disturbed air they create and all three struggled to get their spinnakers filled.

Overall class leader after the first four days, Giovanni Belgrano's 38ft Laurent Giles classic Whooper, was further back from the line at the gun. However, she was already at full speed, with the spinnaker set, and powered past the shorter boats to take a useful early lead on the water.

Despite a more conservative start, the highest rated boat in the fleet, Harry Heist's S&S41 Winsome took line honours, almost two minutes ahead of Paul Thomas' First 34.7 Cobra. Although Whooper was third on the water, she took a fourth consecutive victory on corrected time, ahead of Cobra and Winsome.

Jamie Sheldon's J/109 Brown Teal timed the start well, couple of lengths closer to the line than Dutch entry Arjen Van Leeuwen and Silvy Leijh's Joule. However, a sail handling issue on the British boat meant it took more than three agonising minutes to get the spinnaker set, during which all but the back markers in the fleet overtook her.

Joule therefore took an early lead, followed by Michael Weinman's Je T'aime Jami, although John Smart's Jukebox also looked well placed, having opted to start closer inshore, well away from the other boats in the fleet. Joule went on to victory and now leads the fleet overall by three points, ahead of Jukebox, which finished second today. Brown Teal recovered to finish third, a substantial distance ahead of Chris Burleigh's fourth-placed Jybe Talkin'.

The XOD class has seen characteristically very close competition this week. However, the fleet was mostly cautious until just before the gun and got away cleanly at the start, even if the front-runners were extremely close to the line.

Max Crowe's Clair de Lune was first to hoist a spinnaker, 30 seconds before the start, but at the gun James Marskby's X Ray, Penny Fulford's Madeleine and Graham Knowles' Fiona were better placed. Madeleine quickly accelerated to an early lead among a pack of boats to the south of the guard ship, followed by Rory and Amanda Paton's Mayfly, Barry Dunning's Crumpet and Dom Breen-Turner's Waxwing.

However, half the fleet took a more northerly route more directly towards their first mark. In a new development for Cowes Week, this was set as a gate, which saw the fleet split almost 50:50 in each direction.

Clair de la Lune took her first win of the Regatta, ahead of William McNeil's Lara and Phil Brewer's Zest. John Tremlett's Astralita, which had been leading overall, finished sixth today. He still heads the leaderboard, allowing for one discard, but is now tied on with Crowe on 13 points. Jonathan Clark's Tortoise was able to discard today's eighth place and is third overall three points adrift.