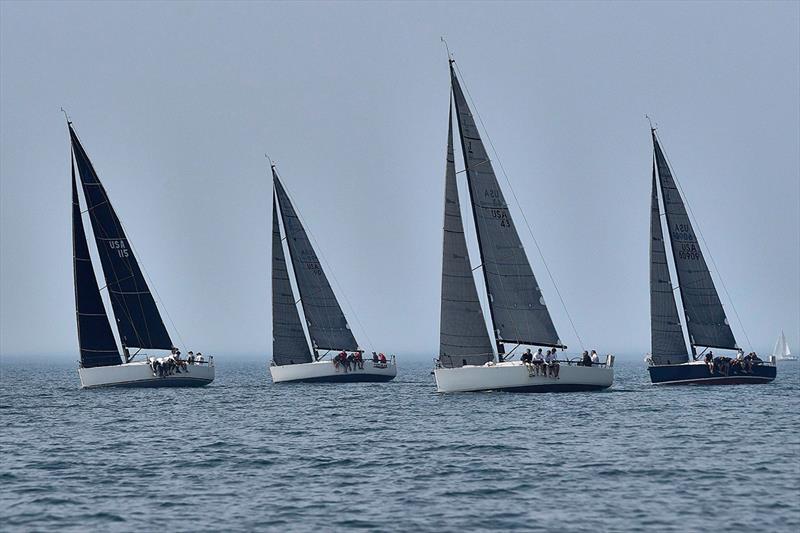 An interview with Mark Wheeler on the 2021 J/111 Worlds
by David Schmidt 14 Oct 08:00 PDT
October 18 – 24, 2021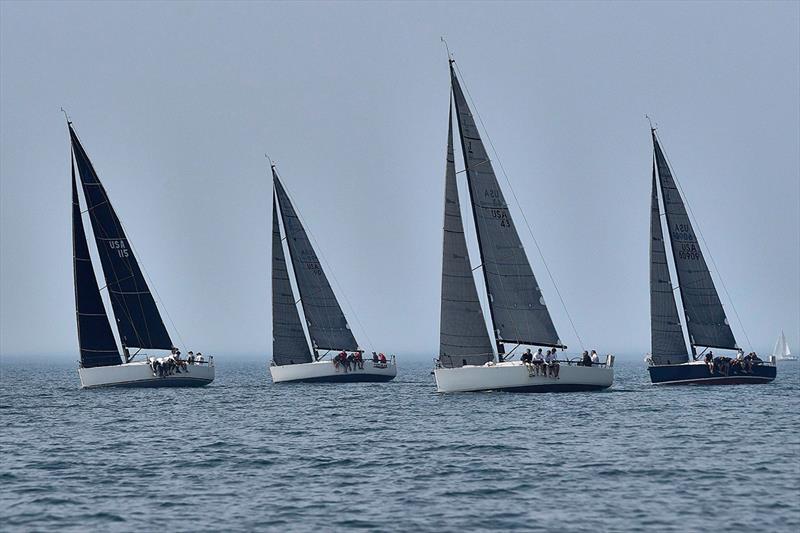 2018 J/111 North American Championship © J/111 International Class Association

There's something about a 35-foot keelboat that just feels right. The right number of crew, the right helm response, the right running-rigging loads, the right feel when carrying a kite in a fresh breeze. J/Boats figured this out in 1983 with their venerable J/35, and, over the next three decades, the Rhode Island design firm created other highly successful One Design racers in this same tidy size range, starting with the J/105 (1991), the J/109 (2001), and, more recently, the J/111, which debuted in 2010.

Like its predecessors, the J/111 has roughly 35-feet of waterline, but how she carries her LOA and volume is quite different than the J/35. So, too, is her rigging different, with the J/35 flying a symmetrical kite and the newer, metric-system boats all flying asymmetric spinnakers.

The J/111 class had its first World Championship regatta in 2014 on the waters off of Cowes, UK, and made an appearance stateside in Newport, Rhode Island, in 2015 before returning to Cowes in 2016.

In 2017, the class headed West to the windswept waters of San Francisco Bay for their Worlds, followed by The Netherlands (2018) and Chicago (2019) before the pandemic ruined the 2020 event (which was slated for Cowes). Fortunately, widespread access to vaccines in the USA, proper social distancing, masks, and other stay-safe tactics are allowing the Hampton Yacht Club, in Hampton, Virginia, to host the 2021 J/111 Worlds (October 18 – 24).

I checked in with Mark Wheeler, regatta chairman of the 2021 J/111 Worlds, via email, to learn more about this One Design championship.

What kind of entry numbers are you seeing this year? Also, are there any notable geographical concentrations to this entry list?

We have eight boats registered. I am not sure we will get any more. The class has sent out a letter trying to encourage participation, but we have not seen any results.

In 2019, the Worlds were held in Chicago and they had 23 boats but 11 of those were from Lake Michigan. Those 11 do not tend to travel. They also had one from Australia and one from Switzerland.

With Covid there aren't any international players this year. The 2020 Worlds, in Cowes, UK, were cancelled due to Covid.

Six out of [our] eight [boats] are from the East Coast.

Weather-wise, what kind conditions can sailors expect to encounter off of Hampton, Virginia in mid-to-late October? What are the best-case and worst-case weather scenarios?

October should be great for sailing. The Chesapeake Bay waters are still warm and we get nice fall breezes. The odds of a nice week of racing are good, but like everywhere, you can get anything.

Do you see local knowledge playing a big or small role in the regatta's outcome? Can you please explain?

The primary race area is in the open water of southeastern Chesapeake Bay. It is an area that we do not normally use for local racing so local knowledge will not be a factor.

If we end up with very windy conditions, we have the option to move the racing inside Hampton Roads. If that is the case, we will race on the south side of the ship channel. This is not our regular local sailing area either, we usually race on the north side of the channel.

If you could offer one piece of advice to visiting (and local) teams, what would it be?

I hope everyone comes and has fun. Hampton Yacht Club is known for our southern hospitality. We are doing everything we can to make this a pleasant, stress-free experience. We will have all the boats in slips on the same floating dock, each with electric and water. Those that bring support trailers will have space to park them close to their boats.

We also plan on having one assigned parking space for each teams' vehicles.

Our race committee and mark boats are all set to do a great job on the water.

Do you have any teams that you are eyeing for podium finishes? What about any dark horses who you think could prove to be fast, once the starting guns begin sounding?

All eight teams are strong and any of them could end up on the podium. At this year's Annapolis NOODs, the top five boats were just five points apart, with the top three [boats] within two points.

How many races do you and the other organizers hope to score over the course of the regatta? Will these strictly be windward-leeward races? Finally, will you use traditional racing marks, or will you use some of the new GPS-guided autonomous robotic marks such as MarkSetBots to administer the racecourse?

We have 11 races planned with a drop occurring once seven [races] are complete. All the courses are windward-leeward with either four or five legs.

We have large inflatable marks that will be anchored. We are not using the GPS-guided autonomous robotic marks. The race area is about 15 feet deep so our anchored marks will work well there.

Obviously organizing and running a big regatta amidst a still-churning pandemic isn't easy. Can you tell us about the biggest logistical and organizational hurdles that you've had to clear to make this happen?

The Covid situation is ever changing, and we will adapt to whatever the state of the Covid environment is in the third week of October.

We do have a large tent planned on the grass near the boats that will give us the opportunity to expand the social activities outside the clubhouse in an open-air environment.

Can you tell us about any efforts that you and the other regatta organizers have made to try to lower the regatta's environmental footprint or otherwise green-up the regatta?

We have a water-[bottle] filling station by the clubhouse that all are welcome to use. Our race committee and mark boats will be using refillable drinking cups with coolers of water. We are not using any plastic drinking water bottles.

Is there anything else that you'd like to add, for the record?

We expect to have a great event. The entire Hampton Yacht Club membership is excited and honored to host the J/111 World Championship.