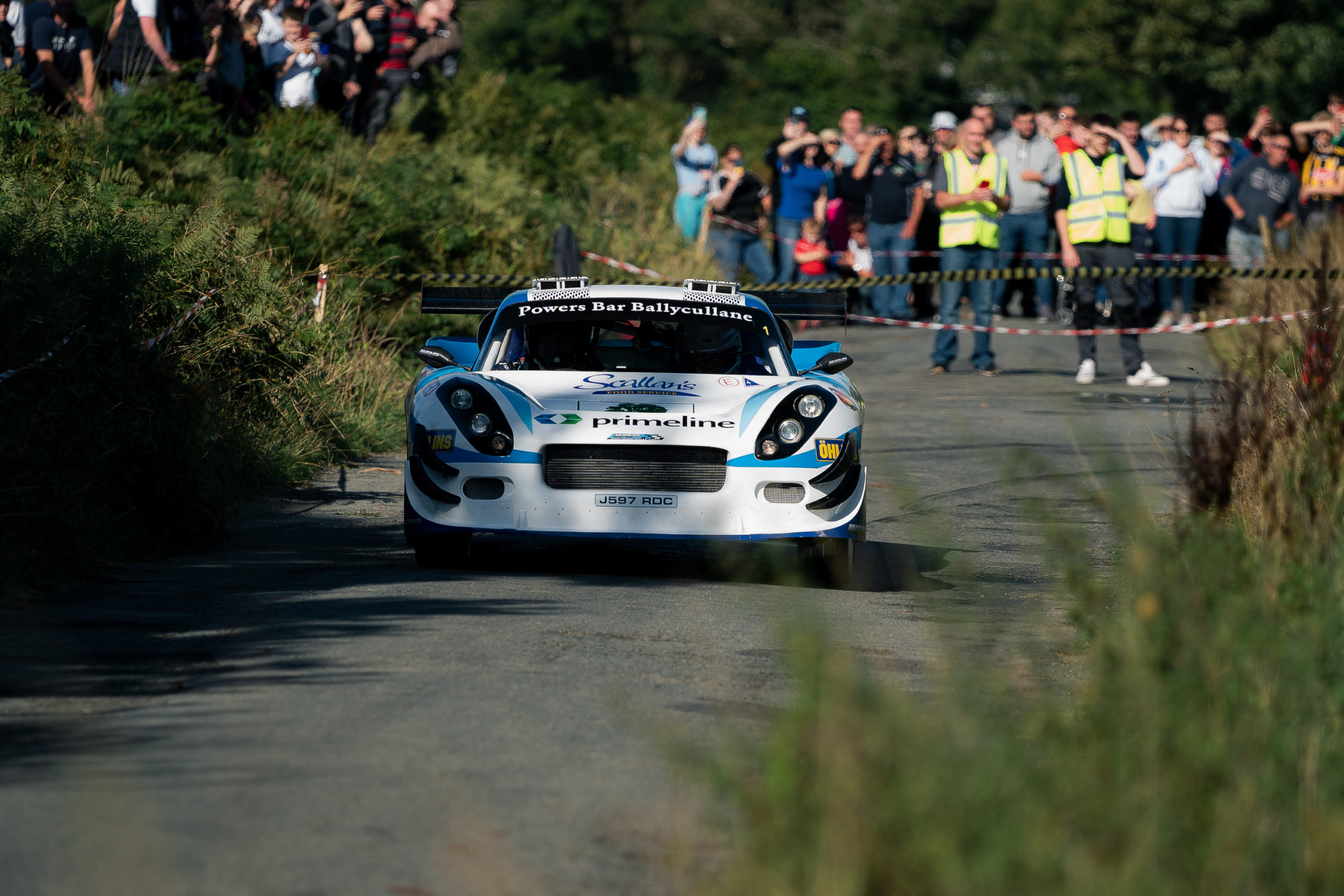 James Stafford unleashed a new level of pace in his Darrian T90 on day one of the Wexford Stages Rally, leading Andrew Purcell's Skoda Fabia R5 by 50.1 seconds.
The local favourite, and three-time event winner, survived a heart-stopping crash through a chicane on day one's final stage to maintain his hard-earned margin.
Stafford and co-driver Thomas Scallan won eight of Wexford's nine stages on Saturday to build their impressive overnight advantage. A damaged suspension bar on the opening day's final two stages stemmed the Darrian's domination but shouldn't dampen overnight spirits.
The Volkswagen Polo R5 of Enda O'Brien had been Stafford's nearest challenger over Wexford's first two tests, albeit 25 seconds behind.
O'Brien had a seven-second cushion to Daniel Barry in third and nine seconds over Purcell who spun on stage two. Unfortunately for O'Brien, an overshoot into a solid bank on stage three was enough to inflict rally-ending damage to the front of his Polo R5.
---
Purcell bounced back from a "sluggish start" with a second-fastest time on stage four. It was 7.9 seconds off Stafford's benchmark but enough to usurp Barry from second overall.
Purcell and Andy Hayes edged ever closer to the Darrian's pace, keeping the deficit under one minute with rain expected for Sunday's nine tests.
Barry, who was driving a similar Skoda, slipped down to fourth on stage five. He was struggling with a long brake pedal and finished the day 22.6 seconds off the podium positions.
Wexford's final overnight podium position was held by Richard Moffett and Darragh Kelly. Monaghan's Toyota Starlet crew continued where they left off on the Galway Summer Rally.
Moffett's pace was consistently higher than usual modified frontrunners Gary Kiernan and Kevin Eves throughout the day's nine stages.
An incredible fastest time on Saturday's final test was just reward for Moffett's efforts. His only worry came when an alternator issue cropped up in Saturday afternoon's service. It was resolved with no time to spare but it certainly didn't appear to affect Moffett's performance on the stages.
---
Kiernan and Eves finished the day fifth and sixth respectively, around 30 seconds behind Moffett, with less than six seconds between them.
A spin and half overshoot would have cost Kiernan some time, but like Eves, he'll have to find another gear if he is to catch the Starlet of Moffett on Sunday's nine stages.
They had been chasing two Starlets for most of Saturday, Declan Gallagher behind the wheel of the other. The Donegal driver was fifth overall after stage seven, despite having to manage an overheating engine.
That run came to an end when Gallagher clattered into a pair of round bales on Saturday's penultimate stage.
Brake fade hindered Mikko Hirvonen's efforts from stage one to six. The issues with his left-hand-drive Ford Escort Mk2 were resolved for the final loop, allowing him to build a gap to John Bonner, Martin Toner, and Adrian Hetherington who are eyeing up the World Rally legend.
Finland's WRC star finished day one in seventh overall, over a minute behind sixth-placed Eves.
Llyr Jones and Michael White completed Saturday with a 5.9-second lead in Class 13 over Mayo's John Warren and Ruthann O'Connor. Meanwhile in Class 11R, less than one second separates Corey Eves and Ben McIntyre with both drivers sitting inside the top 20.
Wexford Stages Rally after SS9/18
1 Stafford – Scallan (Darrian), 1:00:48.7s
2 Purcell – Hayes (Fabia R5), +53.6s
3 Moffett – Kelly (Starlet), +1:15.8
4 Barry – Lorcan Moore (Fabia R5), +1:38.4
5 Kiernan – John McGrath (Ford Escort Mk2), +1:44.3
6 Eves – Chris Melly (Toyota Corolla), +1:50.1
7 Hirvonen – Jarno Ottman (Escort), +3:01.8
8 Bonner – Johnny Baird (Escort), +3:34.3
9 Toner – Ben Taggart (BMW), +3:40.0
10 Hetherington – Gary Nolan (Escort), +4:07.4
---
Subscribe for free to receive more stories like this direct to your mailbox
---
---
Photos by Ross Delaney