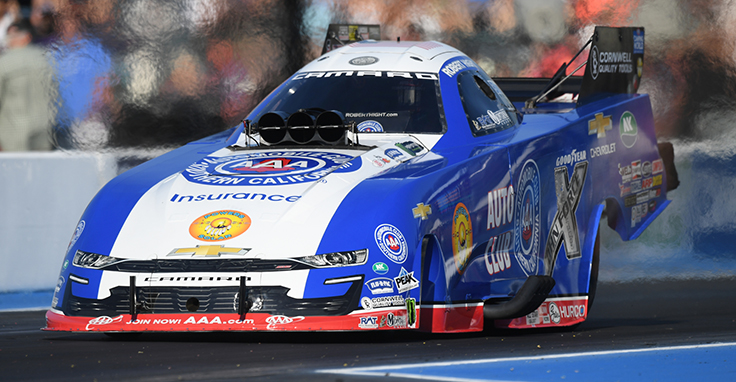 Phil Burgess, NHRA National Dragster Editor
The Flav-R-Pac NHRA Northwest Nationals was a testament to endurance and experience as Tony Schumacher and Robert Hight nabbed the nitro titles and Troy Coughlin Jr. finally won in Pro Stock in his fourth final-round appearance. Here's our five big takeaways from the event.
SWEEPING THE SWING IS STILL HARD
No one has won all three races of the Western Swing since Antron Brown in 2009, and when dominators like Brittany Force, Robert Hight, and Erica Enders can't do it, you know it's hard. Everything has to be just right, without a mechanical or mental hiccup. The conditions – track and weather – have to cooperate, which they seldom do, and it all needs to fall into place.
Seattle's brutal (and, frankly, unexpected) weather certainly didn't help, but we saw gutty determination and resiliency from the teams. Hight came closest to a sweep this year, with bookending wins in Denver and Seattle, interrupted only by a tight semifinal loss to Bob Tasca III in Sonoma.
Force lost in round two in Denver then scored a powerful win in Sonoma and looked ready to win again in Seattle before her car inexplicably smoked the tires in the final.
Enders got ambushed in round one in Denver then won Sonoma and seemed like she was going to win Seattle with a dominating Sunday performance before being surprisingly outrun in the final by teammate Troy Coughlin Jr. Go figure.
HIGHT SWINGS INTO COMMAND
Entering the Western Swing, Robert Hight was just 21 points ahead of Matt Hagan for the Funny Car points lead but leaves Seattle a whopping 228 in front after going 10-1 over the three races and chalking up wins in Denver and Seattle, straddling a semifinal in Sonoma.
It hasn't hurt his chances (or his feelings) that Hagan lost in the first round at all three events and third-place Ron Capps lit just one win light at the three events.
Hight admitted after his Seattle win that until this weekend they didn't have a good hot-track tune-up, but after running low e.t. of all four rounds Sunday, it's safe to say that tuners Jimmy Prock and Chris Cunningham have that under control heading to another potential hot spot next in Topeka.
Hight is eager to finish the regular season atop the field to get the pre-Countdown to the Championship bonus points awarded the No. 1 driver, but he's looking past that, too, predicting that his team will have to win four or five more times over the next nine races to lead the field to the championship.
EXPERIENCE STILL MEANS SOMETHING
Over the last couple of seasons, we've seen a lot of new drivers reach the winner's circle, but at least in Top Fuel in Seattle, experience won the day. No active Top Fuel driver has contested more rounds than Tony Schumacher – 1,290 and counting – and no fuel dragster driver has won more events and championships than him (86 and eight, respectively), and all of those laps and success equal experience and confidence.
Schumacher's road to his first win in more than a season was fraught with peril. He was disappointed with the car's first-round performance and took matters into his own hands in round two, scoring on a holeshot win over Shawn Langdon, even if Schumacher downplayed the win as doing a better job than Langdon of leaving on what he felt was a long wait for the Tree to fire.
In the semifinals, his Maynard family dragster lit the tires early, but he expertly pedaled it and got it to hook while his opponent, the talented but by comparison inexperienced (102 career rounds) Justin Ashley, smoked and smoked and ultimately crossed the centerline.
"That's when you've got to be calm, breathe, squeeze it, and get it down the racetrack," he said as if explaining how to change a light bulb rather than taming an 11,000-hp nitro monster.
THE COUGHLIN DNA REMAINS STRONG
The legend of the Coughlin family only got larger in Seattle as Troy Coughlin Jr. became the fourth member of the family to win in a Pro class, following the foosteps of his father, Troy Sr., and uncles Jeg. Jr. and Mike.
The family has accumulated 127 Pro Wallys between brothers Jeg, Troy Sr., Mike, and John, with Jeg's wife, Samantha, adding one to the score and now Troy Jr. getting his ninth victory but his first as a Pro driver in Pro Stock.
Troy Jr. was an established Sportsman star with eight wins scattered in three classes – including U.S. Nationals wins in Super Comp and Super Gas – but the Pro Stock win had eluded him over two and half seasons and three previous final-round appearances until this weekend. Defeating the class' hottest driver, his Elite teammate Erica Enders in the final round has to make it all the more special.
SEATTLE FANS ARE HARDCORE
Due to the pandemic, the NHRA Camping World Drag Racing Series hadn't been to Pacific Raceways since the barnburner 2019 event, where John Force scored his milestone 150th career win and Austin Prock his first in Top Fuel, so anticipation was high for this year's event.
Then Mother Nature decided to bring the heat and an event where 70- and 80-degree temperatures are the norm was blasted by mid-90-degree temperatures.
In a region that's typically so cool that only a reported 44% of residents even bother to install air conditioning in their homes, you'd think that Seattle residents wouldn't be able to stand the heat, but they turned out in huge numbers to see the stars of the NHRA duke it out at their hometown track.
Good on ya, Seattle!