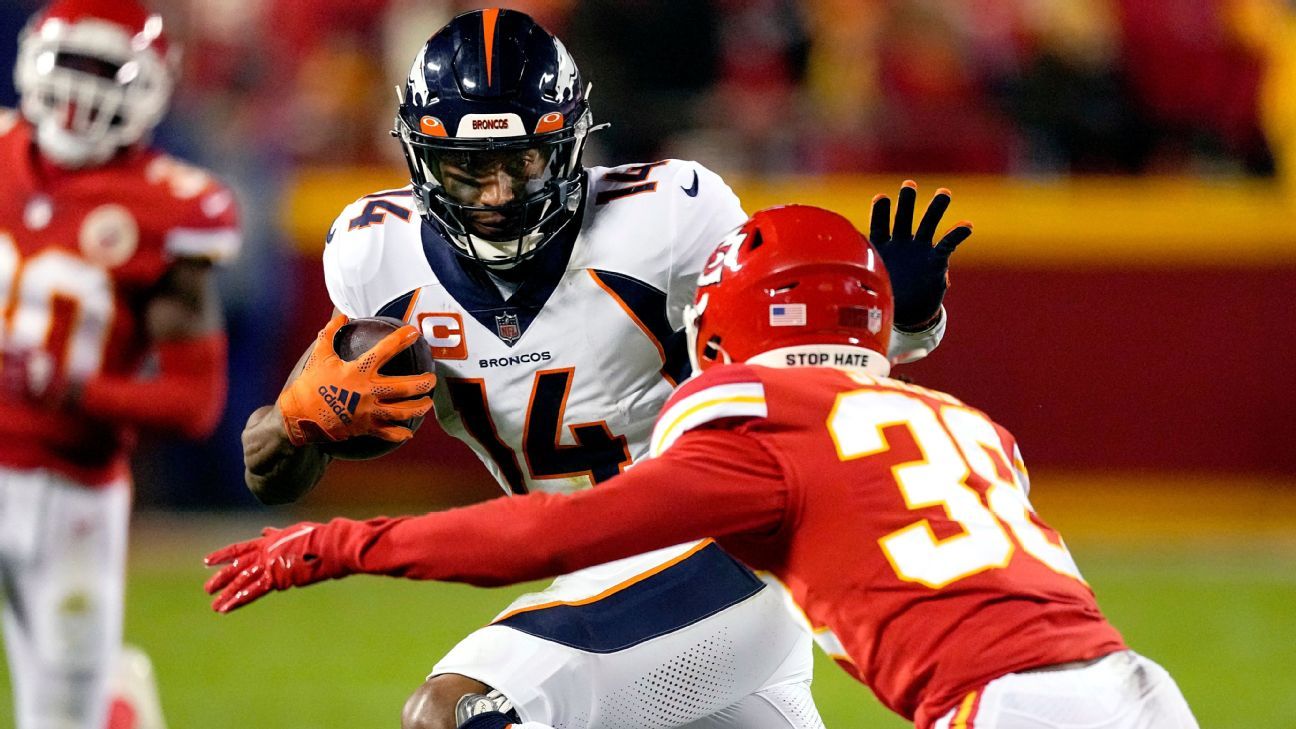 ENGLEWOOD, Colo. — The Denver Broncos have no shortage of riddles to solve on offense.
Such as: Why don't they use play-action more when they have so much success with it? Or, why do they have a love-hate relationship with the red zone? But one of the oddest questions is this: Why is receiver Courtland Sutton seeing his participation dwindle in the passing game?
Sutton has 14 targets and seven receptions in the past four games combined. That's the same number of targets and one fewer reception than he had in the Broncos' Week 6 loss to the Las Vegas Raiders, when he had eight catches for 94 yards and a touchdown.
"Our objective is to win the game," Sutton said earlier this week. "It is not to get Courtland Sutton a lot of targets. Our objective is to win the game. However that comes about is the way we would like it to come out. Wins are the things that matter."
This isn't a fantasy football discussion about targets or touches. In that realm it is almost impossible for every player to get as many opportunities for touchdowns as folks would like.
Get an unprecedented first-hand account of each of Tom Brady's Super Bowl appearances. Sign up now to stream Man in the Arena: Tom Brady on ESPN+.
It's really more of a red flag for the Broncos and their inability to find rhythm in an offense that has Sutton and receiver Jerry Jeudy.
Look, Sutton leads the Broncos in receiving yards (649) and has both of the team's 100-yard receiving games this season. With 464 yards over the Broncos' final five games of the regular season, he would easily top 1,000 yards for a second time as well as set a career-best in receiving yards for the season.
It's just since Jeudy returned five games ago from a Week 1 ankle injury, Sutton has had two or one reception in each of those games. For his part, Sutton, who signed a four-year, $60.8 million contract extension earlier this month, has maintained he will keep his eye on the prize, instead of his personal numbers.
"Stats take care of themselves when we are winning," Sutton said. "We capitalize on certain things and get more plays here and there. Who knows? The targets might have come, but our whole mindset is win the game, not to get a specific person targets so people can say look how many targets this person got, but they lost. That is not what we are trying to do."
"It's coincidental more so than by design, for sure," said Broncos coach Vic Fangio. "We'd like to get the ball to Courtland as much as we can. Courtland is a playmaker for us, and we've got to find a way to get him the ball."
Defensive coaches, who spend a lot of time trying to keep the ball out of Sutton's hands and were polled informally this week, said they believed they could often pressure Broncos quarterback Teddy Bridgewater and find holes in pass protection before the receivers were all the way into their routes. This is especially true in the longer down-and-distance situations when the Broncos had also opened the formation. To that end, 25 of the 32 sacks the Broncos' have allowed this season have come when Bridgewater has been in the shotgun, where he has lined up far more often in the Broncos' losses than in their wins.
"We've got things that are dialed up to get guys the ball specifically, we might come out of the huddle and say we want to throw the ball to Court here and the play a coverage that takes Court away now [Jeudy] gets an opportunity to catch the pass," Bridgewater said. "That's just how it works. … Teams are aware of the guys that we have, their skillsets, we're just trying to create ways to get them the ball and allow them to do what they do best."
Conventional wisdom would suggest if both Jeudy and Sutton are in the Broncos lineup, the targets and catches would shift slightly at times as defenses reacted one way or the other. But Jeudy has had fewer than four catches just once since Halloween while Sutton hasn't been above two. Meanwhile, Bridgewater has stressed the importance of taking the ball to wherever the coverage dictates.
"Every week is a huge opportunity for everyone on this offense," Bridgewater said. "You watch us — we try to get different guys going."
"We are trying to win games," Sutton said. "That is the biggest thing."