NFL free agency is off and running, and we're keeping track of every major signing, trade and release of the 2022 offseason, with analysis from our NFL Nation reporters and grades from our experts. The new league year began Wednesday at 4 p.m. ET, which means free-agent signings could be made official after that. The first round of the 2022 NFL draft begins April 28 on ESPN.
The Seahawks entered 2022 free agency in a much different situation from the one they've known for much of the past decade:
Lots of money to spend. No Russell Wilson at quarterback.
Even with the fourth-most cap space of any team, according to ESPN's roster management data, last week's Wilson trade and whatever degree of rebuild it signals calls into question how active the Seahawks will be in free agency. A true rebuild would prioritize younger players in the draft as opposed to high-priced veteran additions in March, which hasn't been their MO anyways.
It's hard to predict without knowing what the Seahawks' plan is to replace Wilson and thus how competitive they think they can be in 2022.
What's clear is that they have the funds to be players in free agency if they so choose. The Wilson trade was roughly a net wash in terms of 2022 cap space, but Bobby Wagner's release cleared $16.6 million, putting the Seahawks at around $48 million entering the two-day negotiating window, according to roster management data.
That also created another hole at middle linebacker to go along with their other needs at cornerback, edge rusher, offensive line, running back and, of course, quarterback.
Here's a breakdown of every 2022 NFL free-agent signing by the Seattle Seahawks and how each will impact the upcoming season:
Nwosu and the Seahawks have agreed to a two-year deal worth $20 million, his agents told ESPN's Adam Schefter. It includes $10.5 million guaranteed.
What it means: The Seahawks are taking a big step — at what for them is a big price — towards beefing up one of their top needs. Their pass rush underperformed by any metric last season, including a No. 29 ranking in sacks per dropback. They needed more edge talent, specifically outside linebackers (as opposed to bigger 4-3 defensive ends) as they continue to move towards more of a 3-4 structure up front. At 6-foot-2 and 251 pounds, Nwosu fits that description. The 2018 second-round pick doesn't have eye-popping sack production, with 15 in four seasons — including a career-best five last year. But he was 16th last year in ESPN's pass rush win rate among edge defenders, right between new teammate Darrell Taylor at 15 and old teammate Joey Bosa at 17. Nwosu, Taylor and Carlos Dunlap give Seattle a strong edge-rush trio. Jamal Adams will factor as well as a blitzer. That allows the Seahawks to go another route with the ninth overall pick, or wherever they end up making their first selection.
What's the risk: Unless incentives/escalators are included in the $20 million value of Nwosu's deal, his $10 million per-year average is the largest the Seahawks have given to a free agent from another team under Carroll and general manager John Schneider. Either way, it's a big deal by their standards and one they could afford to make after entering free agency with the fourth-most cap space of any team following Bobby Wagner's release and the Russell Wilson trade. There were much more accomplished (and probably more expensive) options like Chandler Jones and Von Miller. But they're over 30. If the Seahawks believe the 25-year-old Nwosu is ascending, then a younger player like him makes more sense for a rebuilding team.
---
The Seahawks and Diggs have agreed to terms on a three-year, $40 million contract, a source told ESPN's Adam Schefter. Diggs will get $28 million over the first two years. The $13.33 million average is more than what Diggs would have made in 2022 had Seattle applied the $12.9 million franchise tag.
What it means: Re-signing a 29-year-old free agent on that big of a deal suggests the Seahawks aren't in full-fledged rebuild mode, as some assumed they would be by trading Wilson and releasing Wagner last week. It suggests they plan on being competitive in 2022 and that they plan to make Diggs a focal point of their revamped defense under new coordinator Clint Hurtt. The Seahawks struggled to take the ball away in 2021, so unless they were tearing it all down, they couldn't afford to lose one of the best ball hawks in the NFL and the player who was arguably their team MVP last year. Diggs is one of the more respected players in Seattle's locker room. His return on a big deal positions him to fill the leadership void on defense left by Wagner's departure.
What's the risk: Diggs is 29 and coming off a serious injury, having suffered a broken fibula and dislocated ankle in the season finale. Coach Pete Carroll said at the scouting combine that he has no doubt that Diggs will be back on the field in time for training camp. His injury aside, Diggs' deal means two of the Seahawks' highest-paid players are safeties, which the NFL generally doesn't consider a premium position. That won't be an issue if Diggs continues to play at a Pro Bowl level and if Jamal Adams ($17.5 million average per year) can get back to his pre-2021 form. Will they?
---
Jefferson told NFL reporter Josina Anderson that he's agreed to a two-year, $9.5 million deal that can be worth up to $11 million.
What it means: The Seahawks are reuniting with Jefferson as they continue to remake their defensive front. News of his return after two years away came shortly before the team released Carlos Dunlap II and Kerry Hyder Jr., 4-3 defensive ends who are no longer scheme fits. The Seahawks want athletic outside linebackers to play on the edge as they continue to transition to more of a 3-4 structure up front. That suggests Jefferson — who has played end and tackle over his six NFL seasons — will be more of an inside player in his third stint with the Seahawks. And the size of his deal suggests they view him as a significant part of their interior plan.
What's the risk: A $4.75 million per year average is not insignificant, but it's in line with the types of second-wave deals Seattle typically prefers in free agency. And it seems reasonable given Jefferson's profile. He's coming off a career-best 4.5 sacks in a starting role last year with the Las Vegas Raiders. He's only missed two games over the past four seasons, so durability shouldn't be a concern. And the Seahawks, who drafted Jefferson in the fifth round in 2016, obviously know what kind of person they're bringing into their locker room. No risk in that regard.
---
Al Woods, defensive tackle
The NFL Network reports that Woods' deal is for two years.
What it means: The Seahawks are bringing back what was quietly one of their better defenders in 2021. Run-stuffing defensive tackles are often hard to notice and don't stand out in the stat sheet, but Woods played what Pete Carroll said was his best football last season at age 34. His job is to eat up space and occupy blockers, and you need look no further than Jordyn Brooks and Bobby Wagner ranking second and third, respectively, in the NFL in tackles last season for evidence of how well Woods did that. For all the issues the Seahawks had on defense last year, they allowed the second-fewest yards per rush in the NFL. Woods was a big reason why.
What's the risk: The obvious risk is Woods' age. He turns 35 later in March and plays one of the more physical positions in football. He's likely getting a raise from the one-year, $2.5 million deal he played on in 2021. Woods took a COVID-19 opt-out in 2020, so his strong season came after a year off. Woods averaged about 37 snaps per game and the only game he missed in 2021 was due to COVID, so durability wasn't an issue last year. But you can't necessarily assume that will remain the case given his age.
---
Burns has agreed to a one-year deal worth $2 million, his agents told ESPN's Adam Schefter.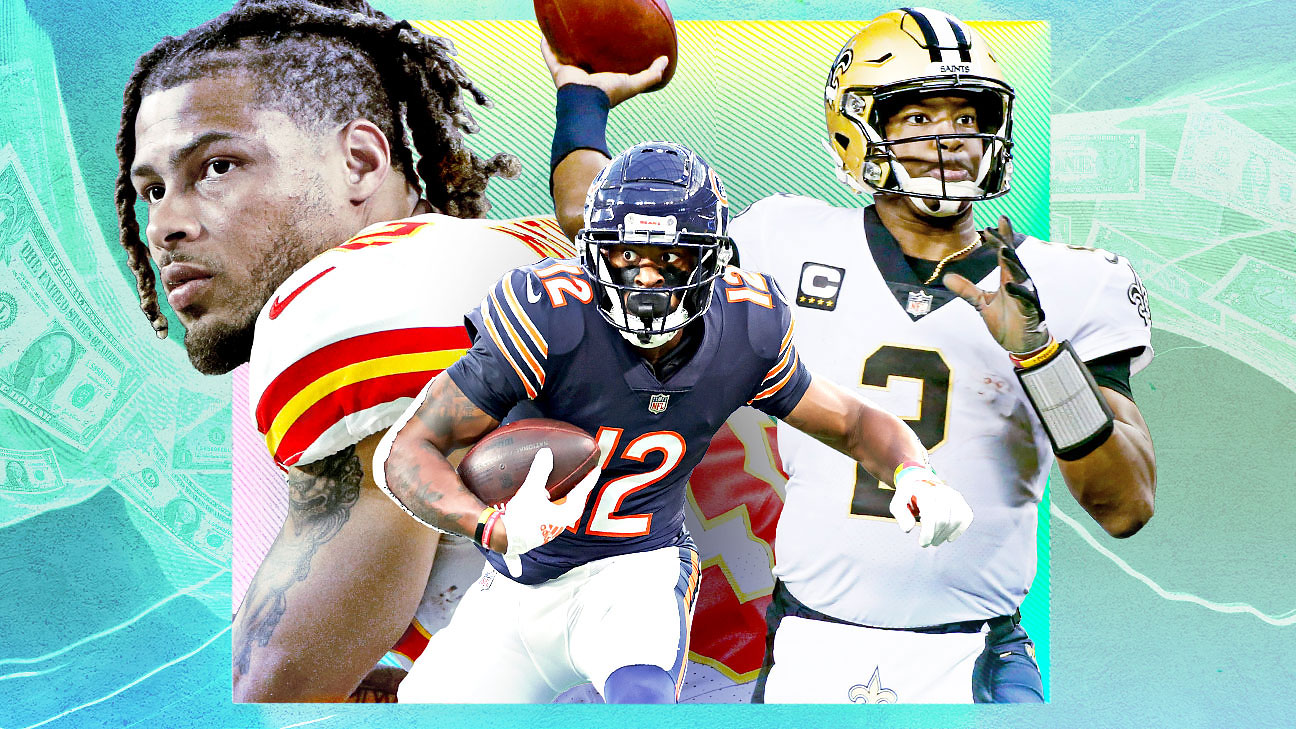 • Tracking signings, more » | Grades »
• Early winners, losers » | Top teams »
• Top 100 » | Guide » | Fantasy spin »
More NFL free agency coverage »
What it means: The Seahawks are finally on the board. After re-signing four players and losing two over the first two days of the negotiating window, they made Burns their first addition of free agency. He gives them an option to replace D.J. Reed at one of the two starting spots on the outside. And his modest price tag strongly suggests they view him as just that — an option, as opposed to someone they're expecting to win a starting job. At 6 feet tall and 197 pounds, Burns is the type of corner the Seahawks long preferred before they loosened their size requirements. The 2016 first-round pick has 38 career starts. Six came last year with Chicago, where Burns played under new Seahawks defensive assistant Sean Desai.
What's the risk: At $2 million, there isn't much of one. Plus, the Seahawks' track record with bringing in veteran corners to play on the outside isn't as spotty as it used to be. The Cary Williams disaster from 2015 was long mentioned as the obvious cautionary tale of a veteran struggling to adapt to the Seahawks' style of play at corner. That shouldn't be as much of a concern after the strong season and a half Reed had in Seattle. And again, it's $2 million. If Burns doesn't beat out Tre Brown, Sidney Jones IV and any other corners Seattle brings in, he'd be an inexpensive backup.
---
Sidney Jones IV, cornerback
The NFL Network reports Jones' deal is for one year.
What it means: The Seahawks have a solid option to either start opposite D.J. Reed again in 2022 or replace Reed if he leaves in free agency. Jones has made 25 starts in five seasons, including a career-high 11 last year. He played well — even if not spectacularly — after he replaced a struggling Tre Flowers and later an injured Tre Brown in the starting lineup. Most of his playing time came on the left side. The Seahawks are high on Brown, last year's fourth-round pick. Getting Jones back in the fold for 2022 doesn't make their cornerback group a strength, but it should lessen the pressure to re-sign Reed if the price isn't to their liking.
What's the risk: The Seahawks forced only 18 turnovers last season, eighth-fewest in the NFL. While that was largely due to their underperforming pass rush, it was also a function of not having enough ball hawks outside of Quandre Diggs. As solid of a player as Jones is, that's not been his strength. He has four interceptions in 47 career games, though he had 10 passes defensed last season. And that did include a big interception in a loss to Arizona that was questionably overturned. Jones, who turns 26 in May, is still young enough to improve his ball skills. A revamped defensive coaching staff — Sean Desai and Karl Scott are newcomers who will work with the secondary — could help in that regard.
---
Fuller is returning to the Seahawks.
What it means: The Seahawks are keeping Fuller in the fold, but not necessarily with a plan to again make him a front-line player. Fuller started the first seven games at center last season while Ethan Pocic was hurt. Pocic eventually replaced him once he got healthy. The Seahawks signed Austin Blythe earlier this week. They have Dakoda Shepley in the mix and are now bringing back Fuller as well. That perhaps signals a plan to move on from Pocic, who's a free agent. Fuller made two more fill-in starts at left guard last season, so he's got starting experience and some position versatility.
What's the risk: The Seahawks declined to tender Fuller as a restricted free agent, which would have cost at least $2.4 million. Teams often non-tender RFAs with a plan to re-sign them for less than the tender amount, which appears to be the case with Fuller. We can assume he got a short-term deal worth less than $2.4 million and probably not a ton in the way of guarantees. So there's probably not much of a risk here. It shouldn't stop the Seahawks from looking for a long-term option at center in the draft.
---
The Seahawks are bringing Dissly back on a three-year, $24 million deal, a source tells ESPN. The deal does not include incentives, per the source, so the base value is $8 million per season.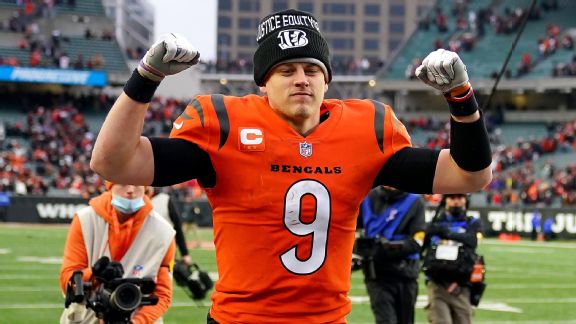 • New O-line can unlock Burrow, offense
• Gregory, Chubb could be fearsome duo
• Are Steelers eyeing top QB in draft?
• Bears GM setting Fields up for success
• Pack's Douglas couldn't wait to re-sign
What it means: The Seahawks appear set at tight end now that Dissly is returning to join Noah Fant, who's coming to Seattle from Denver in the Russell Wilson trade. That means they're likely moving on from Gerald Everett, who's also a free agent. Fant is an athletic, pass-catching tight end who can move around the formation, a la Everett. So if the Seahawks were going to re-sign one of their top two tight ends, Dissly's blocking ability makes him a better complement to Fant. They also have 2020 fourth-round pick Colby Parkinson, whom they hope can get going after two unproductive seasons to begin his career.
What's the risk: An $8 million APY is hefty for a player who has missed 24 career games and hasn't topped 25 receptions in any of his four seasons. On the flip side, Dissly has played in all but two games over the last two seasons after his first two were cut short by a torn patellar tendon and then a ruptured Achilles. His blocking ability has obvious appeal to a team that wants to run the ball and may want to lean more on its ground game in the post-Wilson era. But for the Seahawks to get proper value out of the deal, Dissly will also have to produce as a receiver, something he's done in flashes. The Seahawks' next quarterback won't be as good as Wilson but may throw more over the middle of the field than Wilson did. That could translate to more production for Dissly and their other tight ends.
---
After ESPN's Adam Schefter reported that the Seahawks have agreed to sign Blythe, the NFL Network reported that it's for one year and $4 million.
What it means: The Seahawks have an alternative at center to Ethan Pocic, their starter the past two seasons. But the 29-year-old Blythe may not be the Pro Bowl-caliber upgrade that fans (not to mention former quarterback Russell Wilson) have wanted. He was a seldom-used backup last year with the Kansas City Chiefs after spending the previous four seasons with the Los Angeles Rams. He started 47 games from 2018-20 between right guard and center. His Rams ties led to a thought that the Seahawks could sign him last year after they hired former Rams assistant Shane Waldron as their new offensive coordinator. That reunion comes a year later. Andy Dickerson, who followed Waldron from Los Angeles, has since taken over for Mike Solari as Seattle's offensive line coach. Blythe's familiarity with what Waldron and Dickerson want to do up front should help with that continued transition.
What's the risk: The reported $4 million value of Blythe's deal is $1 million more than what they paid Pocic last year and a big raise from the $990,000 Blythe made last season as an insurance policy in Kansas City. So it's a decent amount of money, and it's a risk in the sense that the Seahawks haven't exactly crushed it with many of their free-agent additions to their O-line over the years. But it's a new scheme with a new O-line coach, which is reason to think this could work out more like Brandon Shell than Luke Joeckel.
---
Penny is returning to the Seahawks on a one-year deal. According to the NFL Network, it's worth $5.75 million with a max value of $6.5 million.
What it means: The Seahawks may not be done at running back, but re-signing Penny means they're keeping a potential playmaker in the fold. "Potential," as in, if Penny can shake the injury bug that marred his first three-and-a-half seasons and produce like he did during his stellar finish to 2021. The video-game numbers he posted at the end of last season showed how good he can be when he's healthy and playing in a system that suits him. The Seahawks may still need to add to their backfield, ideally in the draft, lest they go into 2020 counting on Penny to stay healthy and starter Chris Carson to come back from neck surgery. DeeJay Dallas and Travis Homer are nice options, but Seattle has preferred them more in change-of-pace situations as opposed to early-down roles. Alex Collins is a free agent.
What's the risk: The risk is obvious with Penny. He has such a long injury history that before his late-season tear, he seemed destined to be playing elsewhere in 2022 on an inexpensive flyer-type deal. The 2018 first-round pick has missed 30 of a possible 69 games, including playoffs, because of injury. Then came the final five games, when he led the league with 671 rushing yards and a 7.29 yards-per-carry average. He scored six rushing touchdowns, tied for the most of any player in that span. That type of production — plus the flashes Penny showed over his first three seasons — makes this a worthwhile risk for the money the Seahawks are paying him, especially if they protect themselves by tying some of his compensation to per-game roster bonuses that he'd earn only if healthy.
---
The Seahawks have agreed to a one-year deal with Coleman, a source tells ESPN.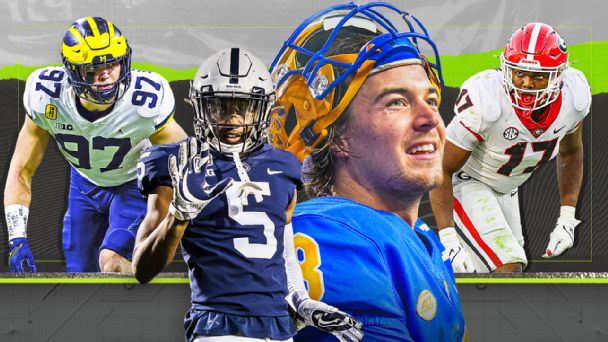 • Ranks: Kiper » | McShay » | Positions »
• Mocks: Kiper » | McShay » | Reid »
• Meet the QBs » | Intriguing teams »
• Full draft order » | First Draft podcast »
• More coverage » | Full rankings »
What it means: Coleman is returning to Seattle, where he excelled at nickelback in 2017 and '18. He played well enough in that role to get the biggest contract ever for a nickelback when he left as a free agent in 2019. Things have changed since then for both Coleman and the Seahawks. He got released after two seasons with the Detroit Lions and spent last year with the Miami Dolphins, picking off two passes in 16 games. Seattle, meanwhile, has loosened its long-standing size requirements for outside cornerbacks and has become more willing to use shorter players there. That means the 5-foot-11, 190-pound Coleman should be an option on the outside in addition to the slot.
What's the risk: Financial details of Coleman's deal weren't immediately available. Those will give a clue as to whether the Seahawks view Coleman as a starter or more a depth piece. They lost D.J. Reed in free agency but re-signed Sidney Jones IV, who started for much of last season opposite Reed. Seattle added Artie Burns, who's played inside and outside. They're also high on last year's fourth-rounder Tre Brown, who's coming off a knee injury he suffered after his strong start at left corner. The Seahawks return Marquise Blair and Ugo Amadi, who both have extensive experience at nickel. They could definitely use some blue-chip talent, but they have enough options at their top three corner spots that they shouldn't feel an urgent need to address that position early in the draft.
---
The Seahawks and Iyiegbuniwe have agreed to a one-year deal worth $1.1875 million, a source tells ESPN. That includes a $152,500 signing bonus.
What it means: Iyiegbuniwe looks like a depth addition and someone who could factor heavily on special teams, which was his role in Chicago. He finished first, second, second and fifth in special teams snaps in the past four seasons while playing only 49 total snaps on defense. In an Instagram post in February, Iyiegbuniwe voiced frustration over never getting a chance to show what he could do on defense. Perhaps the Seahawks will give him that chance. Bobby Wagner's release means they have an opening at inside linebacker alongside Jordyn Brooks. Fourth-year pro Cody Barton is currently the favorite to start there, though that could change in the draft. Sean Desai, one of the big hires to Seattle's defensive staff, was with Iyiegbuniwe in Chicago.
What's the risk: Next to none. Iyiegbuniwe is joining the Seahawks on one of the least expensive deals possible. His $1.035 million base salary is the league minimum in 2022 for a player with four credited seasons. His $152,500 signing bonus is the maximum that a player can receive in added compensation on top of the minimum salary to still qualify for what's known as the veteran salary benefit. The "benefit" is that for cap purposes, his base salary will reflect that of a player with only two credited seasons, in this case $895,000. So his cap number will be $1.0475 million instead of the $1.1875 sum of his salary and signing bonus. That's a pretty insignificant difference, but this is already a small, minimal-risk deal anyways.