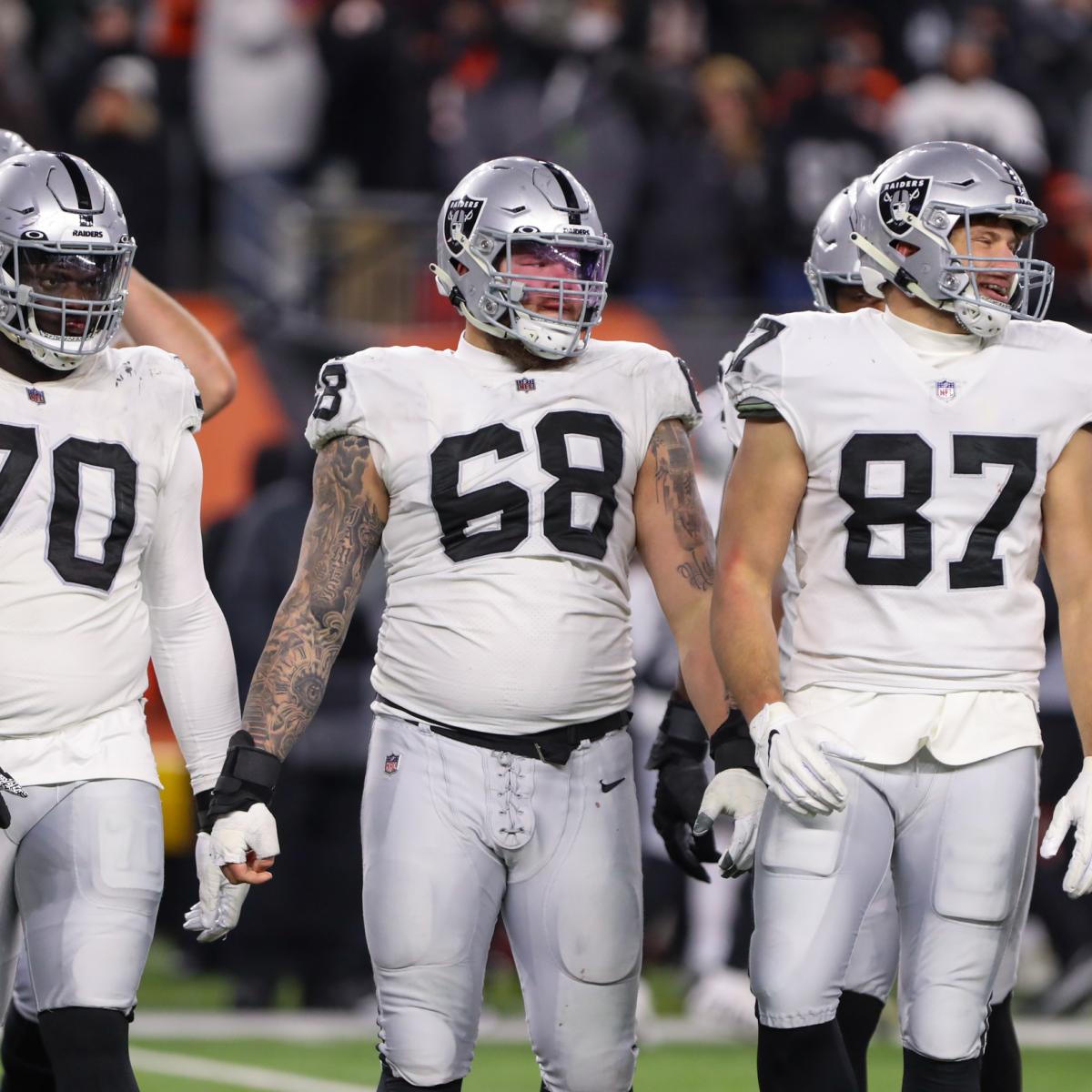 0 of 3
Icon Sportswire/Getty Images

The Las Vegas Raiders figure to be in the thick of the AFC playoff race this season. They reached the postseason last year and should be even more dangerous after adding players such as All-Pro receiver Davante Adams and star pass-rusher Chandler Jones in the offseason.

However, the path to the playoffs won't be easy. The rest of the AFC West is loaded, with the Denver Broncos adding Russell Wilson, the Los Angeles Chargers bringing in Khalil Mack and J.C. Jackson, and the Kansas City Chiefs still among the conference's best.

To emerge from the division with a playoff-worthy record, Las Vegas will need to field a complete team in 2022. While players like Adams, Mack, Derek Carr, Darren Waller and Maxx Crosby have their jobs secured, a few positions remain unsettled heading into training camp.

Below, you'll find a look at three position battles worth following during the rest of organized team activities (OTAs), minicamp and training camp. Who's involved? What's at stake? Let's dig in.
1 of 3
Jayon BrownWesley Hitt/Getty Images

The additions of Jones and Jackson should quickly boost Las Vegas' 13th-ranked pass defense, but improving its 19th-ranked run defense is more of a work-in-progress.

New defensive coordinator Patrick Graham has traditionally run an aggressive scheme with plenty of 3-4 alignment, which requires a lot of versatility and depth at the second level.

The Raiders didn't draft a linebacker, but they did add three in free agency: Kyler Fackrell, Kenny Young and Jayon Brown. They are likely to compete with the likes of Divine Deablo, Micah Kiser and Malcolm Koonce at inside linebacker and as rotational players on the outside.

Crosby and Jones are going to do their fair share of pass rushing from the outside linebacker spot.

Denzel Perryman has one starting spot locked up, though the Raiders may look to rotate someone in on passing downs. The Pro Bowler is a force against the run but allowed an opposing passer rating of 114.1 in coverage last season.

There's at least one starting spot up for grabs and several rotational roles that need to be filled at linebacker. To run Graham's defense effectively, the Raiders will need to establish their depth and subpackage plans well ahead of Week 1. If they do, a defense that ranked 26th in points allowed last season stands a chance of improving dramatically.
2 of 3
Hunter RenfrowAndy Lyons/Getty Images

While the Raiders didn't field the most consistent defense in 2021, their offense was plenty potent. Las Vegas ranked 18th in scoring and 11th in yards.

With Adams now on the roster, Raiders fans should expect to see a top-10 offense in 2022.

He and slot specialist Hunter Renfrow form a tremendous receiving duo, and Waller is among the league's best tight ends. Anthony Treash of Pro Football Focus recently ranked Adams as the top receiver in the NFL and had Renfrow in the top 30.

However, the Raiders do have an opening at the other perimeter receiver spot after dealing Bryan Edwards to the Atlanta Falcons. Las Vegas didn't draft a receiver, but it did add Keelan Cole, Mack Hollins and Demarcus Robinson in free agency.

Robinson would appear to be the front-runner for the job after starting 29 games for the rival Chiefs over the past three seasons. However, Cole has actually been more productive over the past two years in terms of yardage (1,091 versus 730).

There should be a healthy competition in camp, as the Raiders look to find their best option for going three-wide. It's an important task because Adams will draw enough attention to leave Las Vegas' other receivers with frequent one-on-one opportunities.
3 of 3
Dylan ParhamJustin Casterline/Getty Images

This is the big one, as the Raiders have plenty of sorting to do along the offensive line. There should be competition at center, right guard and right tackle in the coming months.

Alex Leatherwood moved from tackle to guard as a rookie and struggled badly. He was responsible for 14 penalties and eight sacks allowed, according to Pro Football Focus.

The 2021 first-round pick will be in the mix at guard and tackle again this season, but so will players such as Denzelle Good, Brandon Parker and rookie third-round pick Dylan Parham. It also looks like Parham may have a chance to unseat Andre James at center.

"Parham is listed as a guard on the roster, but he's still been cross-training at center. It's too early to make sweeping evaluations, but he's impressed the Raiders' best offensive lineman," The Athletic's Tashan Reed wrote.

"He's doing a great job as a rookie, for sure," left tackle Kolton Miller said of Parham, per Reed.

Finding the right starting lineup is one of the most important challenges Las Vegas faces this offseason. Carr was sacked 40 times in 2021 and under pressure on 21.4 percent of his dropbacks. The Raiders ranked just 27th in yards per rush as a team.

If Las Vegas hopes to field a truly elite offense in 2022, it needs to improve its play in the trenches.

         

*Advanced statistics from Pro Football Reference unless otherwise noted.