Contributors: Zara Collings, Eve Cobbett, Ian Harkin
Another week of Vitality Netball Super League action came to a close as we are making our way through the season at pace. Manchester Thunder and Loughborough Lightning remain our only two unbeaten teams, with Thunder clinching a tight victory against Team Bath and Lightning pulling out an impressive performance against fellow top four team Saracen's Mavericks. England Roses duo Eleanor Cardwell and Natalie Metcalf impressed in the Manchester Thunder shooting circle and whilst we were unable to stream Lightning's clash with Mavericks, Mary Cholhok slotted the most goals of the Round with 57.
Celtic Dragon's secured their first win of the season against Severn Stars to jump ahead of them in the table on goal difference. It was another tough week for Stars who also fell significantly short against a dominant London Pulse side. Lefebre Rademan impressed in the Dragon's circle and it was a first player of the match award for Annabel Roddy in Goal Defence. For Pulse, Funmi Fadoju picked up nine of the team's 22 gains and Stars really did not have an answer in attack.
Leeds Rhinos took to court in Leeds for the first time as a franchise and certainly gave their fans something to cheer about with a one goal victory over Wasps. Both teams were strong in defence but it was the Rhinos attacking side that managed to see their team home with youngster Sienna Rushton taking charge and directing traffic.
Of course it would be remiss not to mention the news that England Netball Captain Serena Guthrie simultaneously announced her pregnancy and retirement, as netball fans around the globe united to remember the career highlights of one of the greatest to take the court. With Guthrie no longer participating as a member of the Team Bath squad, the blue and gold will look to announce a permanent replacement player over the coming weeks.
Stats leaders of the week
Most Goals: 57 Mary Cholhok (Lightning v Mavericks)
Most Feeds: 28 Beth Dix (Sirens v Storm)
Most Gains: 9 Funmi Fadoju (Pulse v Stars)
Most Offensive Rebounds: 6 Mary Cholhok (Lightning v Mavericks)
Most Defensive Rebounds: 4 Summer Artman (Stars v Dragons)
Most Deflections: 8 Laura Malcolm (Thunder v Bath), Vicky Oyesola (Rhinos v Wasps) & Josie Huckle (Wasps v Rhinos)
Most Intercepts: 5 Funmi Fadoju (Pulse v Stars) & Annabel Roddy (Dragons v Stars)
---
SCORES and MATCH REPORTS
MANCHESTER THUNDER 57 def TEAM BATH 53 
Bath
Kim Borger 22/22 (100%)
Sophie Drakeford-Lewis 20/22 (91%) 
Betsy Creak 11/16 (69%)
TOTAL: 53/60 (88%)
Feeds 50 (Allison 15)
Gains 9 (Guscoth 4)
Penalties 47 (Maweni 23)
Thunder
Ellie Cardwell 36/39 (92%)
Joyce Mvula 18/18 (100%)
Nat Metcalf 3/3 (100%)
TOTAL 57/60 (95%)
Feeds 51 (Metcalf 13)
Gains 7 (van der Merwe 4)
Penalties 56 (Almond 20)
Player of the Match: Laura Malcolm (Thunder)
---
LONDON PULSE 64 def SEVERN STARS 35 
Summary by Zara Collings 
It was a dominant victory for the home side London Pulse against Severn Stars on Saturday afternoon, with the side taking a 29 goal win. Sticking with her traditional starting seven, coach Sam Bird opted for the Tchine, Rothwell, Dekker, Rattu attacking line up to open the match. Stars, still without Cat Tuivaiti, selected the shooting combination of Katie Harris and Paige Reed, with Leota and Jane Tayor in support. Both attacking lines struggled to settle early, with a number of missed shots and unforced errors. Whilst Kira Rothwell was putting in the work to bring the ball through court, she struggled on her shot and was pulled twice for a held ball within the first ten minutes. 
However, it was London Pulse who settled first, with a number of centre passes taking only three phases to go to post. Stars struggled to combat the speed of Dekker and Rothwell and were forced into an early change with Nicole Humphreys making way for Dee Bolakoro to join Iman Thomas and Lucy Herdman in the defensive unit. This change had immediate impact for Stars, with a much tighter body on style of defence slowing the Pulse through court play and Lucy Herdman picked off an excellent bounce pass into Tchine to help Stars claw back the deficit. 
Partway through the second quarter both Captains were pulled in to speak with the umpires, something which we are seeing increasingly throughout the domestic leagues as a method of game management. With the umpires asking for players to address how closely they were marking the body, with plenty of whistle in the first thirty minutes, both teams were put on notice. 
Whilst Pulse were up by 11 at the end of the second quarter, it was the latter half of the game that really saw them "turn the screw" as Sam Bird called from the sideline. Tayla Honey, Alicia Scholes and Sacha McDonald entered the game in C, WA and GA respectively, a change we have seen repeated in recent matches. This added speed and ferocity in attack proved extremely difficult for Stars to handle as Honey won the arm wrestle with Michelle Drayne who had also taken to court in the Centre bib for Stars. McDonald pulled apart the Stars defence with strong drives through the circle and both Honey and Scholes were confident on their feeds into the circle. A dislocated arm in the third quarter saw Pulse Captain Zara Everitt leave the court, unfortunate timing for the Wing Defence that had been having a very strong game until that point and had picked up a number of loose balls. 
London Pulse took the opportunity to give their full squad a real chance to shine on court, with each of the match day twelve getting at least one full quarter. For shooter Berri Neil, this was her first opportunity to play out a full fifteen minutes this season and she truly stepped up to the occasion. With a huge cheer from the Pulse crowd, it is clear she has been fully welcomed into the franchise and it was one of her most impressive performances on the VNSL stage to date. As a much shorter shooter than Tchine with a slighter frame, the versatility at Pulse's disposal through court is truly impressive.  Player of the Match Funmi Fadoju excelled yet again, pulling in some spectacular intercepts despite being nowhere near the ball when it left the passers hands. Her read of play and ability to move her feet towards the line of the ball continues to improve and she remains one of the most exciting young defenders in UK netball. 
For Severn Stars, it was another disappointing performance as they failed to capitalise on turnover ball and lacked confidence feeding their shooters. With Tuivaiti's return date still uncertain, Stars are struggling to settle on a stable shooting combination. Paige Reed continues to stand strongly for the team and is proving accurate when presented with the opportunity however, Stars must learn how to feed Katie Harris if they are going to persist with the Harris/Reed combination. Multiple times throughout the match Harris was calling for the ball with her arms up and whether it be a lack of confidence in the feed or the hard work of the Pulse defenders to block the vision, they were forced to work the ball through multiple phases and the shooter put up only six of Stars' 35 goals. 
It is uncertain whether teenager Issy Eaton was injured, as she did not take the court, despite being the favoured starting Goal Shooter at the beginning of the season. When Jane Taylor entered in Goal Attack in the third quarter she made immediate impact sinking a long bomb and very nearly pulled off a spectacular interception shortly after. Yet the fourth quarter saw her move out to Wing Attack for Liana Leota as Harris rejoined the circle. With this proving to be a bit of a blowout, it was understandable that Coach Melissa Bessel wanted to continue to trial combinations and give each player the opportunity to prove themselves, however arguably this did come at the detriment of giving impact players enough time to really settle in to the flow of the game before the next change came. 
Pulse
Olivia Tchine 35/40 (88%)
Sacha McDonald 16/17 (94%) 
Berri Neil 10/10 (100%)
Kira Rothwell 3/5 (60%)
TOTAL: 64/72 (89%)
Feeds 57 (Honey 13)
Gains 22 (Fadoju 9)
Penalties 65 (Keable 14)
Stars
Paige Reed 24/30 (80%)
Katie Harris 6/9 (67%)
Jane Taylor 5/8 (63%)
TOTAL 35/47 (74%)
Feeds 32 (Leota 14)
Gains 10 (Bolakoro, Herdman 4)
Penalties 55 (Bolakoro 18)
Player of the Match: Funmi Fadoju (London Pulse)
---
STRATHCLYDE SIRENS 59 def SURREY STORM 57
Sirens
Niamh McCall 30/32 (94%)
Bethan Goodwin 27/32 (84%)
Emma Barrie 2/5 (40%)
TOTAL 59/69 (86%)
Feeds 65 (Dix 28)
Gains 11 (Vinkhumbo 7)
Penalties 48 (Vinkhumbo 16)
Storm
Proscovia Peace 43/49 (87%)
Frankie Wells 13/17 (76%)
Emma Magee 1/1 (100%)
TOTAL 57/67 (85%)
Feeds 59 (Austin 19)
Gains 8 (Middleton 5)
Penalties 55 (Middleton 17)
Player of the Match: Gia Abernethy (Sirens)
---
LOUGHBOROUGH LIGHTNING 71 def SARACENS MAVERICKS 47
Lightning 
Mary Cholhok 57/62 (92%)
Ella Clark 11/14 (79%)
Emma Thacker 2/3 (67%)
Suzie Liverseidge 1/2 (50%)
TOTAL 71/81 (88%)
Feeds 64 (Joseph 23)
Gains 17 (Vimbela 6)
Penalties 34 (Williams 10)
Mavericks
Ine-Mari Venter 28/32 (88%)
Britney Clarke 11/13 (85%)
Chloe Essam 8/16 (50%)
TOTAL 47/61 (77%)
Feeds 48 (Ecuyer-Dale 13)
Gains 6 (Quashie 3)
Penalties 20 (Quashie 8)
Player of the Match: Mary Cholhok (Lightning)
---
LEEDS RHINOS 44 def WASPS 43
Match Report By Eve Cobbett
Game 5 of Round 6 saw Wasps travel up to Leeds for what was a must-win game for both sides. Wasps, struggling to find consistent form were desperate to take their 2nd win of the season, whilst Leeds Rhinos were searching for a 3rd win and proof they are still a top 4 side. Despite Rhinos eventually coming through to take the win, there was nothing to separate these two sides for the majority of the game. Leeds were down by one at quarter time, but took the lead by one goal at half time, the scores standing 24-23. Wasps seemed to be pulling away by the end of the 3rd quarter, going into the final 15 minutes up by 3 (33-36). Rhinos wouldn't go away, however, and eventually took the win by just one goal, the game ending 44-43. This game was a low-scoring affair, both sides having opportunities to put the game to bed but struggling to convert their turnovers or pull away when they got a lead.
What worked?
Whilst both teams left much to be desired, the one thing that worked for both sides was defence. Rhinos defence was dogged, niggly and ultimately annoying, but it ended up winning them the game. Rhinos gave away a lot of penalties, Tuaine Keenan and Vicki Oyesola in particular, with the whole team picking up 68 penalties with Wasps picking up just 40. Whilst this could have been costly for Rhinos, the physicality of their game paid off, constant disruption meaning Wasps never really found their flow and the determination of Rhinos' defence eventually leading them to the win.
This was in contrast to Wasps defence which was significantly cleaner but no less lethal. Josie Huckle proved once again why she is worthy of the Wasps' captaincy, having a real captains game and leading the team from the back. Huckle picked up 8 deflections and 1 interception and never allowed Sigi Burger or Sienna Rushton to settle into the Goal Shooter positions. Huckle's and both her defensive partners Ella Powell-Davies and Rachael Fee were also fantastic at piling on the pressure, recognising that both Burger and Rushton only wanted to shoot from high-percentage positions and not allowing them to get there. Whilst Wasps have struggled to find their form so far this season, their defence has been the one constant, with players like Huckle and Powell-Davies playing in a way that deserves the 3 points.
Having said this, the final thing that worked for Leeds Rhinos in this game was Sienna Rushton. Whilst she stepped up when Donnell Wallam got injured last season, she has never necessarily been seen as Rhinos' key shooter. With Rhea Dixon now injured, Rushton was forced to step up in this game and act as Rhinos' experienced attacker. At just 20 years old this is no easy task, and yet Rushton played as if she has years of VNSL experience under her belt. She shot at a respectable 76%, but most importantly sunk her shots at key moments. She also encouraged both Burger and Amy Clinton and kept them positive when they were struggling in the circle. Rushton showed maturity beyond her years in this game and we got a glimpse of the shooter she could become.
Where was the game won or lost?
 In a game this close you have to take every opportunity to win and yet neither Wasps nor Rhinos really took the many opportunities that presented themselves throughout the game. Missed shots and shooting hesitancy for Rhinos kept Wasps in the game, but carelessness when they got turnovers led to balls off the backline and sideline for Wasps and laziness when meeting the ball allowed Rhinos to win back possession. Tracey Robinson said after the game 'we could have put it away a lot earlier, and she was definitely right. The turning point, however, came at the start of Quarter 4 when Rhinos were allowed to go on a 4-goal run. This got them back in front and turned all the momentum in Rhinos' favour. Some incredible defensive work from Jade Clarke, Vicki Oyesola and Brie Grierson meant that whilst they pushed Rhinos to the very end, Wasps could never get back out in front.
Stand out players?
 Alongside Rushton there were 4 other stand out players in this game. Vicki Oyesola and Tuaine Keenan proved their worth as a defensive duo yet again, turning over ball in pivotal moments and keeping Rhinos firmly in the game. Rachel Dunn and Josie Huckle also stood out for Wasps, despite their side losing, Dunn coming away with Player of the Match. Dunn, like in Round 5, picked up plenty of ball defensively and continued to shoot at 100%. Huckle, on the other hand, kept Wasps in the game with some great defensive work, both Huckle and Dunn proving their experience will be paramount to any Wasps' success this season.
Rhinos
Sienna Rushton 26/34 (76%)
Amy Clinton 11/16 (69%)
Sigi Burger 5/6 (83%)
Brie Grierson 2/2 (100%)
TOTAL 44/58 (76%)
Feeds 50 (Grierson 25)
Gains 14 (Oyesola 7)
Penalties 68 (Keenan 14)
Wasps
Rachel Dunn 19/19 (100%)
Gezelle Allison 14/18 (78%)
Lucy Parize 10/13 (77%)
TOTAL 43/50 (86%)
Feeds 43 (Christian 13)
Gains 11 (Huckle 5)
Penalties 40 (Nicholls 13)
---
CELTIC DRAGONS 58 def SEVERN STARS 42
Stars
Paige Reed 30/34 (88%)
Katie Harris 11/14 (79%)
Jane Taylor 1/1 (100%)
TOTAL 42/49 (86%)
Feeds 39 (Dyke 16)
Gains 13 (Artman 7)
Penalties 52 (Herdman 12)
Dragons
Georgia Rowe 42/46 (91%)
Lefebre Rademan 15/21 (71%)
Katarina Short 1/1 (100%)
TOTAL 58/68 (85%)
Feeds 59 (O'Dwyer 22)
Gains 12 (Roddy, Greene-Noel 6)
Penalties 45 (Greene-Noel 12)
Player of the Match: Annabel Roddy (Dragons)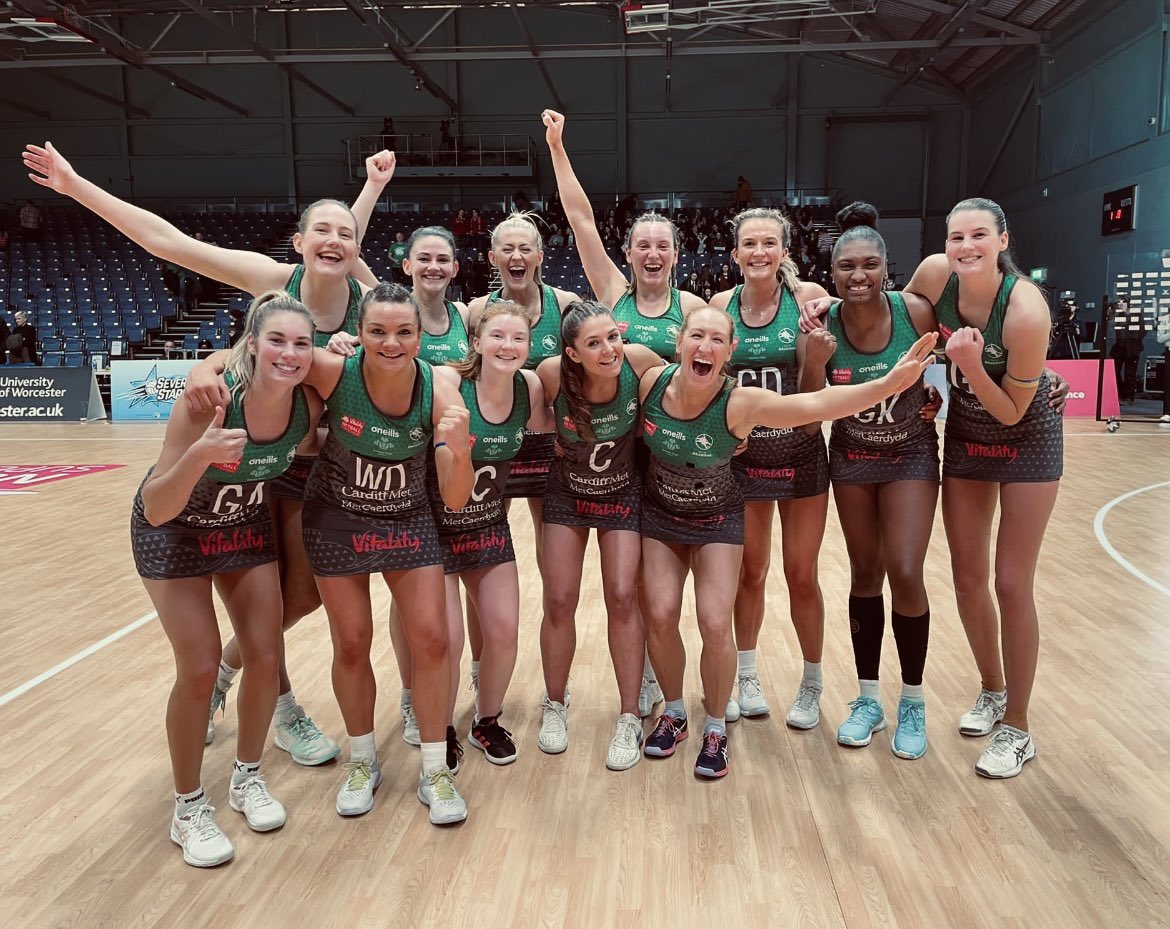 ---
LADDER
(Team . Pld .  Pts . +/-)
Thunder . 7 . 21 . +97
Lightning . 5 . 15 . +92
Pulse . 6 . 12 . +50
Mavericks . 6 . 12 . +1
–
Bath . 6 . 9 . +25
Rhinos . 5 . 9 . -21
Storm . 6 . 6 . -22
Sirens . 6 . 6 . -32
Wasps . 6 . 3 . -44
Dragons . 6 . 3 . -63
Stars . 7 . 3 . -83
COMING UP
Round 7:
Fri 7pm Stars v Rhinos Sky (YouTube)
Fri 7:30pm Wasps v Dragons
Sat 2pm Pulse v Storm Sky (YouTube)
Sat 3pm Mavericks v Sirens 
Sat 5:30pm Thunder v Rhinos Sky (YouTube) 
Round 8:
Sun 2pm Storm v Mavericks
Sun 2pm Bath v Dragons
Sun 4pm Lightning v Wasps Sky (YouTube)
Mon 5:30pm Bath v Lightning Sky 
Mon 7pm Pulse v Sirens
Hear from the players and coaches via our friends at The Netball Show.