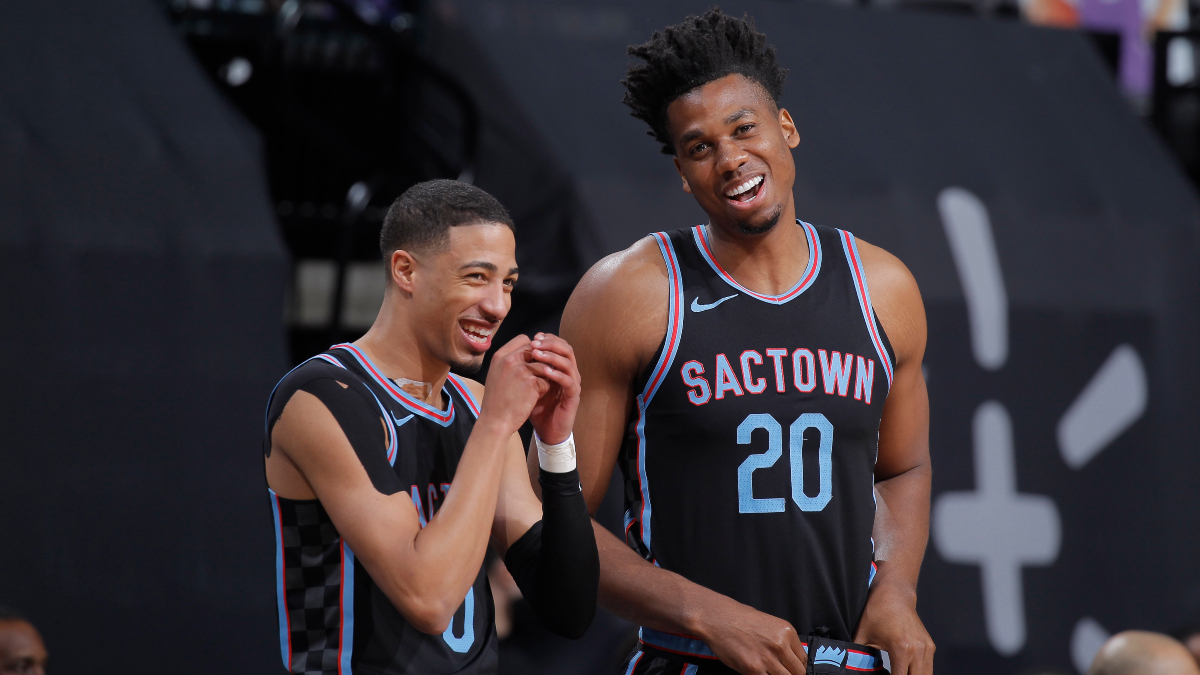 Editor's Note: The Clippers announced that Kawhi Leonard has been managing right foot soreness and will sit out Tuesday's game against the Portland Trail Blazers. For more, check out today's injury report.
---
With just five games on Tuesday evening's NBA slate, the two most visible games that will be played on national TV each have key players missing.
The Brooklyn Nets will face the New Orleans Pelicans (7:30 p.m. ET on TNT) without Kevin Durant and James Harden and the Los Angeles Clippers will meet the Portland Trail Blazers (10 p.m. ET on TNT) who won't have Damian Lillard.
Still, our NBA analysts are making bets in those games, plus one other late West coast matchup.
Take a look their in-depth analysis and picks below.
NBA Odds & Picks
Brooklyn Nets vs. New Orleans Pelicans
| | |
| --- | --- |
| Pick | Pelicans -2.5 |
| Book | FanDuel |
| Tipoff | 7:30 p.m. ET |
| TV | TNT |
Kenny Ducey: Time is running out for the Pelicans to make a run at the postseason. They are currently 3.5 games behind the San Antonio Spurs for the 10th spot in the West, but have lost three straight and are 4-6 over their past 10 games.
The Nets will be sitting seven players, including Kevin Durant and James Harden, but I'm actually most fixated on the absence of Nic Claxton, who has been provided solid minutes up front and helped mask the issues that the aging DeAndre Jordan has allowed teams to exploit this season.
The Pelicans lead the league in rebounding rate and have made their money this season with physicality down low on both ends of the floor. Without Claxton, the Nets will lack the necessary punch on defense around the rim, and without Durant they'll be even weaker scoring in the post.
Zion Williamson should be able to get what he wants here against a weak (and maybe disinterested) Nets defense, and Steven Adams should control the glass.
That should be enough for the Pelicans, who have been at their best against the spread at home with a 14-16 mark (they've covered just 44% of their total games this season, so that's good by comparison) to pull it out. This is as must-win as games get, and I think New Orleans gets it done with relative ease here against Brooklyn.
I'd take this all the way to -4.
---
» Return to the table of contents «
---
Los Angeles Clippers vs. Portland Trail Blazers
| | |
| --- | --- |
| Pick | Clippers -7 |
| Book | William Hill |
| Tipoff | 10 p.m. ET |
| TV | TNT |
Raheem Palmer: The Portland Trail Blazers aren't as good as their record suggests. Although they're 32-24, sixth in the Western Conference, the Blazers have been skating on thin ice all season — their Pythagorean Expectation of 27-29 would have them out of the playoff picture.
They have a winning record primarily based on their performances in the clutch where they are 22-8 with an Offensive Rating of 130.8, a Defensive Rating of 98.3 and a Net Rating of 32.5.
"Dame Time" has saved them time and again, but Lillard is out with a hamstring injury and his absence isn't ideal against the Clippers who beaten them five straight times.
With Kawhi Leonard, Paul George, Marcus Morris and Nic Batum, the Clippers are a bad matchup given the Blazers' lack of wing players. While Robert Covington is solid, the 36-year-old version of Carmelo Anthony is a defensive liability and the cupboard of other wings is bare. Without Lillard in the lineup, the Blazers are in trouble as they 10.5 fewer points per 100 possessions when he's off the floor, according to NBA Advanced Stats.
Against the Clippers who rank first in Offensive Rating, scoring 119.7 points per 100 possessions in their non garbage time minutes, expecting this team to match up point for point without Lillard is tough task.
To make matters worse, the Blazers are 29th in Defensive Rating (117.5) according to Cleaning the Glass, so I'm not seeing how they can stop the Clippers. The Blazers just lost to the Hornets in a game where they were down by 29 points at one point despite Gordon Hayward, LaMelo Ball, Devonte Graham and Malik Monk sitting out.
The Blazers rank 22nd in Opponent Field Goal percentage at the rim (65.1%), 23rd in mid-range (43.1%) and 24th from behind the arc (38.2%). These are areas of the floor where the Clippers score efficiently: They are first in 3-point field goal percentage (42.9%), eighth in field goal percentage at the rim (66.7%). Leonard is one of the best mid-range shooters in the league and the Blazers have no shot at stopping him from getting his shot up.
Overall, this line is short and with rumors that the Blazers quit on head coach Terry Stotts, this feels like a great spot for the Clippers to continue building momentum for the playoffs.
My post All-Star break projections make the Clippers a 10.40 point favorite, so lay the 7 points with the Clippers and you should have a positive expected value wager.
---
» Return to the table of contents «
---
Sacramento Kings vs. Minnesota Timberwolves
| | |
| --- | --- |
| Pick | Hassan Whiteside Under 1.5 assists  |
| Book | BetMGM |
| Tipoff | 10 p.m. ET |
| TV | NBA League Pass |
Brandon Anderson: Hark! Doth my eyes deceive me?
Is that really a Hassan Whiteside passing prop? And it requires more than one assist to hit?
Whiteside has long been an NBA black hole. In 444 career NBA games, Whiteside has tallied a miserable total of just 301 assists for a 0.6 per game rate. In fact, it's about two assists every three games. It's very, very bad.
In 11,446 career minutes, he gets just one assist every 38 minutes — the sort of paltry rate only someone like Oklahoma City's Moses Brown could someday aspire to.
Whiteside has recorded three or more assists just 19 times (4.3%) and he's had multiple assists in just 80 games, which means he's gone under this line in 82% of his career games.
Let's put it another way: Whiteside has been held without an assist in 56% of his NBA appearances. If you had to bet on whether Whiteside would record a single assist in any game in his career, your odds of hitting are worse than a coin flip.
Whiteside has 20 assists this season, approximately as many as Nikola Jokic has every time he breathes on a basketball court. And to be fair, his passing rate is increasing! Hey, that's one dime every 25.5 minutes. Last season, Whiteside even had more assists than games played for the first time ever. Maybe that Portland culture really is magical.
He's going to get the opportunity to play big minutes tonight with Richaun Holmes and Marvin Bagley out. But Damian Jones has been starting, and Whiteside continues to get something like 18 to 22 minutes off the bench.
And yes, he's had multiple assists in two of his last three games. Welllll la-di-frickin-da, he's still under in 30 of 34 Kings appearances, hitting this under for us 88% of the time.
If you set a Whiteside assist line that requires multiple assists to hit the over, I'm taking that under at almost any price. A line of -175 looks high at first, but implies a 64% chance of hitting the under, and it should be clear by now that we have a much better shot.
But -175 is just the price I pay, destiny is calling me. Open up my eager eyes — I'm fading Whiteside.
---
» Return to the table of contents «
---