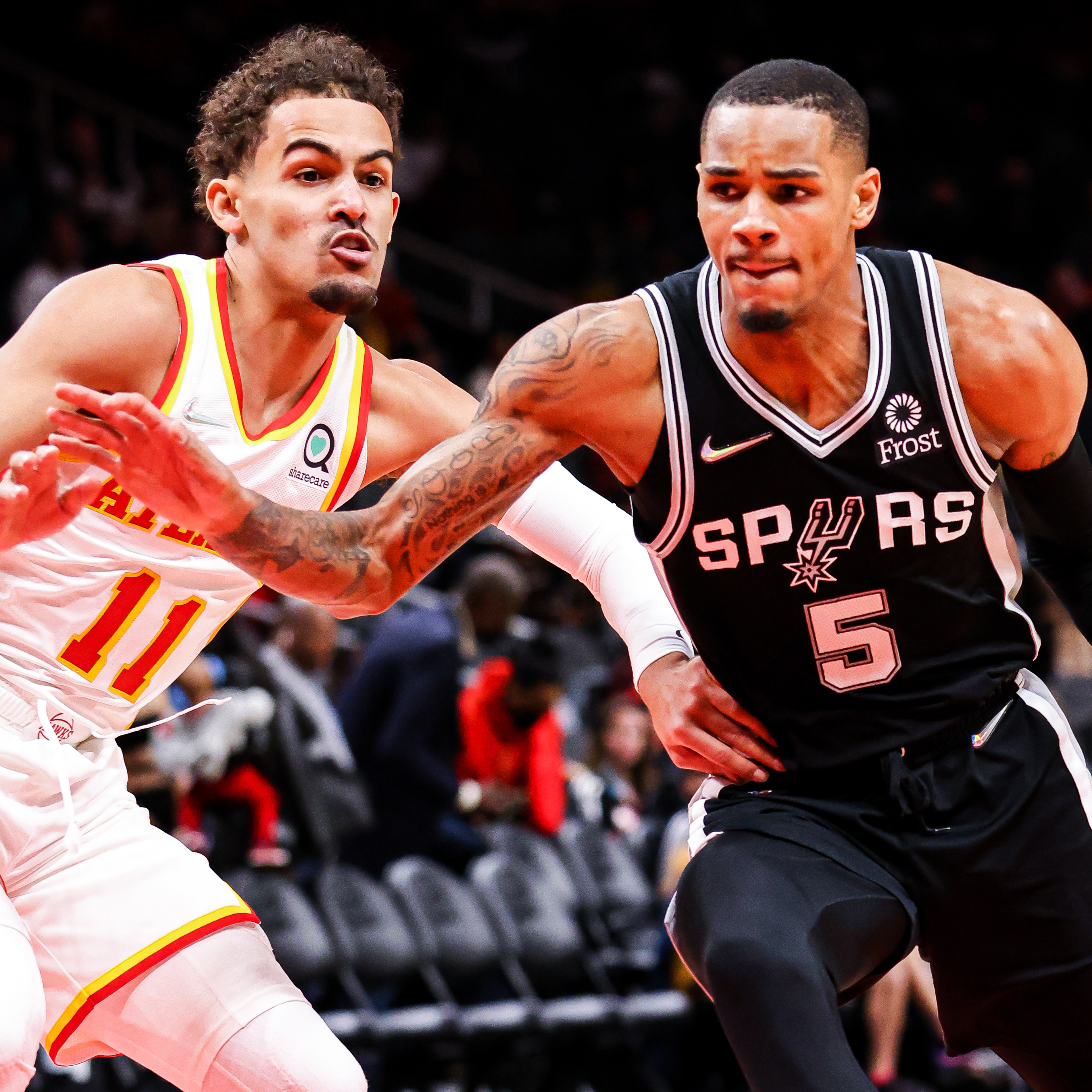 0 of 4
With the 2022 NBA draft now in the rearview mirror, it's full steam ahead toward free agency and trade season.

Free agency tips off on June 30, and every team is now eligible to execute trades following the end of the NBA Finals. We should see plenty of fireworks fly in the next few weeks, with some notable players already popping up in rumors for potential new destinations.

To sift through these rumors, it's time to bring out the B.S. meter and determine fact from fiction as we enter the juicy part of NBA summer.
1 of 4
Ronald Cortes/Getty Images

The Atlanta Hawks could be one of the most active teams this offseason, as the whole roster around Trae Young feels like it's on shaky ground.

One potential trade target for Atlanta? San Antonio Spurs All-Star guard Dejounte Murray.

As Bleacher Report's Jake Fischer wrote:

"San Antonio's most significant discussions regarding Murray have seemed to occur with the Atlanta Hawks, in a framework that would send Collins back to the Spurs, league sources told B/R. San Antonio and Atlanta have kicked around that deal concept at least dating back to the February trade deadline. Atlanta, among other offseason goals, has explored various options to add a dynamic ball-handler and defensive partner alongside Trae Young in the Hawks' backcourt, sources said."

The two stars have already apparently had discussions about joining forces, presumably in Atlanta.

"I know that Dejounte and Trae want to play together, or at least have interest in doing it," Fischer later stated on his podcast, Please Don't Aggregate This.

If the Hawks are looking for a talented defender and playmaker to ease the burden on Young, Murray would wisely be at the top of their list. Atlanta was 26th in team defense last season (113.7 rating), with Young ranking in just the 18th percentile as a defender (plus-4.2 points per 100 possessions), per Cleaning the Glass.

Murray is 6'4″ with a 6'10" wingspan, meaning he has the necessary size to play shooting guard next to Young. Both players can be utilized as spot-up shooters or cutters when playing off the ball as well.

Atlanta should be willing to give up a ton for Murray if he becomes available, as he fulfills the team's two biggest needs as a defender and secondary playmaker.

B.S. Meter: None. Murray and Young would be terrific together, and the Hawks have enough young players and draft picks to make a compelling offer for the Spurs star.
2 of 4
Jonathan Bachman/Getty Images

Deandre Ayton's quest for a max contract has put his future with the Phoenix Suns very much in doubt.

Both the Detroit Pistons and San Antonio Spurs could have the cap space necessary to offer Ayton a max, although the Suns have the right to match any deal he receives as a restricted free agent. A sign-and-trade deal is another possibility, opening up destinations that wouldn't have the cap space to sign the 2018 No. 1 overall pick outright.

One option that hasn't looked like a possibility is Ayton actually staying with the Suns, an idea that's now taken on life.

"The executives I'm talking to do not think that Ayton necessarily is gonna leave; they think that he could still be back," ESPN's Brian Windhorst said on The Hoops Collective podcast. "I wouldn't say it's like 90 percent, but they don't think that door is closed."

A couple of factors are at play here.

While the Pistons looked like Ayton's eventual landing spot before the NBA draft, the selection of Memphis center Jalen Duren with the No. 13 overall pick could have Detroit looking to spend its massive amount of cap space on a different position.

The Suns may be more likely to match a deal offered by the Spurs to try to keep Ayton out of the Western Conference, as San Antonio made the play-in tournament and could be a potential first-round opponent of Phoenix in 2023.

If Ayton doesn't get any max offers from opposing teams, he and the Suns could find common ground on a new deal, similar to when the Atlanta Hawks and John Collins agreed on a five-year, $125 million contract last summer.

The only scenario that doesn't seem in play is Phoenix straight out denying to match an offer for Ayton and letting him walk for nothing. For a team that's very much in its title window, letting a core player (and/or trade asset) leave with no compensation in return would be devastating.

It looks like Ayton and the Suns are eventually heading for a split, even if it may not be this summer.

B.S. Meter: Medium. A breakup between Ayton and Phoenix looks inevitable, but the Suns won't let him walk for nothing in free agency, either.
3 of 4
Nathaniel S. Butler/NBAE via Getty Images

The inevitable bidding war for Jalen Brunson between the Dallas Mavericks and New York Knicks should be one of the more fascinating stories in free agency.

In one corner, the Mavs, who can offer Brunson a fifth year and the most money overall. In the other, the Knicks, who can sell Brunson on being a primary ball-handler and playing for his father, Rick, now an assistant coach in New York.

The Knicks' potential downfall in their plan? Money.

While the Mavericks can write a black check (assuming luxury tax isn't an issue), the Knicks only have between $16 million and $18 million in projected cap space, even after dumping Kemba Walker's contract on the Detroit Pistons.

Despite these financial limitations, NBA insider Marc Stein reports that New York plans to offer Brunson a four-year, $100 million deal at the start of free agency.

To do this, the Knicks would need to dump one more contract, likely either Alec Burks ($10.0 million) or Nerlens Noel ($9.2 million). Both are essentially expiring deals, since the second year is a team option.

The Knicks also picked up three extra first-round picks on draft night by giving up the 11th overall selection to the Oklahoma City Thunder and own the Dallas Mavericks' first-rounder in 2023 stemming from the Kristaps Porzingis trade. They could use one to help offload salary, maybe with Burks, Noel or (even better) Evan Fournier.

Giving up the team's lottery pick means there's a plan in place, as the Knicks have prioritized future draft selections and current salary-cap space. Expect New York to indeed make Brunson a $100 million offer, whether he ends up taking it or not.

B.S. Meter: Very low. Assuming the Knicks can clear some additional space, it looks like Brunson has been their plan at point guard all along.
4 of 4
Michael Reaves/Getty Images

John Collins, despite having just signed a five-year deal with the Hawks last summer, could now be one of the biggest players on the move this offseason.

The 24-year-old's scoring and shot attempts have decreased each of the past three seasons as the Hawks have added more talent to the roster. The step back the team took last year by barely reaching the eighth seed could cause a roster shake-up involving Collins as well.

"He's done in Atlanta," a source close to Collins told The Athletic's Chris Kirschner.

Is he, though?

Collins still has four years left on his contract and has survived any potential trades thus far. Bleacher Report's Jake Fischer wrote that the Hawks were "operating with the goal of trading" Collins before the draft, something that obviously never materialized.

For Collins to be moved, there needs to be an upgrade in mind as well unless the team wants to make De'Andre Hunter the full-time power forward. He'll be entering the final season of his rookie deal and has a cloudy future with the Hawks as well.

Atlanta should be in no hurry to just dump Collins, who averaged 16.2 points, 7.8 rebounds and 1.0 blocks last year and has never shot below 52.6 percent in his five seasons. He's also a good three-point shooter (37.6 percent lifetime) and has improved defensively.

If the right deal doesn't come along, there's no reason to trade him.

B.S. Meter: Medium. Both sides may want to move on, but Collins is under contract and shouldn't be traded for a minimal return. Atlanta's asking price should still be fairly high.