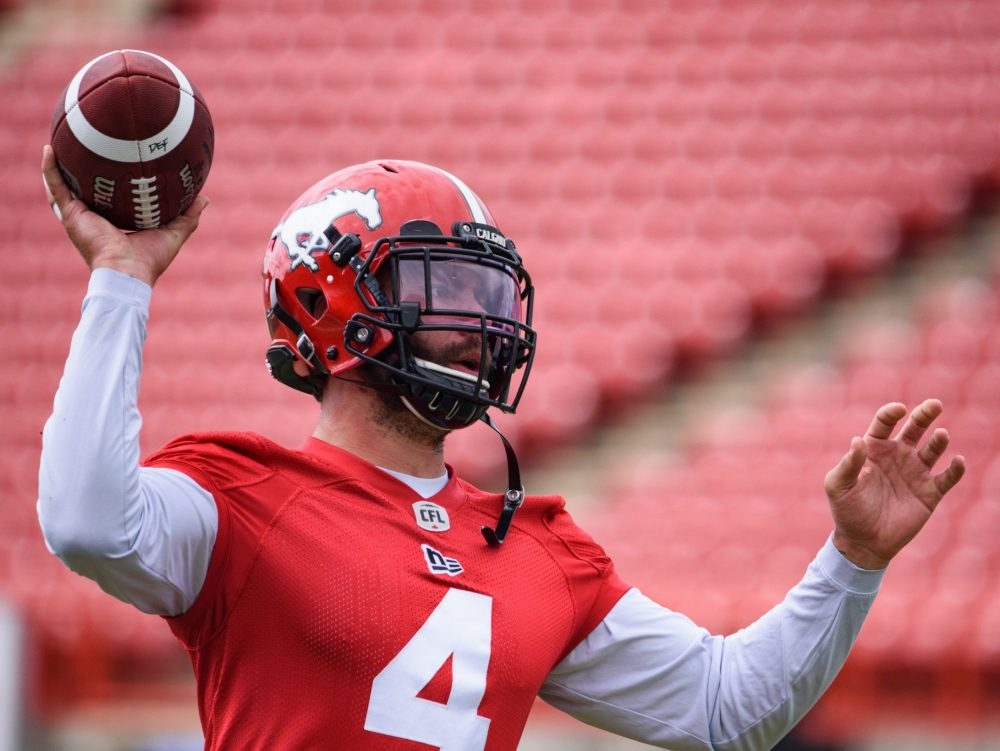 Article content
There's no competition between Cameron Judge and Jameer Thurman.
Article content
Not when it comes to interceptions. Not with each other.
"Moreso between us and the (defensive backs)," Judge said with a laugh on Monday morning. "We don't care who gets it, as long as it's the linebackers."
So far this season, Thurman has come down with two interceptions. Judge has come down with one. That's three interceptions for Stampeders in three games. That's not something any team plans for, but it's also definitely not something the Stamps are complaining about.
Article content
There was a lot of hype about the Stamps linebackers heading into 2022. Thurman was moving to middle linebacker after spending three seasons — interrupted by a trip to the NFL — at the weakside position, where he had excelled.
Judge, meanwhile, was joining the Stamps after a year with the Toronto Argonauts where opportunities were hard to come by. He had proven during his time with the Saskatchewan Roughriders that he was a hard tackler with lightning-quick speed, though.
Article content
There was a sense that the two could be a real problem for opposing offences. Interceptions, though? That's not really something anyone was talking about when it came to Judge and Thurman. The two had combined for only five picks in their careers.
And yet, here they are.
"It's pretty cool to be a part of it," Judge said. "We'll just keep working hard and see what comes our way."
Nobody is expecting the Stampeders' linebackers to keep up their interception-a-game pace. That's not a reasonable expectation.
But the Stamps are definitely happy with the way their linebackers are playing to start the season and, ultimately, the more picks, the better.
"I feel like last year in 14 games we had six interceptions and I think we have five this year, and linebackers have three, one was a d-lineman," said Stampeders head coach Dave Dickenson. "So basically, every time you say that you think 'I'm pumped that the linebackers are making plays' but I'm also thinking 'Where's the DBs?'
Article content
"They've gotta get some hands on the ball and make plays and I think we had some opportunities. But I think as far as spatial awareness and feeling out receivers and where they're going to go, I feel our linebackers have a great feel for that and that's probably why they've got some picks."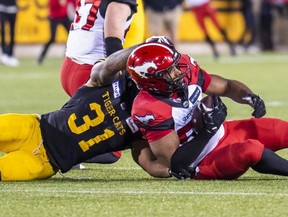 FORD IS FAMILIAR
After facing their former teammate, Nick Arbuckle, the last time they played the Elks, it looks like the Stampeders are more likely to be going up against Tre Ford at quarterback when they play in Edmonton on Thursday.
Ford is a 2022 first-round draft pick and a guy with one CFL start to his name, so on the surface it would seem that the Stampeders won't have a large amount of information about him.
Dickenson said that's not really the case.
Article content
Like everyone else, the Stamps did their research heading into the draft this year. Ford was a hot commodity with a lot of hype surrounding him, so they're definitely aware of some of his strengths and weaknesses.
"We're familiar with him because we worked hard on the draft process," Dickenson said. "I think he's young but he's confident. You can tell he enjoys the game and we've just got to make sure we're tight on our details. He'll make his plays, he can throw and he can run, so challenge him."
QUICK HITS
This is really no surprise, but Bo Levi Mitchell was a full participant in practice again on Monday. The ankle injury he suffered in Week 1 may have been causing him some problems before the bye-week, but he appears completely unbothered by it this week. There's basically zero question he'll be available on Thursday against the Elks … It does look as if Canadian receiver Richard Sindani will be a no-go, though. While it's still technically possible that he might recover from the hamstring injury he suffered against the Elks in time for the rematch, he didn't practice on Sunday or Monday. Anyone who has followed the Stampeders for any amount of time knows that means he'll almost definitely be left out of the lineup. Expect Jalen Philpot to take on a bigger role in the offence this week … Cody Grace is back. Dickenson confirmed as much in his post-game availability, and when the Stamps traded Jimmy Smith back to the Riders it pretty much guaranteed that Grace is ready to punt balls again … Expect Tre Roberson back in the lineup, too. The defensive backfield may also get a boost with the return of Elie Bouka, although we have no idea how the Stampeders are going to use their free-agent signing.
daustin@postmedia.com